12 Best Things to do in Nainital near Naini Lake
Nainital Lake nicknamed as Naini Lake is one of the most popular tourist attractions of Uttarakhand. It is famous for its crystal clear water, that shines like diamonds strewn on a sun-kissed lake.
Naini Lake is one of the famous tourist attractions in Nainital. Many writers, poets, and photographers have been spell bounded by its beauty. If you are planning a trip to Nainital then you must visit here, and try out some of the recreational activities that you can do around Naini Lake.
There are plenty of amazing things to do near Nainital Lake. If you haven't thought of any or know nothing about this place. Then check some of the fun activities you can do at Naini Lake.
1. Boating, Yachting and Kayaking on Nainital Lake and Charges: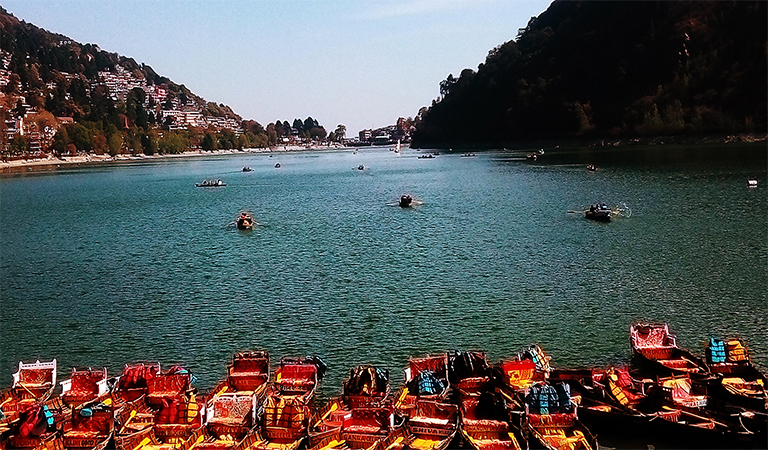 Trip to Nainital is incomplete without boating. Since the lake is bounded by scenic beauty, it elevates the boating experience. Not only it is cheap but is safe and guarantees fun.
Boating can be done at all times, be it summer season, the misty Monsoon season or even the chilly winter season. You can take pictures and even shoot a short travel video here. The plus point is that even kids can boat here.
Since Nainital is a hub for water sports, yachting and kayaking options are also available here. Check below to know the timings and charges for boating on Naini Lake:
Timings: 06:00 AM – 06:00 PM (March to June)
Cost for Boating in Naini Lake:
Brightly painted Gondola-like boats: INR 210 per hour
Boat ride through Nainital Boat Club: INR 350 per hour
Pedal boat: INR 150 per hour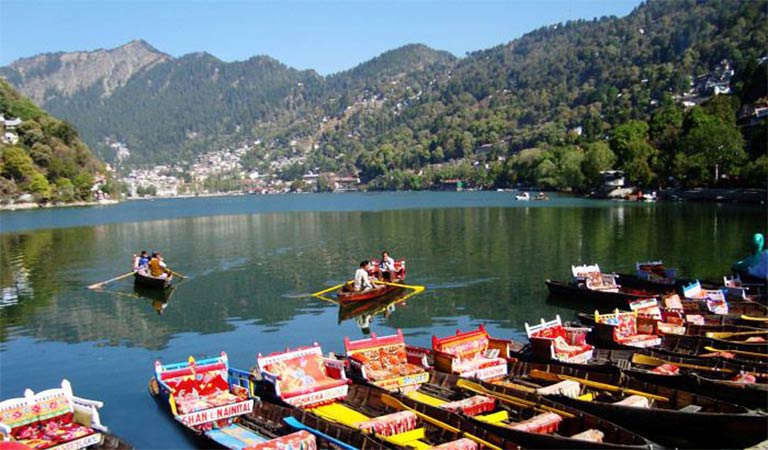 Travel Tips:
Although every season is perfect for having a boat ride on Nani Jheel. But the best of the best months for boating are March, June, November, and December.
You can also partake in the annual Kingfisher Yachting Competition held at Naini Lake in June.
Yachting facility can be availed from Nainital Boat Club.
2. Mountain Gazing:
One can absorb a gorgeous vista of mountains from Naini Lake. Since Nainital Lake is dotted by seven majestic hills namely– Ayarpata (2,235 m), Alma (2,270 m), Deopata (2,273 m), Sher-ka-Danda (2,217 me), Laria Kanta (2,481 m), Cheena Peak (2,611 m) and Handi Bandi (2,139 m).
The lakeside also offers a beautiful panorama of mountain tops, as it is outlined by Tiffin Top towards the South West side and snow view peaks on the north.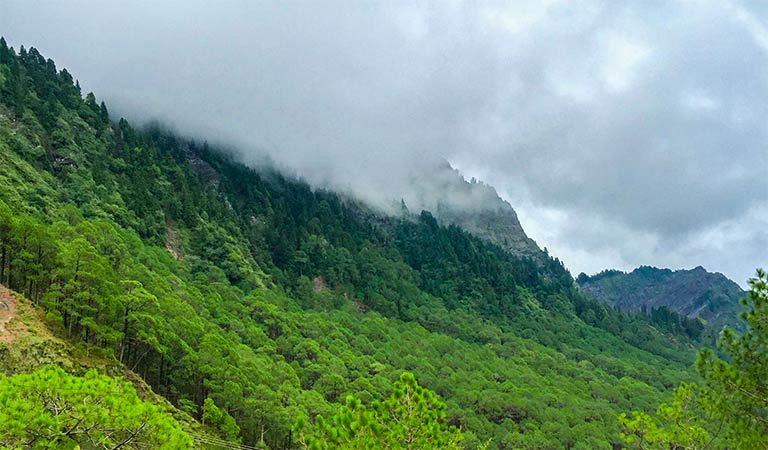 3. Scenic Jungle Walks:
Lofty conifers dominate the hill ranges, making it one of the best places to find solitude in. Walk miles together with your partner or if you are an explorer. Then pass through the packed conifers to enjoy brisk forest walking.
You can hire a guide, who will help you to make way through the jungle area. He will also impart knowledge of the rare flora and fauna teeming in the woods.
4. Sunrise and Sunsets shouldn't be missed here:
Early morning is the best time to attain peace by work on your core. So wake up early and take out 10-15 minutes for sun gazing. Also, don't miss out on the irresistible sunrise and sunset views from Naini Lake and Cheena Peak, two of the famous tourist places in Nainital.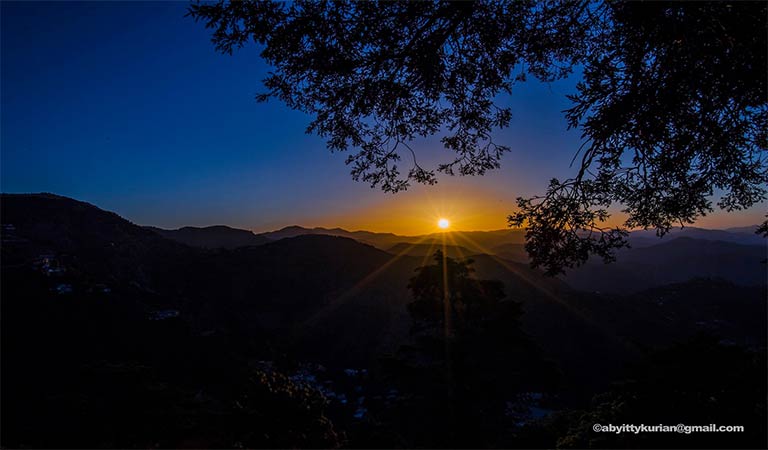 5. Temple Hopping near Nainital Lake:
The Naina Devi Temple in Mallital is one of the famous temples in Nainital, which is visited by devotees from all across the nation. The temple is situated alongside the northern shore of Naini Lake. It is dedicated to Goddess Sati and is one of the 64 Shakti Peethas.
If you are here, you can indulge in spiritual bliss by taking blessings from Ma Nanda and Sunanda Devi, two regional deities of Nainital.
Mythology and Importance of Naina Devi Temple:
According to Hindu mythology, Naina Devi was the place where the eyes or "nayan" of Goddess Sati fell. When Lord Shiva was carrying her mortal remains to Mount Kailash.
The site soon became a sacred spot and was later worshipped as Naina Devi, which translates to Goddess of Eye. Naina Devi Temple is also the venue for Nanda Devi Mahotsav, a religious celebration organized to appease Ma Nanda and Sunanda.
Opening and Closing Time of Nanda Devi Temple: Early morning till 9 pm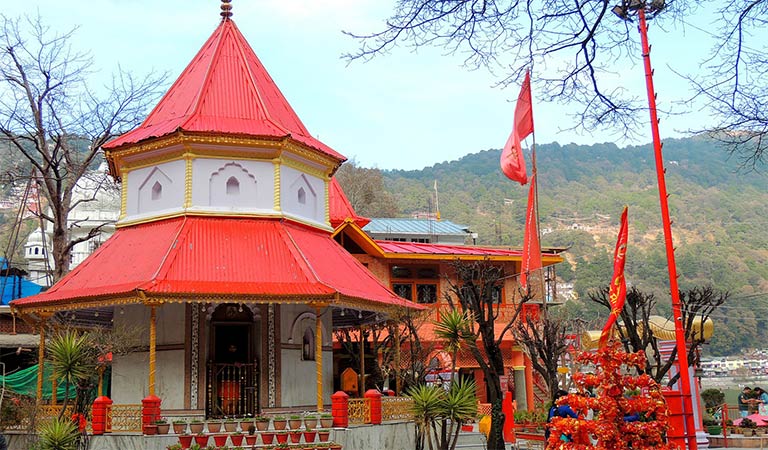 6. Cricket Masti and Mughal architecture:
If you are a cricket fanatic, you must check out the cricket stadium next to Mallital near Naini Lake. The Nainital Stadium is famous for hosting several inter-district cricket tournaments within the state.
You can also see a mosque named Jama Masjid situated next to it, which showcases beautiful architecture. If you are an ardent lover of Mughal architecture, you must visit here. The masjid is located in Mallital.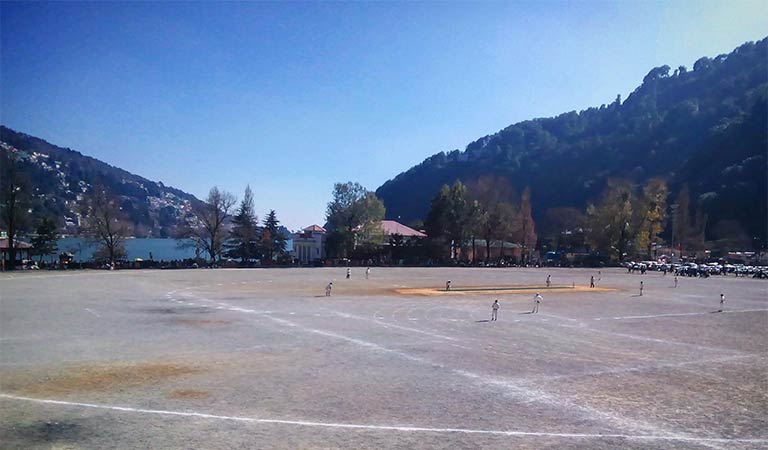 One can see Arabic inscriptions on the main entrance and minarets erected on its side. The pristine white mosque is one of the oldest buildings of Nainital, built during the British era.
7. Picnicking near Naini Lake is one of the Best Things to do in Nainital:
Naini Lake is one of the most famous lakes of the Kumaon region and also a popular picnic spot. The alluring lake, the misty weather and the thick foliage surrounding the lakeside, makes it a hotspot for families.
One can try boating, go on evening walks and photograph the feathery damsels paddling in Naini Lake.
8. Foodie's Paradise:
Nainital is a foodie's paradise and if you are here, you cannot resist the mouthwatering flavours of Pahadi cuisine. There are a few quality cafes and restaurants located near the lake area. If you are short on budget, then do sip hot cutting chai, the boss of all teas from the nook shop.
Don't shy away from having rusk or the rainbow colored fries, cream rolls and patties from the bakeries located near the lake's periphery. Some of the famous cafes are Simz Café on Thandi Sadak, Café Chica, Gardenia, Udipiwala Restaurant, and many others.
Pro Tip: Don't forget to nosh on the scrumptious Kumaoni food if you are here. It's the USP of Nainital.
9. Trekking near Nainital Lake:
If you are a trekking enthusiast, do bring your trekking gears to Nainital. As Naina Peak (2,615 m) also known as Cheena or China Peak offers enormous trekking expeditions.
Cheena Peak is the highest peak and is one of the most famous attractions in Nainital. It offers a bird's eye view of the town and is about 10 km away from Tallital bus stand.
Cheena Peak is a 7-8 km long trek if you do not wish to commence it. You can alternatively hike up to Tiffin Top (Dorothy's Seat), another famous trekking spot in Nainital. This 4-5 km trek can be easily commenced from Naini Lake and is suitable for beginners.
Travel Tips:
Don't miss the spellbinding views of Nanda Devi Peak and the alluring view of mountains on the Tibet border.
Do carry your own food to Naina Peak because no eateries or shops are located here.
If you aren't a fan of trekking, then you can visit this place on foot or horseback.
Ponies or horses up to Naina Peak are easily available from Snow View Point or Mallital.
Preferrable timings to hike up to Naina Peak are from 9 am to 5 pm.
10. A hotspot for Shutterbugs and Instagrammers:
The emerald blue Nainital Lake is one of the most photographed places in Nainital. Many professional photographers come here to seize its beauty.
In recent years, Naini Lake has become a hub for photo shoots and pre-wedding shoots, wherein couples knit memories for their wedding diaries.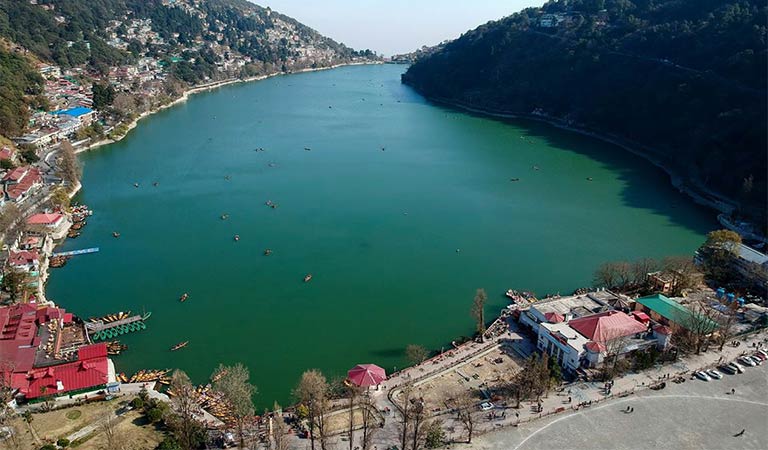 Many Instagram models, bloggers, and vloggers also choose Naini Lake as the backdrop for their stories, photoshoots, and travelogues. So don't forget to bring your camera along, if you want to capture some beautiful moments in Nainital.
11. Shop at Bhotiya market:
Grab some coolest and cheapest deals from the Bhotiya market aka Tibetan market. This is a go-to-market, which is located in the heart of Nainital. Local, as well as tourists, come here to take away the coolest stuff and souvenirs.
Authentic Tibetan food such as Thupka, momos, and spicy noodles are also served here. At the Tibetan market, you can find shawls, Tibetan ethnic wear, sweaters, shrugs, mufflers, bags, and other winter clothing. Handcrafted candles, potpourri, and other trinkets are also available here.
How to reach here: The Tibetan market is easily accessible as it lies adjacent to Mall road. One can hire an auto rickshaw/cycle rickshaw or can walk on foot to reach here.
Visiting Time and Entry Fee: There is no entry fee to visit the market. The market is open on all days of the week between 9:00 am and 10:00 pm.
Address: Nanda Devi Path, Ayarpatta, Nainital, Uttarakhand, 263002, India
12. Excursions near Nainital Lake:
There are plenty of tourist places to visit near Naini Lake. Some of them are Eco Cave Garden, Nainital Zoo, Snow View Point, Hanuman Garhi, and Sita Bani Temple.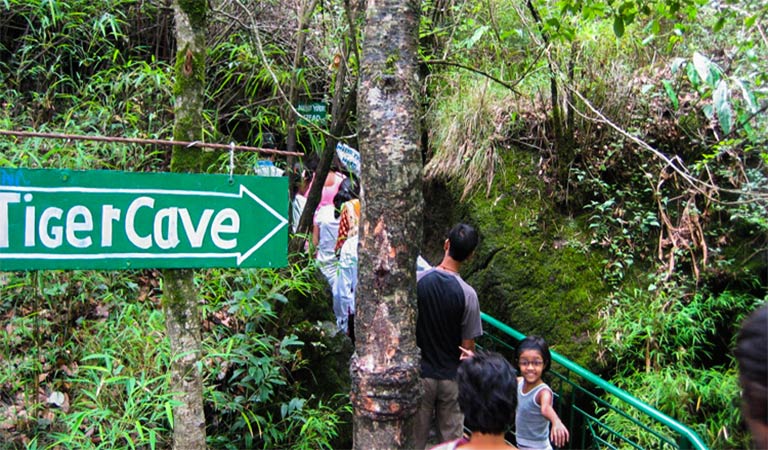 If you are a bird-watching enthusiast, you can head to Pangot and Kilbury Bird Sanctuary, which is a safe haven for several Himalayan bird species. You can also plan a short one-day lake trip to other popular lakes of Nainital like Sattal, Bhimtal, Naukuchiyatal, Khurpatal, Malwatal, and others.