Kedarnath temple, the sacred abode of lord Shiva, sits on the bank of holy Mandakini river at an altitude of 3584 meters above sea level on the foothills of great Himalaya range in northern state of Uttarakhand. This whole region is called Kedar valley or Kedar Ghati and historically it was known as "Kedar Khand".
Kedarnath temple is an integral part of Char Dham and Panch Kedar (group of 5 Shiva temples in Garhwal Himalayas) in Uttarakhand. It is one of the 12 Jyotirlingas of Lord Shiva. The snow covered magnificent Kedarnath peak (6,940 meters) stands behind the temple along with several other peaks. It provides a great experience to the devotees of lord Shiva.
During winter season, Kedarnath temple is closed for six months due to extreme cold weather conditions and heavy snowfall. Earlier the Kedarnath mandir (temple) was built by Pandavas and the present temple was built by Adi Shankaracharya. A Samadhi of Adi Shankaracharya is located just behind the temple.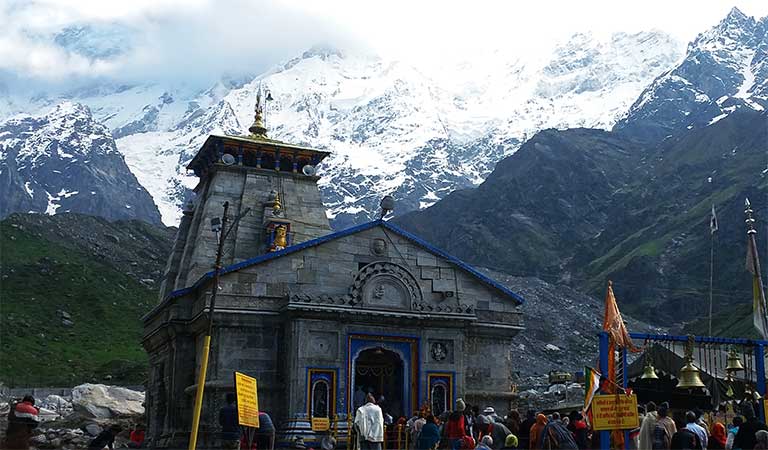 The Legend of Kedarnath Temple
A popular and interesting legend about Kedarnath temple holds that after the famous war of Kurukshetra of the epic Mahabharata.
Kedarnath temple exists from the period of Mahabharat.
Following the advice of the lord Krishna and other sages the Pandava brothers decided to meet Lord Shiva. They wanted to absolve themselves of their sins of fratricide and Brāhmanahatya (murder of a Brahman), committed by them during the war.
But Shiva did not want to meet them because of destruction caused by the war.
He, therefore, disguised himself as a bull Nandi and went to Guptakashi.
But Pandavas pursued him to Guptakashi and recognized him.
When Bhima, the second Pandava brother, tried to hold the bull by its tail and legs, Nandi vanished from Guptakashi, into a cave but reappeared later as Shiva in five different forms namely,
Another legend states that Nara and Narayana, which were two of the incarnations of Vishnu performed devotional penance in Badrikashraya in front of a Shivalingam. Lord Shiva got very pleased with their devotion and appeared in front of them and said that they may ask for a boon.
Nar and Narayan did not request anything for them but asked Shiva to take up a permanent abode as a Jyotirlinga at Kedarnath so that all the devotees of lord Shiva can come here to worship him.
Reason Behind The Name Kedarnath
The Kedarnath name of the temple is in the honor of King Kedar, who ruled the region in the Satya Yuga.
The king had a beautiful daughter named Vrinda who was a partial incarnation of Goddess Lakshmi.
She performed austerities for several years. The region of Vrindavan is because of princess Vrinda.
Kedarnath Dham Route From Delhi
Delhi ——-> Haridwar ——> Rishikesh ——> Byasi ——> Teen Dhara ——> Devprayag ——> Srinagar ——> Rudraprayag ——> Guptkashi ——> Gaurikund ——> Kedarnath
Kedarnath Temple Opening & Closing Date
| | |
| --- | --- |
| Opening Date: | 25 April 2023 |
| Closing Date: | 14 November 2023 (tentative) |
What To See In Kedarnath
Gauri Kund
This place is used as a base camp from where the trek to Kedarnath starts.
There is a beautiful hot water spring and an ancient temple dedicated to Goddess Gauri.
There is the temple of Sirkata (headless) Ganesha 500 meters from Gauri Kund.
According to Skanda Purana, this was the place where Shiva beheaded lord Ganesha and then attached the head of an elephant on his body. Read More
Vasuki Tal
This beautiful lake is 8 km away from the Kedarnath temple, at 3135 metres above sea level.
It is surrounded by high snow cladding mountains. Read More
Gandhi Sarovar
People call it Gandhi Sarovar as some of the ashes of Mahatma Gandhi were immersed here.
This small lake is also famous because in this place Yudhishthir, the eldest of the Pandavas, is said to have deceased to heaven.
It is also popular as Chorabari Tal.
Bhairav Temple
In Kedarnath temple complex, to the south side, there is this ancient and important temple. It is dedicated to Bhairav Nath.
Devotees believe that Lord Bhairav guards the entire temple when the shrine is closed in the winter season.
This temple is one kilometer above to Kedarnath temple in Himalayan region of Uttarakhand state of India.
Kedarnath Dham Weather Throughout the Year
| | | |
| --- | --- | --- |
| Month | Minimum (°C) | Maximum (°C) |
| January | -14 | -02 |
| February | -8 | 01 |
| March | -4 | 05 |
| April | 00 | 08 |
| May | 01 | 11 |
| June | 06 | 11 |
| July | 08 | 10 |
| August | 08 | 10 |
| September | 04 | 10 |
| October | -1 | 07 |
| November | -7 | 03 |
| December | -9 | 00 |
How To Reach Kedarnath Temple
By Road
Gaurikund is connected to Rishikesh, Dehradun, Uttarkashi and Tehri, Pauri and Chamoli. Buses and taxis are easily available.
By Train
The nearest railway station is Dehradun (250 km from Gauri Kund). The other close ones are Haridwar, Kathgodam and Kotdwar.
By Air
Nearest airport is Jolly Grant Airport. Taxis are available from airport to Gauri Kund. Gauri Kund is 226 km from Jolly grant.