Tanakpur is a small developing city, situated along the banks of Sharda river on the Indo-Nepal border. The region comes under the Champawat district of Uttarakhand state. It is perched at an elevation of 837 ft above sea level. The town is situated in the Terai-Bhabhar region, from where the hilly region of Kumaon starts.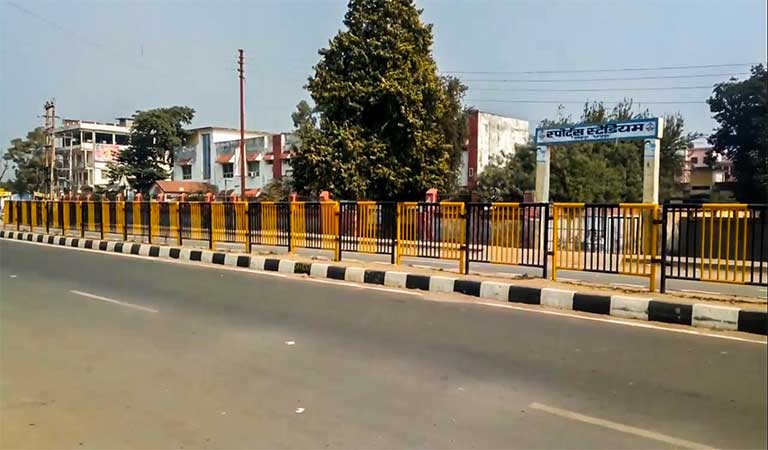 Sharda River:
The Kali river making its way through Kumaon hills enters into the plains of Tanakpur. Here it is known as Sharda river. On Sharda river, NHPC has set up a Hydro Power Station at Banbasa, near Tanakpur which produces 120 Mega Watts of power.
Tanakpur Railway Station:
The town is one of the few places of Uttarakhand having an active railway station. It has regular connectivity with Bareilly. This is the last railway stop to enter the hilly region of Kumaon, which includes many hill stations such as Champawat, Pithoragarh, Munsiyari, Lohaghat and Dharchula.
Maa Purnagiri Temple, Tanakpur:
Maa Purnagiri Temple is an important Hindu temple, dedicated to Hindu goddess Maa Parvati. It is situated on the top of the Purnagiri hill in this town. Perched at a height of about 3000 m above sea level, the temple is 20 kilometers away from this town. The temple has its own importance and devotees from every corner of the state come to visit the temple.
How to Reach Tanakpur:
By Road
It is well connected to all the other major cities of North India. Regular and AC buses from Haldwani, ISBT Anand Vihar, Delhi, and ISBT Dehradun are easily available. Haldwani is 98.5 km from this town via NH9.
By Train
Trains to Tanakpur Railway Station are easily available from major destinations of North India such as Bareilly, Delhi, Chandigarh, Lucknow, Kolkata etc.
By Air
Pantnagar Airport is the closest to this town. It is situated 98 km away from here. One can hire a taxi from here or use public transport. Buses are easily available from Haldwani and Rudrapur. Haldwani is 32 km from the Pantnagar airport and Rudrapur is 15 km away.
Distace of Tanakpur from Various Cities:
Delhi: 366 km
Meerut: 313 km
Bareilly: 113 km
Haldwani: 98.5 km
Dehradun: 340.9 km via NH9
Shimla: 646 km
Moradabad: 196 km
Chandigarh: 547 km
Kanpur: 359 km
Lucknow: 293 km
Jaipur: 551km