Nainital is a worldwide famous hill station situated on the foothills of Kumaoni Himalayan range in Uttarakhand state of India. It is situated 30 km away from city of Haldwani cum Kathgodam. It is well known for its beautiful Naini Lake and extraordinary mountain views.
Surrounded by lush green forests, serene mountains, and a picturesque lake, it offers a tranquil and peaceful retreat for nature lovers. The town is full of charming colonial-era architecture, bustling markets, and colorful shops that add to the charm of this hill station. The natural beauty of Nainital makes it a perfect destination for those seeking some time away from the hustle and bustle of city life. It is a perfect place to relax, rejuvenate, and soak in the splendor of nature.
Why Visit
If you are tired of your metro city life and want to spend some quality time in a beautiful and peaceful hill station, surrounded by beautiful Himalayan hills, there is no better place than Nainital.
Here are our top 5 reason why you should visit Nainital:
Natural Beauty: Nainital is surrounded by hills and has a serene lake in the middle of the town, making it a popular destination for nature lovers.
Adventure Activities: There are various adventure activities like trekking, camping, and boating that can be enjoyed in and around the town.
Religious Sites: Nainital has various temples and religious sites like Naina Devi Temple, Hanuman Garhi, and St. John's Church, and Jama Masjid that attract pilgrims and tourists alike.
Shopping: The Mall Road here is a popular shopping destination, offering various items like woolen clothes, handicrafts, and souvenirs.
Food: Nainital offers a variety of distinct Pahari food options, including local dishes like Aloo ke Gutke, Bhatt ki Churkani, and Bal Mithai.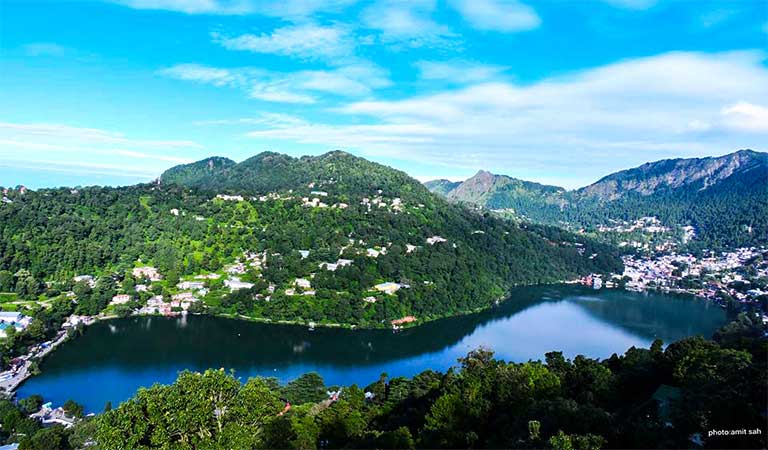 Main Attractions
Nainital has several main attractions that draw visitors from all over the world. Some of the popular tourist attractions are:
1. A Beautiful Lake: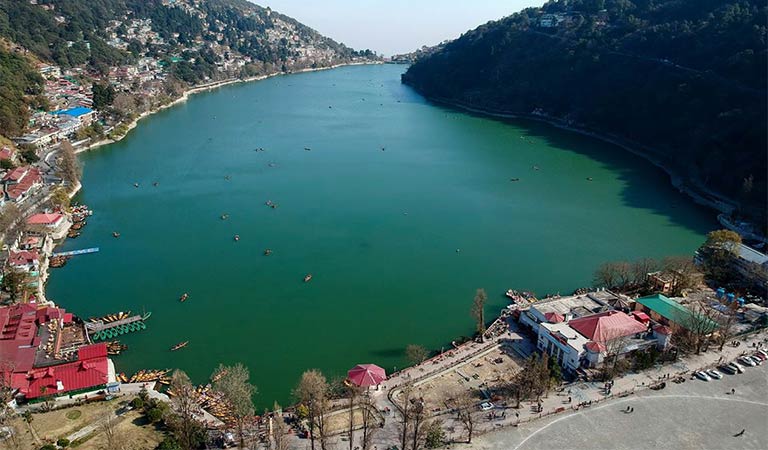 Naini lake surrounded by hills. Naini lake serve as a major tourist attraction for people from all over the world. You would definitely enjoy boating and hanging out in Nainital lake.
The lake is surrounded by lush green hills on all sides, and the scenic beauty of the lake and its surroundings is truly breathtaking. The water of the lake is crystal clear, and its reflection of the surrounding hills creates a mesmerizing view.
Visitors can take a boat ride on the lake to enjoy the beautiful surroundings and the serene environment. Boats are available in different sizes and shapes, including rowboats, paddleboats, and motorboats.
2. Eco Cave Gardens:
These are inner connected rocky caves. Special feature of these caves is they are in the shapes of various animal. One can have tremendous musical experience during evening time.
3. The Mall Road:
A road connecting two mountains. Road is Parallel to the lake. You may do shopping here and enjoy delicious Kumauni and Chinese food. Here visitors can take a leisurely stroll and enjoy the beauty of the lake and its surroundings. The Mall Road is also lined with shops, restaurants, and cafes, where visitors can indulge in some shopping and dining.
4. Maa Naina Devi Temple:
This gorgeous temple of mother Naina Devi is situated right on the edge of the lake.
5. Snow View Point:
3 km from Naini lake ,a point on the top of a mountain, from here you would have a magical view of Himalayan mountains. Peaks of Trishul, Nanda Devi and Nanda Kot are visible from here. Cable car and road, both are options you have, to enjoy this experience.
6. Tiffin Top:
Tiffin Top, also known as Dorothy's Seat, is a popular and top most viewpoint in Nainital located at an altitude of 2290 meters. It is named after Dorothy Kellet, an English artist who used to come here to paint and relax. Tiffin Top offers a panoramic view of Nainital town and the surrounding Himalayan mountains.
To reach Tiffin Top, one can take a 4 km trek from Ayarpatta Hill or hire a pony or horse. The trek is moderately easy and offers beautiful views of the hills, forests, and valleys. At the top, there is a small cafe where visitors can grab some snacks and refreshments. Tiffin Top is a must-visit attraction in Nainital for those who love trekking, nature, and photography.
7. Zoo:
The Zoo was established in 1984 and is spread over an area of 4.693 ha. The Zoo was opened to visitors on 1st June 1995 and is managed by "The Bharat Ratna Pandit Govind Ballabh Pant High Altitude Zoo Management Society Nainital" from 1st March 2002.
8. St. John in Wilderness:
It is a beautiful church, built in 1844 just when the city was getting developed as a English preserve.
9. Sita Bani Temple:
This holy temple is associated with the legend of Maa Sita, wife of lord Rama, going under the earth.
10. Hanuman Garhi:
Hanuman Garhi is a popular temple dedicated to Lord Hanuman, situated at an altitude of 6,401 feet above sea level in Nainital. It is located just 3.5 km from the main town and can be reached by taking a 20-30 minute drive or by climbing a series of steep stairs. The temple is surrounded by beautiful pine trees and offers a mesmerizing view of the Nainital town and the Himalayas.
The temple complex has several small temples dedicated to Lord Rama, Shiva, and Goddess Durga. The main attraction of the temple is the Hanuman statue and the sanctum of the temple. The temple is a famous pilgrimage spot for Hindu devotees and is believed to be very powerful in fulfilling the wishes of the visitors. The temple also has a children's park and a small tea shop where visitors can relax and enjoy the scenic beauty of the place. The best time to visit Hanuman Garhi is during sunrise and sunset when the sky turns golden and the view becomes more stunning.
Activities
There are a lot of fun things you can do in the "City of Lakes".
Boating: The Naini Lake is the center of attraction here. Boating and yachting is one the most popular activity among tourists.
Shopping: There are many markets in the city like Bara Bazaar, Tibetan market and Mall Road market. You can shop for apparels, scented candles, key chains, books and artificial jewelries, souvenirs, handicrafts and artifacts.
Picnic Spots and Ropeway: Nainital has an aerial ropeway that connects the city to Snow View Point. Which offers adventurous view of the Naini lake and China Peak, Tiffin Top and Snow View point.
Trekking / Hiking: Nainital-Betalghat Trek, Nainital-Binayak Trek, Nainital-Kainchi Trek, Nainital-Kilbury Trek and Snow View Trek are popular hiking destinations in the city.
| | |
| --- | --- |
| For a half-round of the rowboat: | 160 Rupees |
| For a full round of rowboat: | 210 Rupees |
| For Paddleboat per hour: | 210 Rupees |
| For Gondola ride across the lake: | 210 Rupees |
Staying Options in Nainital
Luxury hotels: Nainital has some luxurious hotels that offer world-class amenities and services. These hotels are generally located in scenic locations with beautiful views of the hills and the lake.
Mid-range hotels: There are several mid-range hotels in Nainital that offer comfortable accommodation at reasonable prices. These hotels are ideal for budget-conscious travelers who want a comfortable stay without breaking the bank.
Homestays: For those who prefer a more authentic and personalized experience, there are several homestays in and around Nainital. These are usually run by locals who offer comfortable rooms and home-cooked meals.
Guesthouses and lodges: Nainital also has several guesthouses and lodges that offer basic accommodation at affordable prices. These are ideal for backpackers and budget travelers.
Resorts: There are several resorts in and around Nainital that offer a range of facilities and services, including swimming pools, spa treatments, and adventure activities.
Note: It is advisable to book your accommodation in advance, especially during peak tourist season, to avoid any last-minute hassles.
Our handpicked staying options in Nainital are:
Vikram Vintage Inn
The Naini Retreat
Shervani Hilltop Nainital
Arif Castles
The Manu Maharani
Balrampur House
Vikram Vintage Inn
The Earl's Court
Hotel Himalaya
Hotel Radha Continental
Chevron Fairhavens
Culture and Tradition
Nainital comes under Kumaon region of Uttarakhand, so you will find traditional Kumauni culture here. Local languages are Hindi and Kumauni.
Local Festivals
Naina Devi fair is one of the most famous local festival here during month of August. Christmas and new year celebration is main attraction of Nainital.
Education
Nainital is one of the most preferred education hub of India. It is home of Sherwood school, Amtul's public school, Oak-wood school and Kumaon University for higher educations.
Inside Nainital
Food in Nainital
Nainital has no doubt good food. Here are to handpicked restaurants that serve tasty food and provide good ambiance:
Machan: This restaurant offers delicious North Indian and Chinese cuisine and is known for its serene and beautiful ambiance.
Café Chica: This café serves a variety of dishes, including pizzas, pastas, and burgers, and is a popular spot for breakfast and brunch.
Sakley's Restaurant and Pastry Shop: This restaurant offers a cozy and inviting atmosphere, along with a variety of cuisines, including Italian and Indian.
The Grill House: This restaurant specializes in grilled food, including kebabs, tikkas, and burgers, and offers a rooftop seating area with stunning views.
Embassy: This restaurant offers a mix of Indian and Chinese cuisine and has a lovely outdoor seating area with views of the Naini Lake.
Sher-e-Punjab: This restaurant serves authentic Punjabi cuisine and is known for its delicious butter chicken and tandoori dishes.
Chandani Chowk: This restaurant offers a variety of vegetarian and non-vegetarian dishes and has a lively and vibrant atmosphere.
Machaan: This restaurant offers a mix of Indian and Continental cuisine and is situated amidst lush green surroundings.
Nanak Restaurant: This restaurant offers a variety of vegetarian and non-vegetarian dishes and is known for its delicious tandoori chicken and biryani.
Zooby's Kitchen: This restaurant serves a mix of Indian and Chinese cuisine and offers a cozy and intimate ambiance.
Nearby Places to Visit in Nainital
Nainital is surrounded by a number of beautiful places to visit. Some of the best are listed below:
How to Reach Nainital
By Road:
Nainital is well-connected by road to major cities in India. Here are some ways you can reach Nainital by road:
By Car: Nainital is located about 300 km from Delhi and about 70 km from Haldwani. You can easily hire a cab or drive your own car to reach Nainital. The journey from Delhi takes about 7-8 hours and from Haldwani takes about 2-3 hours.
By Bus: There are regular buses that operate from major cities in North India like Delhi, Agra, and Dehradun to Nainital. You can take a bus from ISBT Delhi or other major bus terminals in these cities. The journey takes about 7-8 hours from Delhi and about 5-6 hours from Dehradun.
By Shared Taxis: Shared taxis are also available from Haldwani and Kathgodam to Nainital. These are a cheaper alternative to private taxis and are easily available from the railway stations in Haldwani and Kathgodam.
By Motorcycle: If you love to ride, then you can rent a motorcycle in Delhi or other nearby cities such as Haldwani and ride to Nainital. The journey is scenic and the roads are in good condition.
By Train:
The nearest railway station is the Kathgodam Railway Station, which is located about 34 km from Nainital. Kathgodam Railway Station is well-connected to major cities in India like Delhi, Lucknow, and Kolkata.
From the railway station, you can take a taxi or a shared taxi to reach Nainital. Taxis are readily available outside the station and the journey takes about an hour. You can also take a bus from Kathgodam or Haldwani. Haldwani and Kathgodam are interconnected.
Or, you can also take the Ranikhet Express or Uttar Sampark Kranti Express from Delhi to reach Kathgodam directly. These trains operate on a daily basis and take approximately 6-7 hours to reach Kathgodam. From there, you can take a taxi or a shared taxi to reach Nainital.
By Flight:
The nearest airport to Nainital is Pantnagar Airport, which is located about 70 km away from the town. Here are some ways to reach Nainital by flight:
By Direct Flight: You can take a direct flight to Pantnagar Airport from Delhi, which is operated by Air India Regional. The flight takes about 1 hour and 15 minutes to reach Pantnagar. From the airport, you can hire a taxi to reach Nainital, which takes about 2-3 hours.
By Connecting Flights: If you are coming from other cities in India, you can take a connecting flight to Delhi and then take the direct flight to Pantnagar or take a train or bus from Delhi to Nainital.