"The City of Lakes"
Nainital is a worldwide famous hill station situated on the foothills of Kumaoni Himalayan range in Uttarakhand state of India. It is situated 30 km away from city of Haldwani (Kathgodam). It is well known for its beautiful Naini Lake and extraordinary mountain views.
Why Visit :
If you are tired of your metro city life and want to spend some quality time in a beautiful and peaceful hill station, surrounded by beautiful Himalayan hills, there is no better place than Nainital".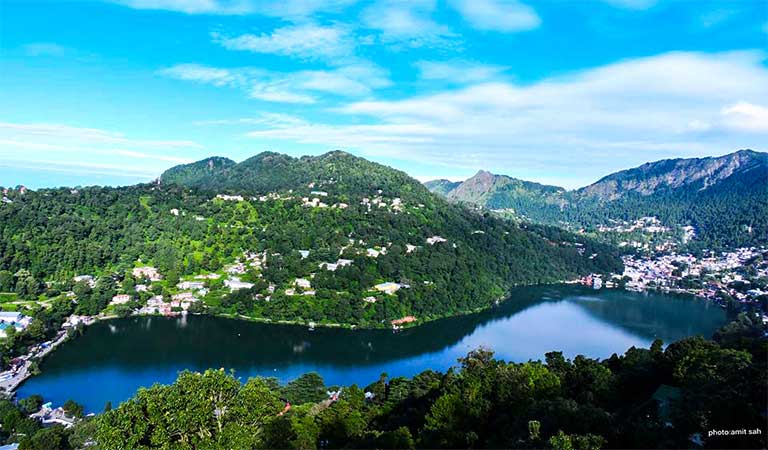 Main Attractions :
1. A Beautiful Lake:
Naini lake surrounded by hills. Naini lake serve as a major tourist attraction for people from all over the world. You would definitely enjoy boating and hanging out in Nainital lake.
2. Eco Cave Gardens:
These are inner connected rocky caves. Special feature of these caves is they are in the shapes of various animal. One can have tremendous musical experience during evening time.
3. The Mall Road:
A road connecting two mountains. Road is Parallel to the lake. You may do shopping here and enjoy delicious Kumauni and Chinese food.
4. Maa Naina Devi Temple:
This gorgeous temple of mother Naina Devi is situated right on the edge of the lake.
5. Snow View Point:
3 km from Naini lake ,a point on the top of a mountain, from here you would have a magical view of Himalayan mountains. Peaks of Trishul, Nanda Devi and Nanda Kot are visible from here. Cable car and road, both are options you have, to enjoy this experience.
6. Tiffin Top:
Top most point of the city. Beautiful view of city and mountains is visible from here.
7. Zoo:
The Zoo was established in 1984 and is spread over an area of 4.693 ha. The Zoo was opened to visitors on 1st June 1995 and is managed by "The Bharat Ratna Pandit Govind Ballabh Pant High Altitude Zoo Management Society Nainital" from 1st March 2002.
8. St. John in Wilderness:
It is a beautiful church, built in 1844 just when the city was getting developed as a English preserve.
9. Sita Bani Temple:
This holy temple is associated with the legend of Maa Sita, wife of lord Rama, going under the earth.
10. Hanuman Garhi:
Dedicated to lord Hanuman, the temple is built on a beautiful hill. It is 3 Km away from Nainital.
Activities:
There are a lot of fun things you can do in the "City of Lakes".
Boating:
The Naini Lake is the center of attraction here. Boating and yachting is one the most popular activity among tourists.
Shopping:
There are many markets in the city like Bara Bazaar, Tibetan market and Mall Road market. You can shop for apparels, scented candles, key chains, books and artificial jewelries, souvenirs, handicrafts and artifacts.
Picnic Spots and Ropeway:
Nainital has an aerial ropeway that connects the city to Snow View Point. Which offers adventurous view of the Naini lake and China Peak, Tiffin Top and Snow View point.
Trekking / Hiking:
Nainital-Betalghat Trek, Nainital-Binayak Trek, Nainital-Kainchi Trek, Nainital-Kilbury Trek and Snow View Trek are popular hiking destinations in the city.
Some Hotels and Restaurants:
Vikram Vintage Inn
China Town Restaurant
Culture and Tradition:
Nainital comes under Kumaon region of Uttarakhand, so you will find traditional Kumauni culture here. Local languages are Hindi and Kumauni.
Local Festivals:
Naina Devi fair is one of the most famous local festival here during month of August. Christmas and new year celebration is main attraction of Nainital.
Education:
Nainital is one of the most preferred education hub of India. It is home of Sherwood school, Amtul's public school, Oak-wood school and Kumaon University for higher educations.
Inside Nainital:
Nearby Places to Visit in Nainital:
Bhimtal –Beautiful artificial lake
Naukuchiatal – Lake with nine corners
Sat Tal – A beautiful lake.
Bhowali hill station
Golu Devta temple in Ghorakhal
How to Reach Nainital:
By Train:
Nearest railway station is Kathgodam (Haldwani) railway station.
Road distance of Nainital from Kathgodam is 30 km.
By Flight:
Nearest airway is Pantnagar airport.
Distance from Pantnagar to Nainital is 60 km.