Har ki Dun trek with Ruinsara tal added is one the best treks Uttarakhand has to offer along with Valley of Flowers, Kedarkantha, Dayara Bugyal trek and Khaliya top trek. If you call yourself a trekker and haven't explored Har ki Dun trek yet, then think again and add it to your to-do list. It is a perfect trek for beginners and intermediate trekkers with full of everlasting experiences and many stories to tell your friends.
Taluka village in Uttarkashi district of Uttarakhand is the base village for Har ki Dun trek. Once you reach Taluka via a vehicle, you will start the trek from here. The trek distance from Taluka village to Har ki Dun is 27 km. So the total trekking distance becomes 54 km after returning back to Taluka.
Har Ki Dun Overview
| | |
| --- | --- |
| State: | Uttarakhand |
| Trip Duration: | 4 Whole Days from Dehradun |
| Best time to visit: | Oct-Dec, Mar-Jun |
| Summer Temperature: | Max 21°C & Min 15°C |
| Winter Temperature: | Max 13°C & Min -1°C |
| Nearest Major City: | Dehradun (200 Km) |
| Nearest Airport: | Jolly Grant Airport, Dehradun |
| Nearest Railway Station: | Dehradun Railway Station |
How to Reach Taluka (Starting Point of Har ki Dun Trek) from Dehradun
From Dehadun you can book a shared taxi to Sankri or Taluka. If you find a taxi till Sankri then you should spend the night there only because it will be hard to find any transport medium from Sankri to Taluka in the evening.
Next morning you will easily find a taxi to Taluka, which is only 12 km away from Sankri. It will cost you around 50 rupees for a single person. You can also book a cab but they will charge you 1000 rupees.
But if you find a taxi directly to Taluka village from Dehradun then you can spend the night in Taluka at GMVN guest house. The total distance from Dehradun to Taluka is almost 200 km, which easily takes 8-9 hours to reach.
Where to stay at Sankri?
The best and cheapest option to stay at Sankri village would be GMVN government guest house. Apart from that, there are many other budget friendly hotels in Sankri. Hotel Swargarohini Palace and KK palace to name a few.
Har Ki Dun Trek through Taluka, Gangad & Osla Village
The trek starts with lush greenery, solitude and peace. Along the trek you will see many wooden an cemented bridges, water sources and many ups and downs. At the starting of the trek, you will have to descend and then it will test your stamina along the way.
Keep your food items such as snacks, water bottle and meal in Taluka village before starting the trek. You will also find a few tea stalls along the way where you can take some rest and have tea and snack.
You will see the villagers and kids doing their regular work and carrying huge piles of grass on their backs. If you would get unsure about which way to go, they will humbly greet you and tell you the right way.
The enthusiasm, aliveness and hard working attitude of the villagers will become an inspiration for you to move forward until you finally reach Har ki Dun.
You will witness a small waterfall, making its way to Supin river. If you are going in December, you will witness a little bit of snowfall, which will set the perfect mood for trekking. With the river flowing in your left hand side and the sound of the chirping birds will make you fall in love with this heavenly place.
Along the way, there are plenty of fresh natural water sources, where you can directly drink from you mouth or fill up your water bottles. There will be plenty of scenes in the trek, where you cannot resist yourself to take out your camera and capture the amazing moments.
Gangad Village
You can stop at the river bank to witness the surreal meditative nature along with the sound of flowing river. After that you will enter a dense forest which has an amazing aroma, which city people can only dream of.
As you move on through the narrow and silent trails, you enter the ancient village of Gangad. Local villagers will greet you with a smile on their faces, which will set you in the mood for rest of the trek. You can take rest here for a while to have some tea and snacks.
Every house of Gangad village is made of woods. This unique village is certainly one of the main attractions of Har ki Dun trek. Some trekkers also spend the night at Gangad. There are a few beautiful wooden hotels just outside the village, where you can stay comfortably. But most of the trekkers spend the night at Osla village.
Fasinating Facts about the Remote Village of Gangad
There is a huge problem of electricity in the village and there is no road. There are around 90 families in the village and they do not take part in the elections.
They want the government to provide electricity and road to the village, only then they will be the part of the elections, which is a pretty valid demand. They deserve to have access to electricity and basic transportation.
Osla village
As you reach Olsa village, it might get dark. You can spend the night here. Olsa has a few small wooden guest houses, where you can even cook your own food. The houses have chulha, where they prepare food using old school methods. In the morning, after having breakfast in the beautiful ancient village of Osla you can start walking again.
Kids are very friendly in Osla village. They play many games that city kids don't play anymore. They will be very excited to see you and might invite you to play with them.
Spending the night in Osla will make you feel like you have time traveled to 100 years back. You can hear the stories from the elders and witness the enthusiasm of the village kids. It is certainly an experience of a different world.
In Osla village, there is an ancient wooden temple. Elders will tell you that it is Duryodhan temple but new generation people will tell you that it is Somnath temple. In old days, people used to worship Duryodhan. Inside the temple you will see a centuries old copper gate and several Dhols.
If you don't have food items then you should eat in Osla village or you can pack your food. Because after that you need to reach Har ki Dun to find some small dhabas. But after climbing up 4 km from Osla, you will find a small tea stall, where you can have tea, snacks and some boiled eggs or omelette.
After Crossing Osla village
The trek from Osla starts with a massive suspension bridge over the river. The trek gets difficult from here as you gain more and more altitude. At a distance, you will see another village named Seema village.
After crossing the bridge, along the river you will witness a steep climb which will test your stamina. But the view of Osla village with the river flowing from the top will take your tiredness away.
Now you can see the huge mountains and snow peaks while climbing up the way, made of hard stones. The views of the vast valley from the narrow path might scare you but as you gain momentum, this fear turns into sweet feeling of joy and freedom.
You will see Kedarkantha and many other snow-covered high altitude mountains. As you move upwards, you will find a small wooden tent like structure just beside a small waterfall. You can rest here to catch your breath and have some snacks or water.
Trekkers can also prepare their own lunch on the way using old school methods.
Finally, you will reach Har ki Dun in the evening on the same day. If the sky is clear, you will witness the night sky with so clear view of the stars as you were floating in the galaxy.
You can have your dinner under the starry night and observe the nature for as long as you want.
Kalkatiyadhar Bugyal (Meadow)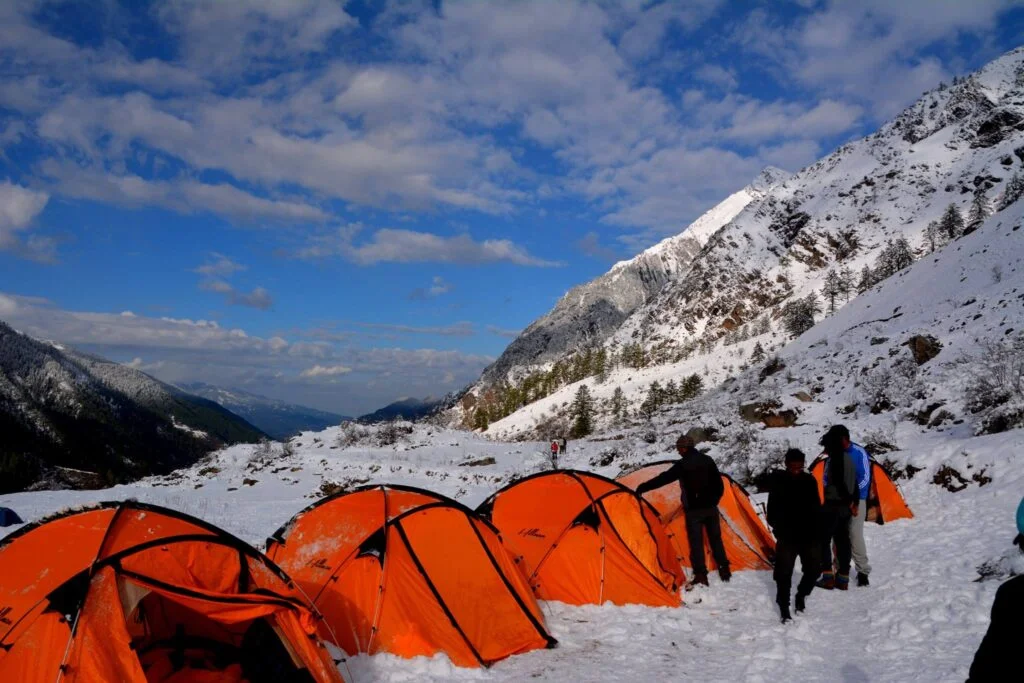 In mountains, the weather changes so unexpectedly that if you are going on Har ki Dun trek in December, you might witness sudden snowfall. After crossing Osla and Seema villages as you will reach the huge meadows of Kalkatiyadhar, the view becomes more clear.
You will find yourself in the middle of the huge fields and the vastness of the valley will amaze you. At a distance, you can see a narrow trail in the dense forest leading to Ruinsara.
There is also a campsite in the meadow adjacent to the dense pine forest. You can spend the night here if you like. Here, you will camps of many trekking companies also.
Such a beautiful campsite on the meadow with the river flowing, dense forests, and huge mountains and all of it above 3048 m! Certainly a day to remember for the rest of your life. After crossing a small wooden bridge, there will be the last ascend and then trek becomes easy and you will finally get to see the Har ki Dun peak.
Ruinsara Tal
It is a small fresh water lake located at a height of 3500 m in the mountain range of Swargarohini at the foot of mount Kalanag. It is 14 km upwards from Osla and Seema village. After reaching Har ki Dun, you can also visit this beautiful high altitude glacial lake.
The lake is considered to be sacred by the inhabitants of Har ki Dun valley. Alpine pastures, high altitude bugyals (meadows) and Rhododendrons trees surround the lake. If you plan to visit this place in the month of March and April then you will witness the redness and greenery in the valley because of Rhododendrons flowers.
Many trekkers choose to camp here and it is perfect for spending the night under the starry sky. Ruinsara lake is near the source of Supin river that flows throughout the way to Har ki Dun. If the sky is clear, you will get the clear view of high Himalayan peaks such as Mt. Kalanag, Ruinsar range, Swargarohini, and BandarPoonch peaks.
Best Time to visit Har ki Dun
You can do Har ki dun trek during the months of March and April or even in Summers. Many people do this trek in the months of October to December. If your aim is to witness snowfall then December would be the best time for you.
Otherwise, we recommend you to do Har ki Dun trek in March and April or in summer months such as May, June and early July. Avoid the monsoon season as the place witnesses heavy rainfall and if would not be a great idea to do the trek in this period of time.
We recommend you to keep your food items, water, tent, jacket and hat with you. In higher altitude areas, you cannot predict the weather. In one moment the sky is sunny and the next moment if might start to rain.
Har ki Dun Trek in March-June
Har ki Dun trek reopens in mid march. You will not witness snowfall during this time but you will see small amount of snow scattered through the area. The snow becomes more and more visible as you trek upwards from Kalkatiyadhar bugyal.
After the month of March the snow disappears and mostly there is sunshine in the valley. In the months of April and May, you will notice the small wild flowers in the meadows and the woods. March to June is the most popular time to start Har ki Dun trek.
After the month of June, the monsoons begin to take over the area and the place witnesses consistent amount of rainfall. During monsoons the trek remains closed. It is also not advisable to start Har ki Dun trek during monsoons because condition of roads is not good in some areas.
Har ki Dun Trek in September-December
After the monsoons, the trek reopens in the month of September again. You will find less number of people here as compared to the months of March-June. So, if you are looking for solitude these are the best months to trek and camp here.
In the month of September the valley becomes lush green. Especially bugyals (Meadows) will take your heart away with the greenery and small wild flowers. The sky remains clearer and you can see the nearby snow-covered Himalayan peaks.
After this, the temperature starts to drop and wind becomes cooler. And the nearby Himalayan peaks experience more snowfall.
If your aim is to witness snowfall in the valley then December is the best time for Har ki Dun trek. The are receives its first snowfall in mid December. The first snowfall of the season is always wonderful to experience.
After late December, the snowfall becomes heavier and the valley becomes covered with white snow. After the bugyal of Kalkathiyadhar, you will witness more and more snow on the ground.
Just After December, Uttarakhand government closes Har ki Dun trek and reopens again in the month of March.
Weather on Har ki Dun
Summers: Summers are very pleasant here and most of the trekkers prefer summers when it comes to Har ki Dun trek. The skies remain clear and you can see all the major snow covered peaks and the entire valley clearly. The average temperature ranges from 15 to 21 degree Celsius.
Monsoons: In Har Ki Dun monsoon season starts from July and remains till late August. During this time, the entire valley remains lush green and there are small wild flowers everywhere. The temperature fluctuates between 6 to 20 degree Celsius.
During the monsoons, the place experiences heavy rainfall and the trek to Har ki Dun remains closed. At nights, the temperature ranges from 6 to 9 degree Celsius.
Winters: The trek reopens in the month of September. During this time, the weather remains pleasant with sunshine but you might experience small rain showers. The temperature in September might go down in the minus during nights.
The valley remains lush green. In the month of November the temperature goes down further and the place experiences the first snowfall in mid December.
In the month of November, temperature ranges from -1 to 13 degree Celsius. January is the coldest month in Har ki Dun and temperature goes down to -11 degree Celsius during nights and the average temperature remains 8 degree Celsius during day.
Snowfall on Har ki Dun
In mid December, Har ki Dun witnesses the first snowfall of the season. The temperature goes down to minus and the nights become extremely cold. The snowfall remains until February. January is the coldest month here and the temperature goes down to -11 degree Celsius.
If you want to experience the snowfall while trekking then December is no doubt the best month for you. After December the trek to Har ki Dun remains closed and reopens in March again. In the month of December you will see snowfall and experience constant amount of rain showers during the entire trek especially after Kalkathiyadhar bugyal.
Notes and Tips for Har ki Dun Trek
Do not take long pauses if you want to reach the destination on time. Take small breaks and gradually move on to the top.
Don't take any extra luggage with you such as extra pair of pants or shirts. Keep only essential items in your bag which are necessary for survival because you will feel tired and exhausted more often. In that case, you tend to take long pauses while trekking if you are carrying a heavy backpack with you.
Always carry a water bottle with you to prevent your body from dehydration because you will be sweating a lot while moving upwards. There are many natural sources of water where you can fill your water bottle again and again.
Keep some healthy snacks (such as almonds, cashews, walnuts and raisins) and fruits with you to feel energized throughout the whole trek.
Safety Advice during Har Ki Dun Trek
Always carry essential items such as foods, snacks, and water with you.
Do not make your backpack too heavy, only keep essential items. Don't keep extra luggage which is not useful because it will make you tired and you will be left behind or might not complete the trek on time.
Always keep first aid box with you such as pain reducing spray, pain killers, balm and bandages.
Keep your backpack full of survival related items such as tent, food, lighter or matchbox etc that you are definitely going to use.
In villages such as Gangad, Osla and Seema there is a huge problem of electricity so keep your cellphones and camera charged and carry a power bank with you.
Always keep some cash with you because most of the vendors in villages don't accept online payment mediums such as Google pay, Phonepe or Paytm.
If you are a solo trekker, keep interacting with locals because they will tell you the best spot to camp and the right way to go in case you feel lost.
Always check the weather forecast before planning your trip especially if you are trekking in the month of December.
Do not hike during the night. Find a safe place to camp or stay at Gangad, Olsa or Seema villages.
Always carry a map with you especially if you are a solo trekker or keep asking the local villagers.
Before starting the trip, prepare a short itinerary if you are not going with a trekking company. Or you can check our recommend itinerary below:
Recommended Itinerary for Har ki Dun Trek
Day 1: Dehradun to Sankri (200 km Driving Distance, 9-10 hours)
Departure from Dehradun and Arrival at Sankri Village. You will arrive here in the evening and spend the night at Sankri Village. There are many budget hotels and a GMVN government guest house.
Day 2: Sankri – Taluka – Osla Village (Driving Distance: 12 km, Trekking Distance: 14 km)
Taluka village is 12 km away from Sankri via road. From Takula, Har ki Dun trek starts. The trail will take you through a dense forest of chestnut and walnut. The trekking route from Taluka to Osla is along the right side of Supin River.
You will see many wooden bridges over streams and river along the way. You will trek through the ascends and descends from Taluka to Osla village or Seema village, which is a 14 km trail.
Day 3: Osla Village to Har ki Dun (Trekking Distance: 12 kms)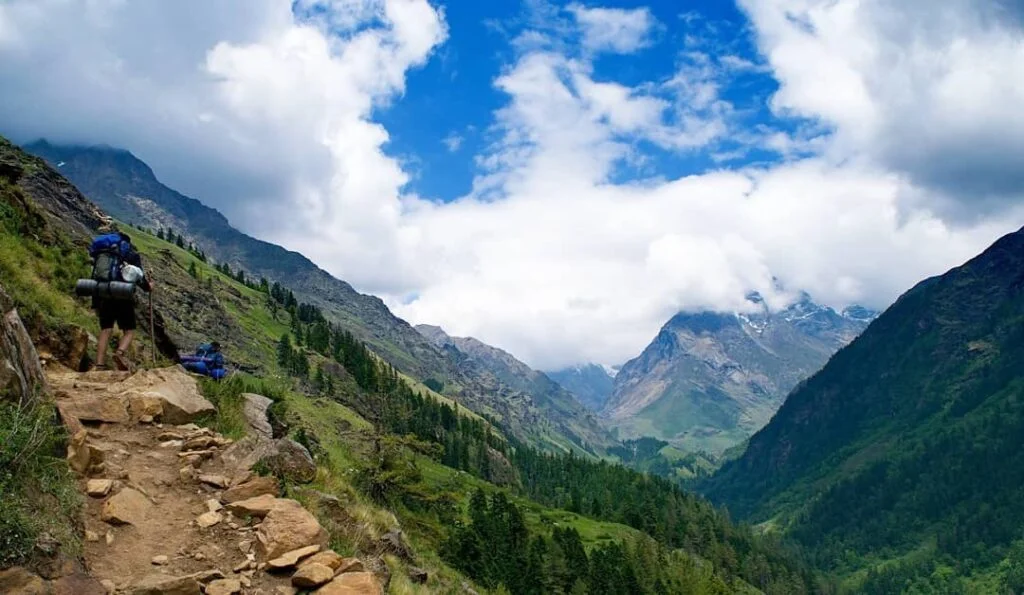 After crossing Osla village, further trek will start through a huge bridge over Supin River. After crossing the bridge, there is a long steep climb which will definitely take more than half an hour to complete. From there you can see the trekking trail for the next 4 km taking you to the lush green meadow of Kalkatiyadhar.
After reaching Kalkatiyadhar, you will find yourself in the middle of the huge meadows and the vastness of the valley will mesmerize you and finally Hata Peak will become visible. Your final destination Har ki Dun is situated at the foot of Hata Peak.
Day 4: Har ki Dun – Jaundhar Glacier/Maninda Tal – Har ki Dun
Finally you have arrived at Har ki Dun. Witness the starry night and the clear sun in the morning shining from behind the Swargarohini Peak. You can also choose to do any one of the two further treks of Jaundhar Glacier and Maninda Tal trek or you can return back to Taluka. After that you will head back.
Things We Love About Har Ki Dun Trek
It is a beautiful trek, full of adventure, solitude, freedom, peace, and joy. In each and every step you find a new thing to experience, which takes away all of your tiredness and fatigue.
Har Ki Dun is a perfect trek for beginners and intermediate trekkers. It is not very hard but at some places of uphill climbing, it really tests your stamina an courage. The trek provides a whole new experience to advance trekkers also.
The trek takes almost minimum 5 to 9 days to complete from denaturing from Dehradun to returning back to Dehradun. It takes you to the maximum altitude of 11,811 ft above the average sea level.
It provides you many experiences in several forms such as ascends, descends, lush green Bugyals (Meadows), enchanting deep valleys, dense forests and high snowy mountains.
Is Har ki Dun Trek Safe?
Har is Dun is an easy trek, which is perfect if you are new to trekking. Almost everyone can complete the trek without facing much difficulties. We have even seen over 60 and 65 year old men completing the Har ki Dun trek.
The trek tests your stamina and mental fitness at some points because there are many ascends and uphill routes. But they are not enough to break your courage. Keep a medical kit, water and snacks with you. Take small breaks in-between the journey and you will be fine. You have to complete almost 8 to 10 km each day.
Villagers are very friendly and polite, they will help you whenever needed. If you are planning to stay at villages en-route then you might not need tent and sleeping bag with you. Hire an experienced trekking guide at Sankri or Taluka if you are new to trekking and not feeling confident.
If you are also visiting Ruinsara tal, it will take you to the highest point of 11,811 ft (3,600 ft). The height of final point of Har ki Dun trek is 11,700 ft (3,566 m). Be mentally prepared for that before starting the trek and avoid anxiety. Be patient and calm throughout the trek.
Before starting the trek, make sure you are well equipped and well prepared mentally and physically. Keep taking deep breaths and keep moving forward slowly towards your destination while enjoying the enchanting beauty of the valley and the tall Himalayan mountains.
Required Documents for Har ki Dun Trek
Carry the original and a copy of your Aadhar card or voter id card or passport or driving license or anything to prove your identity.
You will have to submit a copy of your identification card to the forest department of Uttarakhand. This is mandatory to get the permission for trekking.
Keep these documents is a waterproof plastic bag to keep them safe because you might encounter frequent rain showers during the trek.
There are number of shared cabs at the taxi stand near Dehradun Railway station. But they will make you wait as they have to find at least 5 people to share the ride and cab fare. If you are 4 or 5 people then you can directly book a cab, share the cab fare and start your journey immediately.
In case you don't find any taxi going to Sankri or Takula, take a cab going to Purola or Mori. From there you will definitely find shared taxis to Sankri. After that, you can go to Taluka next morning and start trekking.
They will charge you 300-400 rupees from Dehradun to Purola or Mori and 150-200 rupees from Purola/Mori to Sankri/Taluka. It will take 8-9 hours easily to complete the journey till Taluka. From Taluka you will start trekking to Har Ki Dun.
How to Reach Har Ki Dun (Taluka Village)
By Air
Jolly Grant airport Dehradun is the nearest airport to Sankri or Taluka village. The airport is active and well-connected to Delhi and other major cities. The distance of Sankri from Dehradun is 200 km. You can find many cabs from Dehradun taxi stand to Sankri or direct Taluka village. One can also book a cab directly from the airport to Sankri or Taluka. You can even use public transport system.
By Train
Dehradun railway station is one of the nearest airports to Har ki Dun. Just next to the railway station, there is a taxi stand from where you can find cabs to Sankri or Taluka village. It will take 8-9 hours to reach Taluka from Dehradun. You can even use public transport and split the journey. You can find a bus/shared cab going to Paula or Mori village. From Paula/Mori you can find another bus/cab going to Sankti or Taluka village.
By Road
You will have to reach Dehradun first for Har ki Dun trek. There are many buses from ISBT Kashmere gate Delhi going to Dehradun. It will take around 6-7 hours to reach Dehradun from Delhi. Here you will find many taxis at taxi stand of Dehradun, which will take you to Sankri or Taluka village. You will have to start the journey in the early morning to reach Sankri or Taluka on time. Taluka village is 12 km further from Sankri village. Check above section for cab fare and expenses.
FAQs
How long is Har ki Dun trek?

It is 27 km one way and 54 km round trip.

How many days does it take to reach Har ki Dun from base village of Taluka?

You will typically reach Har ki Dun at 3rd day from Taluka village.

How hard is Har ki Dun trek?

The trek is not so hard. It is good for beginners and intermediate trekkers. It will test your stamina at some point but it is rather easy.

How safe is Har ki Dun trek?

It is pretty safe and easy compared to other treks. But always keep first aid kid with you.

Can I do Ruinsara Tal trek with Har ki Dun?

Of course you can but it will add one more day to your time.