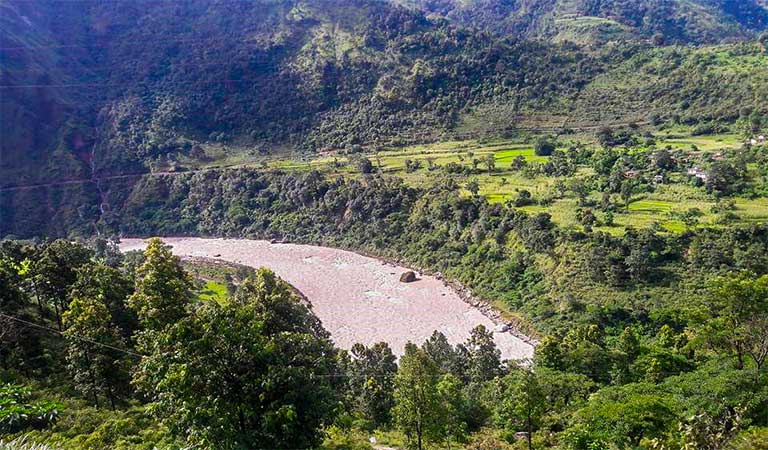 Baluwakot is a large village near Indo-Nepal border in Dharchula Tehsil of district Pithoragarh, India. It is situated at a distance of 16 km from Dharchula town, surrounded by lush green environment and snow covered Kumaoun Himalayas.
The village comes under Baluwakot panchayat. Pin code of the area is 262576. The nearest town and Tehsil is Dharchula, which is 16 km away. The village is 80 km away from district headquarters on Pithoragarh.
Population of Baluwakot:
According to 2011 Census, The total geographical area of Baluwakot is 882.66 hectares. The village has about 1,225 houses and a total population of 5,455 people.
Education in Baluwakot:
The village has a Government Inter college, which provides education till senior secondary level to rural children. For higher education, there is a Govt. Degree College in Dharchula, which has many under graduate and post graduate programs. For more educational opportunities, one has to go to Pithoragarh(80 km), which has many good private and government institutions, affiliated to CBSE, ICSE and State Board of Uttarakhand.
Location:
The village is situated on Delhi-Dharchula highway. Many travellers, travelling between Pithoragarh and Dharchula or Delhi and Dharchula stop here to have a tea break.
How to Reach Baluwakot:
Baluwakot village is situated in Dharchula Tehsil of Pithoragarh district. It is 80 km away from Pithoragarh,26 km from Askote, 16 km from Dharchula and 44 km from Didihat via Delhi-Dharchula highway. Nearest airport is at Pantnagar, which is at a distance of 289 km. Nearest railway station is Tanakpur, 224 km away via NH9. Buses and taxis from Pithoragarh, Tanakpur, Dharchula, Didihat, Kathgodam and Haldwani are available.