Rudraprayag is a town and district of Uttarakhand state which is located at the confluence of rivers Alaknanda and Mandakini. Rudraprayag District was established on 16 September 1997. Rudraprayag is named after 'Rudra', a facet of Lord Shiva and the word 'Prayag' means confluence.
According to Hindu mythology Lord Shiva appeared here as 'Rudra' and fulfilled the wish of Narad Muni. The Holy town Kedarnath is situated in this district. Rudraprayag is on the way to holy town of Badrinath.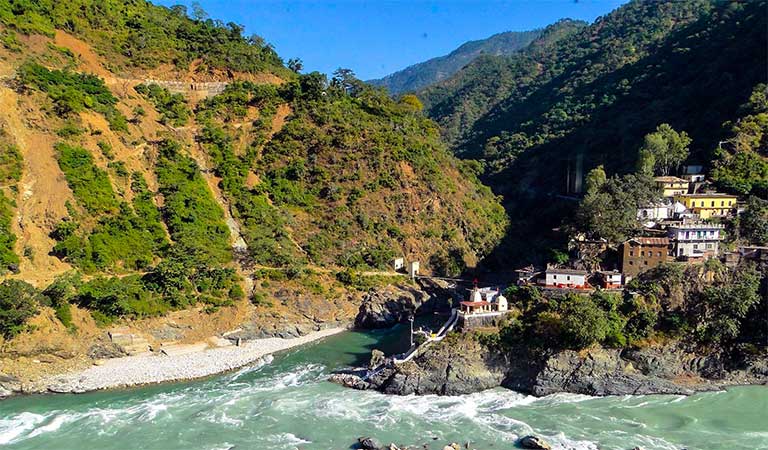 Rudraprayag Overview
| | |
| --- | --- |
| State: | Uttarakhand |
| Time to Explore: | 2 Whole Days |
| Best time to visit: | All Seasons except Monsoon |
| Languages: | Hindi and English |
| Summer Temperature: | Max 26°C & Min 14°C |
| Winter Temperature: | Max 12°C & Min 2°C |
| Nearest Major City: | Dehradun (176.2 km via NH 7) |
| Nearest Airport: | Jolly Grant Airport, Dehradun |
| Nearest Railway Station: | Dehradun Railway Station |
Places to Visit
Other Nearby Places at a Glance
Rudranath Temple Rudraprayag is named after Lord Shiva and temple of lord Rudranath is situated at the confluence of Alaknanda and Mandakini.
According to mythology Narada Muni worshiped god Shiva here to learn music from him. The god then taught him music in his form of Rudra (Lord of Music). There used to be a rock called Narad Shila where Narada is said to have sat in meditation.
Dhari Devi Mandir is situated at Kalyasaur among Srinagar and Rudraprayag. The distance between Srinagar-Dhari Devi and Dhari Devi-Rudraprayag is 16 km and 20 km respectively. One can reach here with no trouble by taxi or bus from Srinagar and Rudraprayag.
Chamunda Devi Temple is also situated at the confluence of the holy rivers ( Alaknanda & Mandakini). Chamunda as the wife of Lord Rudra is worshiped here.
Koteshwar Koti means crore (10 Million) and Ishwar means god. This is again a temple of Lord Shiva made in natural caves.
Shree Tungeshwar Mahadev Ji, Phalasi (फलासी) Near Chopta – This temple has been here for centuries. Folklore has it that the Pandavas came here for penance. On the way from Chopta, there were many small temples up to the Tunganath Temple, the remains of some are still there. On the temple wall, there are terracotta style seals and Shiva-Parvati figurines.
The Kartik Swami temple is dedicated to Lord Kartikeya – son of Lord Shiva. It can be reached by a 3 km trek from Kanak Chauri village, which is located on the Rudraprayag-Pokhri route, 38 km from Rudraprayag. Visitors can see the snow-clad Himalayan range from the Kartik Swami temple.[2]
Basukedar Basukedar (reputedly where Shiva lived before coming to Kedarnath). It's a Shiva temple constructed by Pandava. Architecture and idols seem to be at least 1000 yrs old. A good place for meditation and Dhyana Yoga. This is around 35 km from Agustmuni, around 1.30 hours by driving. This is actually an old track to visit Kedarnath. It is said that Lord Shiva stayed a night in Basukedar while he was travelling to Mount Kailash ( Kedarnath) this is the reason this place is called Basukedar.
How to Reach Rudraprayag
Air:
The nearest airport to Rudraprayag is the Jolly Grant Airport near Dehradun 176.2 km (107.2 miles) away.
Railway:
The nearest railway station is at Rishikesh. However, Rishikesh is a small railway station not connected by fast trains. Haridwar railway junction, 24 km farther from Rishikesh, has train connections to most of the major cities in India and is, therefore, the railhead for Rudraprayag.
Road:
Rudraprayag district lies on national highway NH58 that connects Delhi with Badrinath and Mana Pass in Uttarakhand near Indo-Tibet border. Therefore, all the buses and vehicles that carry pilgrims from New Delhi to Badrinath via Haridwar and Rishikesh in pilgrim season of summer months pass through this district on the way to Joshimath and further north.
Rishikesh is a starting point for road journeys to this district and regular buses operate from Rishikesh bus station to Rudraprayag. The road distance from Rishikesh to Rudraprayag is 141 km (88 mi) via Devprayag and Srinagar.
Haridwar to Rishikesh 24 km
Rishikesh to Devprayag 74 km
Devprayag to Srinagar 34 km
Srinagar to Rudraprayag 33 km