"Yoga Capital of the World"
Rishikesh is known as the 'Gateway to the Garhwal Himalayas' and 'The Yoga Capital of The World'. It is a tehsil of Dehradun district of the Uttarakhand state, India. Legendary rock band The Beatles had visited the ashram of the Maharishi Mahesh Yogi in the late 60s to seek spirituality.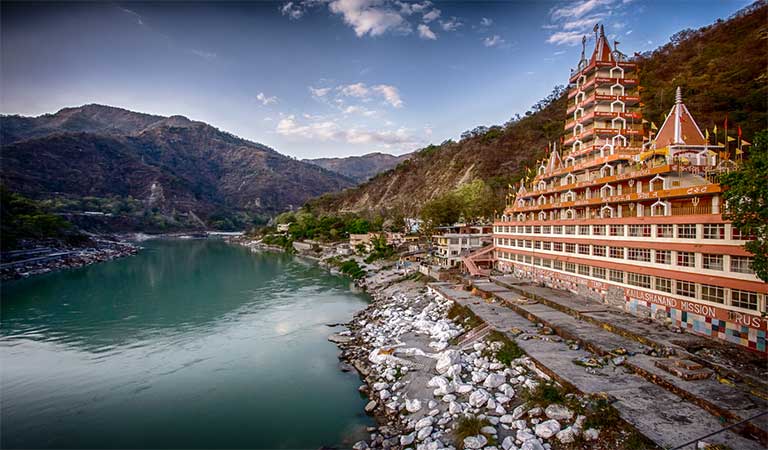 The holy River Ganges flows through the city. Rishikesh is a world-famous tourist spot and home to various adventurous activities. And also a major spiritual place. It is famous for its various shrines and yoga ashrams.
Here are the most fun things you can do in Rishikesh:
River Rafting:
The most popular fun and adventurous activity in Rishikesh is Water Rafting. Many adventurous tourists both from India and overseas visit this place to experience the adventure of water rafting. River Ganga offers excellent rafting rapids and best rafting facilities, Rafting is popular among all age groups i.e. students to families to corporate groups.
Best time for river rafting in Rishikesh: Summers are best to try river rafting in Rishikesh.
River rafting Route: Kaudiyala to Lakshman Jhula (36 km) with 13 major rapids.
Grade levels for rafting in Rishikesh: Basic (Grade I & II), Standard (Grade III) and Expert (Grade IV)
River rafting routes:
Kaudiyala- Marine Drive (10 km with grade III & IV)
Marine Drive- Shivpuri (11 km with grade II & III)
Shivpuri-Brahmpuri (11 km with grade I & II)
Brahmpuri-Lakshman Jhula (9 km with grade I)
Rafting charges in Rishikesh: Rs 400-1500.
Cliff Jumping :
Cliff jumping is mostly included in the rafting package. You jump from a cliff into the River Ganga wearing a life-jacket. It is both fun and adventure. The experience is definitely going to be one that you will never forget.
The average height of cliffs: 20 feet
Cliff jumping spots in Rishikesh: Brahmapuri, 2 km before Lakshman Jhula.
Body Surfing :
In body surfing, you get along with the motion of the water waves on your back and feel the movement of the body along with the tides of the river, wearing a life-jacket.
Charges: You would enjoy it for free during river rafting.
Best time: Summers.
Bungee Jumping :
Rishikesh has the highest bungee jumping spot in India. It is the only destination with a fixed platform for jumping.
Bungee jumping spots: Jumping Heights, Mohanchatti
Timings: 9:30 am to 3:30 pm
Age limit: Minimum 12 years
Weight requirement for bungee jumping: 35-110 kg
Kayaking:
The Ganga river offers excellent and challenging rapids for Kayaking. People who are looking for a challenging & thrilling journey it's an important experience to gain.
Kayaking spot in Rishikesh: Shivpuri
Camping:
Bonfires are arranged during nights for the travelers to provide warmth in open cool spaces. The heat from the bonfires spread warmth in the atmosphere and creates a cozy environment for the travelers.
Best time for camping: February to May and September to November.
Some of the Best camps in Rishikesh: Camp Rapidfire, Camp Aquaforest, and Camp Gold Coast.
Trekking:
Trekking hereis no doubt one of the most exciting activities to do. Walking through green meadows and pathways, you can find your way to exciting destinations.
Best time for trekking in Rishikesh: Anytime excluding monsoons.
Trekking routes: Waterfall trek, Kunjapuri Trek and Neelkanth Mahadev Trek.
Mountain Biking:
Mountain biking in Rishikesh involves riding bicycles off-road and over rough terrain through the hills, which is a great experience that you just can't compare with anything else. Explore Rishikesh riding a bike.
Best time for mountain biking: Anytime excluding monsoons.
Flying Fox:
The Flying Fox is an exciting adventure sport in Rishikesh. You would enjoy the gravity and the air flow as you fly like a free bird over the mountain range of the Himalayas and the holy river Ganga.
Minimum age required: 12 years
Charges of Flying Fox: Rs. 1200-1500
Flying Fox spots in Rishikesh: Shivpuri.
Rock Climbing and Rappelling:
Rock climbing is an activity of climbing up, down or across natural or artificial rock walls. While rappelling is an adventure activity that involves coming down a rock or artificial climbing wall with the help of ropes and other equipment.
Ayurvedic Massage and therapies :
India is home of Ayurveda. There are a number of institutes in Rishikesh who offer proper Ayurvedic massage.
Ayurveda therapies and massage in Rishikesh: Hemadri Ayurveda Centre, Ayurveda Bhavan, Ananda in the Himalayas and Braham Yoga and Healing are some of the well-known Ayurvedic massage centers in Rishikesh.
Paragliding:
Take an incredible experience of flying over the Himalayas, Ganga River, green forests, dams and in Rishikesh.
Best time for paragliding in Rishikesh: Anytime excluding monsoon season.
Yoga and Meditation:
Gain the inner peace with excellent yoga and meditation centers in Rishikesh. Boost your mental health with the help of world-class yoga and meditation experts.
Best ashrams for yoga and meditation: Parmarth Niketan Ashram, Omkarananda Ganga Sadan, Sivananda Ashram and Shree Mahesh Heritage School are among the top Rishikesh ashrams.
Hot Air Ballooning:
4 or 5 people can enjoy the ride together, flying over the beautiful mountains at the height of 100ft to 500 ft depending on weather and wind flow.
Best time for hot air ballooning: Winters.
Ganga Arti at Triveni Ghat:
The most popular attraction of Triveni Ghat is the incredible Ganga Aarti, where River Ganga is worshiped every evening. This devotional prayer (Arti) is also termed as Maha Aarti. This huge, amazing and memorable event is attended by a large number of devotees.
Ganga Aarti timings: 6:00 PM to 7:00 PM
Ganga Arti place: Triveni Ghat.
The Beatles Ashram:
The Maharishi Mahesh Yogi ashram or The Beatles Ashram is situated in a beautiful place within the Rajaji National Park. The holy river Ganga flows behind it. It got the world's attention when the band members of the legendary English rock band The Beatles came here to learn meditation and yoga in February 1968.
Places to Visit: