Almora is nestled in Kumaon region, east of Uttarakhand. It is blessed with utmost scenic grandeur. It is known to offer spellbinding views of the majestic Himalayas that stand here in pride. The tides of time haven't taken away the essence of Kumaoni culture from this place. This attracts many tourists.
Almora has rich cultural heritage, unique handicrafts, and ancient monuments. And also the finger-licking Pahadi cuisines. This lures people coming from all parts of the world to visit Almora. It is one of the 13 districts of Uttarakhand.
When Mahatma Gandhi visited here he quoted-
"In these hills, nature's hospitality eclipses all men can ever do. The enchanting beauties of the Himalayas, their bracing climate and the soothing green. It envelopes you leave nothing more to be desired. I wonder whether the scenery of these hills. And the climate are to be surpassed if equalled, by any of the beauty spots of the world. After having been nearly three weeks in Almora Hills, I am more than ever amazed. Why our people need to go to Europe in search of health".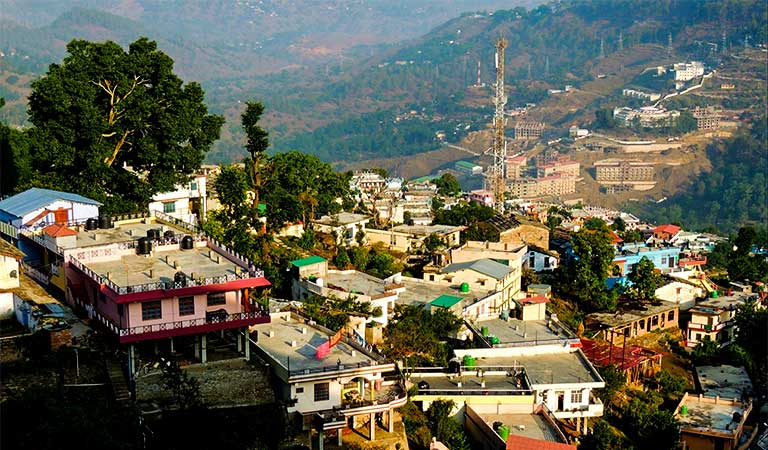 Almora City Overview
| | |
| --- | --- |
| State: | Uttarakhand |
| Trip Duration: | 2 Whole Days |
| Best time to visit: | All seasons expect monsoon |
| Languages: | Hindi, Kumaoni, and English |
| Summer Temperature: | Max 31°C & Min 12°C |
| Winter Temperature: | Max 12°C & Min 5°C |
| Nearest City: | Haldwani (89.3 km via NH109) |
| Nearest Airport: | Pantnagar Airport (116 km) |
| Nearest Railway Station: | Kathgodam Railway Station ( 82 km) |
Handicraft in Almora district:
Almora district is popular for its art and handicraft items depicting the Kumaoni culture. Some of the art forms are indigenous to this place. These forms cover the socio-economic aspect of the rural life. Out of these Himalayan line handicrafts, some are very rare. They are in high demand as they are quite popular among the tourists. If interested, you can check the table below. Here you can get the handicraft items in this district. The table below shows the name, place of manufacture and the approximate range of rates of the handmade items:
| Name Of Handicraft | Place of Manufacture | Price Range (As On 1.6.1998) |
| --- | --- | --- |
| Pasmina Shawls | Munsyari, Dharchula | 5,000-20,000 |
| Woolen Products (Shawls, Chutka,Carpet, Thulma) | Almora, Ranikhet, Bageshwer, Munsyari, Didihat, Dharchula | 200-20,000 |
| Ringal Products (Musta, Dalia) | Nachani, Dharmghar | 50- 5,000 |
| Kumauni Folk Art | Nainital | 10- 5,000 |
| Decorative Candles | Nainital | 5-10,000 |
| Drift Wood (Ekabana and Statue etc) | Nainital, Tanakpur, Bageshwer | 25- 5,000 |
| Copperware | Almora Town, Uder Khani, Chaugaonchina | 5-10,000 |
Almora City – A stunning Tourist Place:
The pictorial hill city of Almora is a business hub for the Kumaon region. It is surrounded by Pithoragarh district to the east and Garhwal region to the west. Bageshwar district to the north and Nainital district to the south. Hill station of Almora is present on a 6 km long horse-saddle shaped ridge. The eastern part of which is called Talifat. While the western one is known as Selifat. The pristine Kosi and Suyal rivers flow near the city.
The surreal landscape of this town lures many travellers to beckon the Himalayas. There are multiple tourist places to visit in Almora District. Interestingly, the town got its name from a plant, Kilmora that grows in the region. The locals say that Almora's beauty has lured many renowned personalities. For example, the Hindu spiritual leader Swami Vivekananda and the great poet Sumitranandan Pant. This alluring place is surrounded by other districts of Uttarakhand. Such as Bageshwar and Chamoli on the Northern side. Pauri on the western side. Nainital on southern and Champawat on the eastern side.
History of Almora district:
Almora was once under the possession of Katyuri King, Baichaldeo. He donated a major part of his land to Sri Chand Tiwari, a Gujarati Brahmin.
In 1560, Kalyan Chand shifted the capital of Chand Dynasty to Almora from Champawat. During the reign of Chand Dynasty, Almora's name was "Rajapur".
This was inscribed in a number of copper plates that were found later.
The town was the administrative headquarter of the Kumaon district. It was formed in 1815. After that, the defeat of Gorkha army in the Anglo-Gorkha war took place. And then the 1816 Treaty of Sugauli happened.
During that time, the Kumaon district comprised of the entire Kumaon division. Of course, excluding the Terai district with its headquarters at Kashipur.
Places To Visit in Almora District:
"These mountains are associated with the best memories of our race. Here, therefore, must be one of the centers, not merely of activity. But more of calmness of meditation, and of peace and I hope someone to realize it." – Swami Vivekananda
There are so many places to visit in Almora. Almora district is known for:
Its quaint hill stations
Ancient bazaars
International woolen market
The towering Himalayan peaks
These offer adrenaline pumping trekking expeditions to the wanderers. The district boasts of many beautiful places. They are worth visiting. But some of the popular tourist attractions that one must reach out for.
Flora and Fauna:
Flora:
Owing to its great elevation, the region boasts 4,000 species of plants. Therefore, having remarkable diversity. The flora of this region can be classified into:
Tropical
Himalayan sub-tropical
Subalpine
Alpine vegetation
The alpine and sub-alpine zones are considered as the most natural abode for the largest number of medicinal plants. Sub-tropical forest zone lies between the altitude of 300 to 1,500 meters. It comprises of the following forest communities, such as:
Sal
Chir/Pine
Vijaysar
Ramal
Faliyal Oak
Chair Pine
Bany Oak Community
The Sub-temperate forest, which ranges between the altitude of 1,800 meters to 2,800 meters. They have trees, such as:
Deodar
Utis
Horse Chestnut
Kal
Banj Oak
Rianj Oak
Tilonj Oak.
Fauna:
The sub-alpine zones and the outskirts of Almora are a natural sanctuary for:
Leopard
Langur
Himalayan black bear
Kakar
Goral etc.
Whereas the high-altitude zones abound:
Musk deer popularly called as Kastura Mrig
Snow leopard
Blue sheep
Thar etc.
The region also serves as an abode to a variety of birds, such as:
Peacock
Grey quail
Kala Titar
Whistling-thrush
Chakor
Monal Pheasant
Cheer Pheasant
Koklas Pheasant etc.
The relation between the fauna and their favorite flora would be clear from the following table:
| Forest Type | Wild Life/Birds |
| --- | --- |
| Sub-trophical | Tiger, Chital (Axis axis) Leopard (Panthera Pardus), Fox (Vulpes vulpes montanus), Boar (Sus scrofa) |
| Tropical rain Forest | Goral (Nemoahaedus goral), Kalij Pheasant (Lophura leucomelana), Peora Patridge (hill Patridge, Chir Pheasant) |
| Mixed Cane Forest | Himalayan Thar, Monal, Koklas |
| Khusoo Forest | Musk Deer (Moschus moschiiferus), Himalayan Thar, Black Bear |
| Sub Alpine | Blue Sheep / 'Bharal' (Pseudois nahoor) Monal |
| Alpine | Snow Leopard (Panthera Uncia), Monal, Black Beer, Marmot, Bharal, Snow Cock (Tetraogallus himalayensis), Snow Patridge (Lerwa lerwa) etc. |
Almora District Stats:
District Headquarters: Almora

Division: Kumaon

The Geographical area: 3,090 km2

Coordinates: 29.59718°N 79.6570°E

Total Population in 2011: 6,21,927

Literacy rate: 74.53%

Altitude: 1,514 meters

Language: Hindi, Kumaoni, and English

Best Season: April-June and September-November

Climate: Alpine and Humid subtropical

Annual temperature: 28 to -2°C

Summer temperature: 28 to 12°C

Winter temperature: 15 to -2°C
Administrative Divisions:
Almora district is divided into nine tehsils namely:
Almora
Bhikiyasain
Chaukhutiya
Jainti
Ranikhet
Someshwar
Sult
Bhanoli.
Its Assembly constituencies are:
Fairs and Festivals:
Almora district is known for its regional festivals and culture. Kumaoni people have beautifully sustained their culture through all these years.
Their folk culture has been central to the economic activities of the people. Several regional fairs and festivals are celebrated in Almora district. These are an integral part of the Himalayan culture.
Some of the best-known festivals of the region are Nanda Devi festival of Almora. It is held during the month of September. This is organized here since the Chand rule. It is still in the hearts of the locals.
Uttarayani Festival of Bageshwar is one of the largest fairs of Kumaon region. It is a one-week long festival that is organized in the month of January. It is visited by the traders from Almora.
Jageshwar Monsoon Festival organized from 15 July to 15 August is another popular festival.
Dusshera Festival is celebrated with great joy in Almora. The festival falls in the month of October. It commemorates the victory of Lord Rama over Ravana. It signifies "the victory of good over evil." Thousands of tourists from the outskirts come to attend this festival.
Best Time to Visit:
Best time to visit Almora would be in the summer and spring season i.e. between March and September.
Monsoon (July – September): Max Temp 30°C & Min Temp 20°C
Summer (March – June): Max Temp 31°C & Min Temp 12°C
Winter (October – February): Max Temp 25°C & Min Temp 5°C
| Month | Avg. Minimum (°C) | Avg. Maximum (°C) |
| --- | --- | --- |
| January | 5°C | 15°C |
| February | 10°C | 20°C |
| March | 12°C | 24°C |
| April | 18°C | 30°C |
| May | 20°C | 31°C |
| June | 21°C | 31°C |
| July | 20°C | 30°C |
| August | 20°C | 30°C |
| September | 20°C | 28°C |
| October | 17°C | 25°C |
| November | 10°C | 20°C |
| December | 9°C | 19°C |
How to Reach Almora:
By Road
Almora is well connected by roads with all major cities. Buses are available from Haldwani, Delhi (360 km), Lucknow (437 km) and Dehradun (346 km). Buses to Almora and Kathgodam or Haldwani can be taken from ISBT Anand Vihar, Delhi. Almora is linked with NH 87 and NH 87E. Taxis to Almora are easily available from Kumaon region.
By Train
Kathgodam railway station at 82 km, is the nearest rail-head to Almora. Kathgodam is well connected with major destinations of India such as Lucknow, Delhi and Kolkata. Trains run frequently to Kathgodam as it is the gateway to Kumaon region. Buses and Taxis are easily available to Almora from Kathgodam.
By Air
Pantnagar airport at 116 km is the nearest airport to Almora. Taxis to Nainital, Haldwani and Almora are easily available from Pantnagar. Buses to Almora are also available from cities such as Haldwani, Kathgodam and Nainital.
Distance from various cities:
Delhi: 338 Km
Meerut: 300 Km
Chandigarh: 510 Km
Kanpur: 460 Km
Bareilly: 190 Km
Shimla: 610 Km
Lucknow: 440 Km