Mussoorie, also spelled as Masuri or Masoorie, is considered as one of the most suitable places for newlywed couples for honeymoon and vacations. Nicknamed as "The Queen of Hills", it is a hill station near Dehradun in the Uttarakhand state of India. It provides extremely beautiful sights, pleasant and calm weather. This is why, it is also called "Pahadon Ki Rani" or "The Queen of Hills." It is known for its snow-capped Himalayan mountains, lush green landscapes, calm and gentle breeze. These qualities make Mussoorie one of the most visited hill stations of India. Mussoorie is also known as the gateway to the important religious sights of Gangotri and Yamunotri.
Mussoorie, the Queen of Hills, is perched at a height of 1880 meters. It comes under Dehradun district of Uttarakhand. The region is situated on the foothills of Garhwal Himalayas. It is about 35 km away from state capital Dehradun. There's another town just next to Mussoorie known as Landour. Moreover, Landour is a military cantonment, which is a part of the 'greater Mussoorie', an extension of Mussoorie.
The highest point of Mussoorie is "Lal Tibba". It is snuggled in the Landour area. It is perched at an altitude of 1,830 meters above sea level. Since the place is surrounded by the lush green beauty, it makes it a popular tourist attraction. Additionally, Newlyweds and couples often visit this place to witness the mesmerizing sunrise and sunset. It is an ideal spot to soak in the beauty of the hills and to indulge in photography.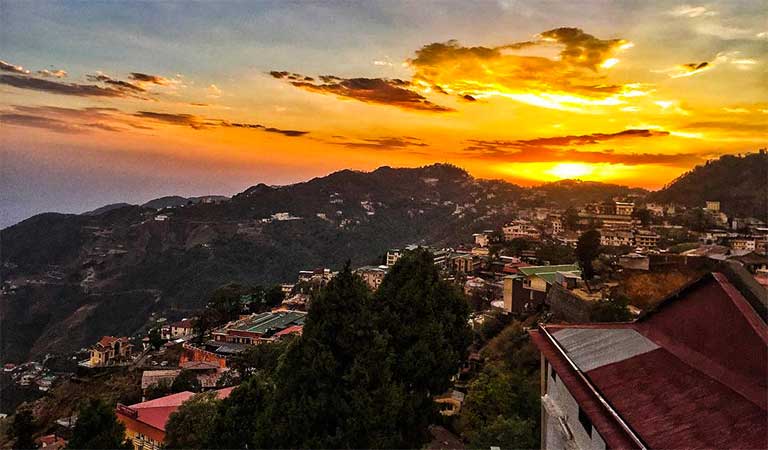 Mussoorie Overview
| | |
| --- | --- |
| State: | Uttarakhand |
| Trip Duration: | 2 Whole Days |
| Best time to visit: | Apr-Jun, Sep-Nov, Dec-Jan |
| Languages: | Hindi and English |
| Summer Temperature: | Max 24°C & Min 14°C |
| Winter Temperature: | Max 12°C & Min 2°C |
| Nearest City: | Dehradun (34 Km) |
| Nearest Airport: | Jolly Grant Airport, Dehradun |
| Nearest Railway Station: | Dehradun Railway Station |
Why Visit Mussoorie
Mussoorie, "The Queen of Hills" offers tremendous greenish views, fantastic weather and a beautiful view of the Himalayas. This makes it the favorite among tourists. Additionally, apart from being an extraordinary hill station, Mussoorie is also a famous education hub of India.
Lal Bahadur Shastri National Academy of Administration where IAS and IPS officers are trained is situated here. Moreover, the place provides amazing and distinct views of the Shivalik Ranges and the Doon Valley.
Brief History of Mussoorie
The name "Mussoorie" of the place came from the plant known as Mansoor Shrub found in this region. History of this hill station starts from the Gurkhas. Gurkhas ruled this region for a long period of time.
In 1803, Umar Singh Thapa and Gurkhas conquered Mussoorie and extended their kingdom. After this, the region came under the Britishers like all other regions of the state. Furthermore, in 1825, British military officer Frederick Young constructed a shooting lodge here.
In 1832, it was the intended terminus of the Great Trigonometric Survey of India that began at the southern tip of India. By the beginning of the 20th century, Mussoorie witnessed a lot of changes and development. For example, it started to grow not only as a major tourist destination but the growth of population and other businesses.
Mussoorie as a Weekend Getaway
The charming vista of Mussoorie beguiles the wanderers to throng here for exploring the Hill Queen. Since this beautiful place is blessed with nature's quintessence, it has become one of the best places for sightseeing and vacationing.
The hill station is revered for being the best weekend getaway for Doonites and Delhites. It is only a drive away from here. Furthermore, it is one of the favorite places for the tourists to visit during summer and winter vacations. The hill town bustles with activity all around the year and offers an enticing view of the splendid hill queen.
A long drive from Doon to Mussoorie wouldn't cost you much. It will give you an opportunity to seek peace and tranquility amidst nature. For example, travelers from Delhi, Dehradun, Chandigarh, UP and Haryana visit here. During the peak season, it witnesses a lot of crowd to beat the heat of the scorching summers.
A famous Educational Hub in the Country
The hill station has some of the best educational institutions in the country, imparting education to the scholars since pre-Independence. The famous British era schools include:
Woodstock School (1854)
The Convent of Jesus and Mary, Waverly (1845)
St. George's College (1853), Oak Grove School (1888)
Wynberg-Allen (1888)
Guru Nanak Fifth Centenary School (1869)
Convent of Jesus and Mary Hampton Court.
Other prestigious schools are Mussoorie International School (1984), Mussoorie Modern School, Tibetan Homes, CST Mussoorie and St. Clare's Convent School.
Mussoorie Adventure Activities
There are following adventure activities in Mussoorie:
Sky Walk
In Sky Walk you have to walk upon a 360 ft. long single wire rope at the height of 120 ft. Hands are free to move but you are just attached on supporting wire rope with the help of harness. You don't need to worry because in this technique you can not fall down at any case. So you can enjoy Sky Walk at the height of 120 ft.
Sky Bridge
It is made by wire ropes and bamboos. In Sky Bridge, You are harnessed and attached with long supporting wire rope and cross it with the support of your hands. You have to walk over the bridge having length of 300 ft. at the height of 80 ft. The capacity of a bridge is 25 persons at a time. The bridge shakes while crossing it.
Zip Swing
In Zip Swing, you are harnessed and attached with a wire rope where you go first by zipping on wire and while reaching at the middle you will get a swing high at 80 ft. and then return back.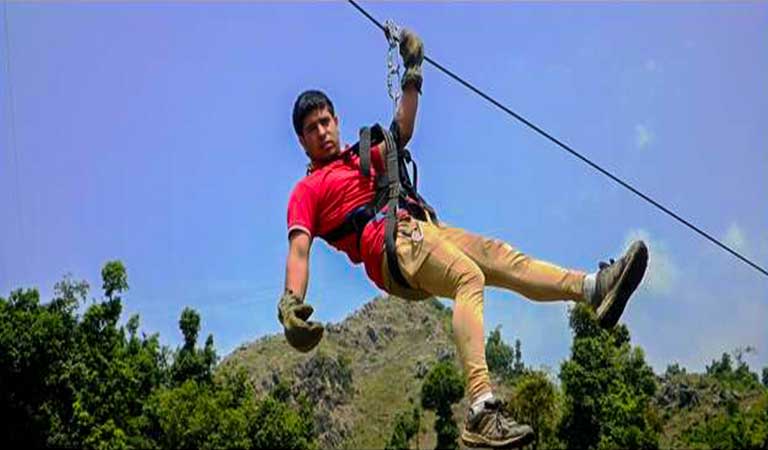 Zip Line
Zipline is a thrilling adventure activity. You are harnessed and attached on a wire rope with the help of pully at the higher end and then slide free fall to the lower end with speed of 50 Kmph. This wire rope is almost 330 ft. long.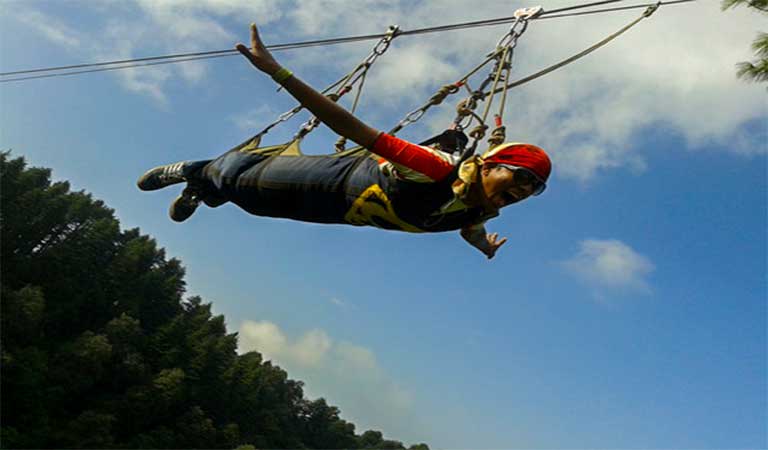 Valley Crossing
In this activity, you are harnessed and attached with a long wire rope with pully and you have to cross 360 ft. long and 120 ft. deep valley with the help of your hand by pulling the rope.
Rock Climbing
Rock climbing is a must try adventure sport for anyone who has an affinity for thrill and adventure. In this, you are harnessed with the rope and climb up for a distance of 1 Km. with the help of hands and feet grip. If you are new for this adventure, then you don't need to worry because professional and experienced climber will help you with the basic technique of climbing.
Rappelling
Rappelling is a famous adventurous activity. In this activity, you are harnessed and attached with a rope and have to come down a rock with the help of rope and equipments.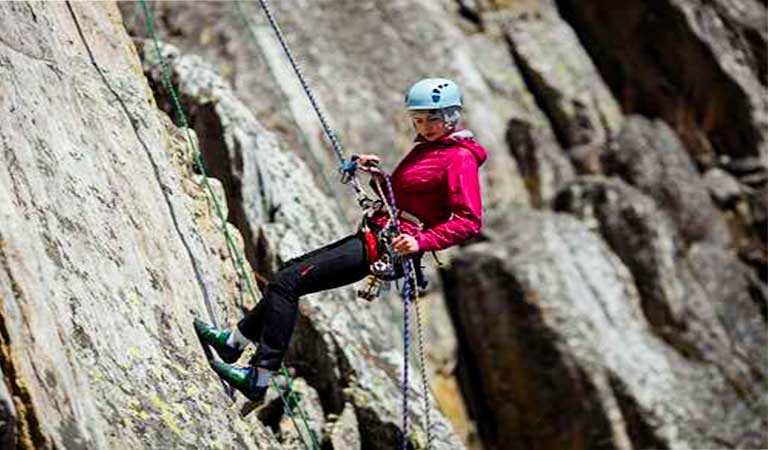 Camping
Surrounded by hill forests, this hill station is a suitable place for camping. Here you can enjoy other exciting activities. Here, you can take a break from the bustle of the busy city. You will get breakfast, lunch and dinner. Veg or non-veg item is also available.
Paragliding
If you are interested in paragliding, then Mussoorie is one of the best destinations in the country. This is the best way to fly in the open air and feel adventures. This service is not available in monsoon, apart from it it is available for twelve months.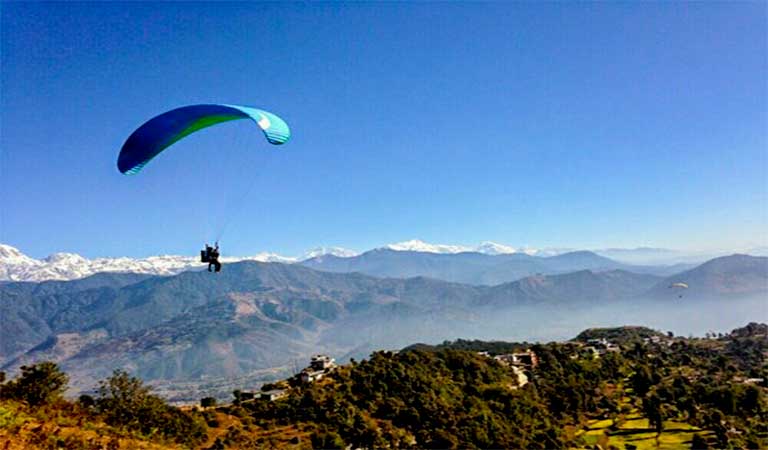 Mountain Biking
Mountain biking is a best way to explore Mussoorie. You will get a ride on bicycle for 2 hours. So this eco-friendly ride will give you a great adventurous experience.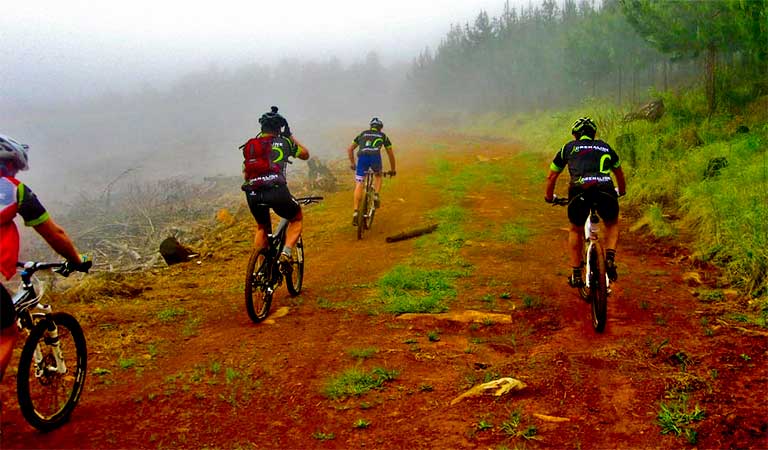 Places To Visit in Mussoorie
Places to visit in Mussoorie are mentioned below:
Places to eat in Mussoorie
Being a popular hill station, Mussoorie boasts some of the finest places to dine in. The hill station offers a wide variety of eating options from small cafes, buffets to fine dining restaurants. You can reserve your seat at the place of your choice. And sip a glass of the finest drink by sitting near the window, glancing at the distant peaks. There are many stalls who serve each type of the best Indian vegetarian fast food.
Don't worry about your budget as the street food of Mussoorie is equally enticing. An array of local dishes are also available at restaurants run by the local people. If you are here then don't forget to finger lick the mouth-watering Pahadi food. Check out the list of some of the famous places to eat in Mussoorie:
Popular Restaurants and Cafes
Momos Tibetan Restaurant at the Mall road
Aggarwal Vegetarian at Kulri Bazaar
Urban Turban at the Mall road
Kalsang at the Mall road
Anil's Café Char Dukan at Char Dukan Landour Cantt
Little Lama Café near Union Church
Café de Tavern at the Mall road
Casa Mica at the Mall road etc.
Best Budget Restaurants
Funjabi Tandoorz at The Mall road
Seagreen Café at Hathipaon Junction en-route Cloud's End
Mom's Kitchen
Bindra's South Indian Restaurant near SBI opposite Railway out Agency
Big Bang Bite at Gandhi Chowk
The Grand Dining Hall at Library Bazaar etc.
Fine Dining Restaurants
Trout House Grill & Bar at Kempty Fall road
JW Café at Kempty Fall road
Wisteria Deck at JW Marriott Mussoorie
Walnut Grove Resort & Spa
The Writer's Bar at Library Bazaar Gandhi Chowk etc.
Best Street Food
Lovely Omelet opposite Methodist Church Kulri Bazaar
Chaar Dukan near St. Paul's Church- Landour
Chaat Stall Opposite Chic Chocolate- Mall road
Gupta Fast Food Corner at the Mall road etc.
Snowfall in Mussoorie
The favorable climate and geographical location of Mussoorie make it susceptible to snowfall. The hill station receives snowfall from mid-December to February. Sometimes heavy snowfall in winters causes a ruckus. The streets get engulfed in thick snow, which hinders the movement. Above all, snow babies must visit here around New Year or when it snows.
If you are somebody who dislikes the crowd, then you shouldn't consider visiting here during fresh snowfall. As Mussoorie is located near the major cities, it remains jam-packed with traffic and tourists. Furthermore, travelers throng here in winters.
Famous Government Offices and Training Centres in Mussoorie
Lal Bahadur Shastri National Academy of Administration, a training institute for officers of the Indian Foreign Service is situated here. Indian Administrative Service and other civil services is based in Mussoorie. The academy is situated at around 2 km away from Gandhi Chowk.
The National Survey and Mapping Organization of the country, the Survey of India has a office in Landour, Mussoorie. Additionally, The Indo Tibetan Border Police Force Academy is also located here. Moreover, it was formerly known as the 'High Altitude Defense and Survival Academy.
Mussoorie as an Unofficial Erstwhile Summer Capital
A belief goes that Captain Young founded the city of Mussoorie. But there is not a single memorial to commemorate Lt. Frederick Young in Mussoorie. However, one can see a swift road meandering in Dehradun called Young Road. Here ONGC's Tel Bhawan stands in utmost pride.
Unlike Shimla, Britishers did not declare Mussoorie as a summer capital. But it became an erstwhile summer retreat. The pleasant climate of Mussoorie, offered relief to the English people from the hot summers of India. Many elite Englishmen, women and their families would live here. Additionally, one can still see the remnants of the British Raj in the vintage building structures and churches built here.
Mussoorie – The Home to Ruskin Bond "Famous Children's Book Author"
Mussoorie, serves as a home ground to the celebrated Children's Book Writer, Ruskin Bond. Bond goes by the name Rusty in his books. The author lives in the suburban area of Landour with his adopted family. Furthermore, if you drive through this area, you can see his minion house glowing under the mountain sunshine.
Come to Cambridge Book Depot, if you want to meet him in person or want to get your favorite book signed by him. The writer visits here every Saturday from 3:30 pm to 5:30 pm. Make sure to confirm the day and timings from the bookshop owner.
Interesting Facts on Mussoorie
In the year 1832, Mussoorie was the intended terminus of the Great Trigonometric Survey of India. It began at the southern tip of India. Although unsuccessful. Then Surveyor General of India George Everest wanted to have the new office in Mussoorie. As a compromise, they set up the office in Dehradun, where it still is.
India's first beer brewery was built in Mussoorie in the year 1850. By the year 1894, government set up 22 breweries in India producing 6 million gallons a year.
They say that people derived the name Mussoorie from the Mansoor shrub indigenous to the hill station. Hence, most Indians nicknamed the town as 'Mansoori' or 'Masuri'.
People say that Britishers strictly prohibited the entry of Indians in Mall road. The wrote the racial slurs at the hotels, restaurants, and motels, barring Indians and Dogs from entering. But this didn't deter Motilal Nehru, the father of Jawaharlal Nehru from visiting here. He broke the rules often. The Nehru family were frequent visitors to Mussoorie in the 1920s, 1930s, and 1940s. Additionally, Nehru's daughter Indira Gandhi visited Mussoorie very frequently.
During the Tibetan Rebellion of 1959, the Central Administration of the 14th Dalai Lama was first established in Mussoorie. The they moved it to its present location in Dharamsala, Himachal.
The Central School for Tibetans Mussoorie (CST Mussoorie) is the first ever Tibetan school in the country. They established it in Happy Valley, Mussoorie in the year 1961. The Happy Valley serves as an abode to the Tibetan community, with more than 5,000 Tibetans happily residing here.
Winter Line – An Imaginary Horizon that can only be seen in Mussoorie and Switzerland
Every year during winters, Mussoorie showcases a meteorological wonder known as the winter line. This phenomenon, one can only witness in Mussoorie and Bern in Switzerland. This beautiful haze is basically a vertical red line, with a hint of orange that runs across the blue sky. This rare phenomenon occurs as a result of the refraction of sunlight at a particular angle. Additionally, it is visible only from the mountain areas with long, clear valleys towards the west.
To illustrate, Winter Line in Mussoorie usually appears in the mid-October and lasts till January. The city hosts s grand Winter Line Carnival, which usually starts from 25th December. The state government organizes the carnival to lure more tourists towards this amazing place. Additionally, the city also organizes a photography competition during this carnival.
Accomodation at Mussoorie
As Mussoorie is one of the most visited hill-stations of India, finding a place to stay here is not a problem at all. There are hundreds of budget as well as luxury hotels and lodges in this hill station. For instance, Mall road and Landour region have a lot of high-end and budget-friendly hotels. Furthermore, all hotels are listed on online advance hotel booking websites.
For example, almost every hotel provides modern facilities. They all have an option of accepting payments with debit or credit card. However, we recommend booking a hotel in advance. During New Year and Christmas, the city witnesses a large number of visitors.
Best Time to Visit Mussoorie
One can visit Mussoorie, the Queen of Hills, in any given time except Monsoons. If witnessing snowfall is not the priority then summers are the best time to visit Mussoorie because the sky remains clear and nearby peaks are clearly visible in summers. However, there is a significant amount of traffic on Mussoorie-Dehradun road during New Year and other such occasions.
December to January
During these months, the queen of hills witnesses a great amount of snowfall. In fact, this might be the best time to visit here for honeymooner to enjoy snowfall with their life partners.
September to November
During these months, summers get over in this hill station and weather remains calm and pleasant. For solitude seekers, this is the best time. After monsoons, Mussoorie becomes lush green during these months.
April to June
Of course, this is the peak time as many people visit this place because of the pleasant weather and clear sky for sight-seeing.
Climate in Mussoorie
Summer
Maximum 24°C and Minimum 14°C
Winter
Maximum 12°C and Minimum 2°C
| Month | Min. Temp | Max. Temp |
| --- | --- | --- |
| January | 3°C | 20°C |
| February | 4°C | 24°C |
| March | 6°C | 25°C |
| April | 5°C | 29°C |
| May | 15°C | 35°C |
| June | 16°C | 30°C |
| July | 15°C | 30°C |
| August | 15°C | 25°C |
| September | 14°C | 28°C |
| October | 10°C | 25°C |
| November | 7°C | 25°C |
| December | 5°C | 24°C |
Flora and Fauna in Mussoorie
The region has rich and vibrant flora and fauna. So Captain Frederick Young and Sir F.J. Shore decided to build the first shooting lodge near the Camel's Backstreet. The Mussoorie ridge used to be a dense lush forest. Additionally, there were a variety of trees such as rhododendron, oak, and deodar. After this, they built the Landour Sanitarium.
The Benog Sanctuary is the place where the extinct mountain quail was last seen during the 1970s. Additionally, forests of Mussoorie have leopards, rabbits, and Himalayan black bear. Furthermore one can see wild rodents, barking deer, jungle martens, and pheasants. For example, the flora includes Chestnut, Quinn and Pear and medicinal plants such as Pudina, Himrai, and Gingko Biloba.
How To Reach Mussoorie
By Road
Mussoorie lies at a distance of 35 km from Dehradun. Dehradun is 290 km from Delhi. From Dehradun, it takes more than 1 hour to reach here if there is less traffic. However, during New Year Dehradun-Mussoorie road witnesses a lot of traffic. This significantly increases the time to reach there. Furthermore, buses from ISBT Kashmere Gate, Delhi are easily available to Dehradun. They will take you to Dehradun from Delhi in 7-8 hours.
By Train
Dehradun railway station, at a distance of 35 km is the nearest railway station. In fact, this is a very active railway station with regular connectivity to New Delhi and every major city of north India. It takes 6-7 hours to reach Dehradun from Delhi via train then one hour further from Dehradun to Mussoorie.
By Air
Jolly Grant is 22 km away from Dehradun and 57 km from Mussoorie. Of course, this airport has regular connectivity with New Delhi. The flights are frequent.
Mussoorie Itinerary
Start your journey at the morning. It will take 7-8 hours to reach Mussoorie from Delhi. Take rest in the hotel tonight.
There are many places you can visit in Mussoorie i.e. Kempty Fall, Lal Tibba, Mussoorie Lake, Gun Hill, Camel's back road, Company garden, cloud's end, Christ Church, Bhatta Falls, Jharipani Falls, The Mall Road etc. If you want to visit these places for a long time, then you need to stay for 3-4 days.
After Breakfast, check out from hotel in the morning and drive to Dehradun. In Dehradun you can visit many places i.e. Robbers cave, Sahastradhara, Lachhiwala, IMA, FRI, Buddha Temple etc. You can also do shopping here in popular markets i.e. Indira Market, Tibbetan Market, Paltan Market etc.
Early morning, after having breakfast, Check out from hotel and Drive to Delhi. You will reach Delhi within 6-7 hours from Dehradun.
FAQs about Mussoorie
Why is Mussoorie famous?

Mussoorie is famous for its beauty and pleasant weather, which attracts people. Apart from this, there are popular places, sports activities, hotels, and restaurants. It is also a famous honeymoon destination. The places to visit in Mussoorie are Lal Tibba, George Everest, Kempty Falls, Mall Road, Bhatta Falls, Gun Hill, etc.

Which is the best month to visit Mussoorie?

The best time to visit Mussoorie is from March to June as the weather is charming during this time, and Mussoorie is a perfect destination to visit during summer. Here you can have fun by visiting Kempty Falls, George Everest, Lal Tibba, Bhatta Falls, etc. Apart from this, you can also do other activities here.

Is there snowfall in Mussoorie?

Snowfall in Mussoorie occurs from November to February, and during these months, many tourists come here to see and enjoy the snow. You can even see the snow falling. Dhanaulti, located 24 km from Mussoorie, also receives a lot of snowfall and is full of tourists.

What should I wear in Mussoorie?

While travelling to Mussoorie, keep warm clothes with you as the weather remains cool and be prepared for snowfall. In winter, you must take warm clothes such as jackets, sweaters, warm trousers, socks, hats, mufflers, and gloves.

How many days are enough for Mussoorie?

Be sure to stay here for at least two days to explore Mussoorie thoroughly. Along with places to visit, you can also do activities here. The places to visit are Kempty Falls, Bhatta Falls, George Everest, Lal Tibba, Company Garden, Clouds End, Gun Hill, The Mall Road, Christ Church, Mussoorie Lake, Camel's Back Road etc.