Jharipani Falls is nestled in the solemn vistas of Barlow Ganj, Mussoorie. This colossal waterfall cascades with vigor to form icy cool natural pools here. The verdant hills around Jharipani offer a kaleidoscopic view of the imposing Shivalik range. It is an off-beat place in Mussoorie.
On the other end of the waterfall, one can admire a glaring view of Doon Valley. And the gorgeous step fields that intensifies the beauty of this place. The entire stretch around Jharipani Falls is naturally abundant. It is bestowed with a thick foliage of nature. A wide variety of shrubs, creepers, and wildflowers grow here.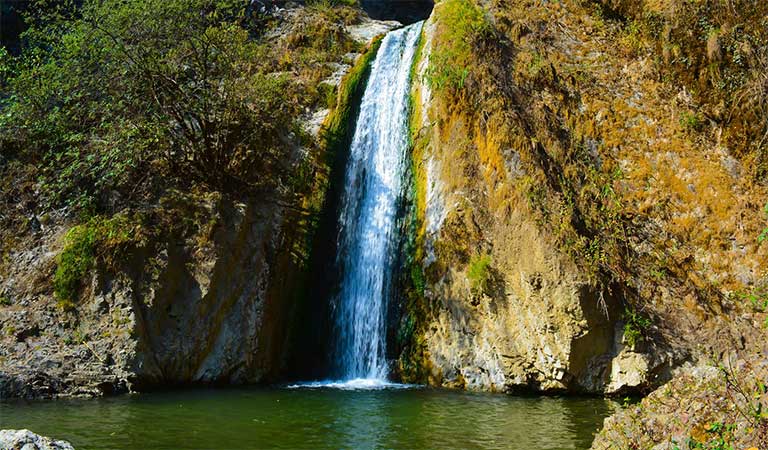 Jharipani Falls Overview:
| | |
| --- | --- |
| Opening Time: | Open on all days |
| Entry Fee: | Free |
| Famous For: | Waterfall, Picnicking, Sightseeing, Bird Watching, Trekking |
| Length of Visit: | 2-3 hours |
| Ideal for: | Youngsters, Couples and Families |
| Travel Tip: | Elderly people should avoid visiting here as it involves a steep hike |
Things to do near Jharipani Falls:
The arresting beauty around Jharipani Waterfall lures nature lovers to enjoy sightseeing here.
Since the place is blessed with utmost scenic grandeur. One can admire an eye-catchy view of the splendid waterfall and the forested hills.
The sunset and sunrise are amazing from here. The shutterbugs can enjoy photography here. You can spend some time amidst the buoyant valley.
The place promises tranquil trails that meanders through the hill town.
Many couples and families visit here for picnicking, trekking and for seeking adventure while on their Mussoorie tour.
Famous tourist places to visit near Jharipani Falls:
Several prestigious boarding schools like Oak Grove, Wynberg Allen, and St. George's College are within the estate of Jharipani.
If you want to indulge in a shopping spree, then head towards the Mall road or Tibetan Market Gali in Mussoorie.
Its proximity to Dehradun makes it a perfect place for the weekenders to spend some peaceful moments here.
Some of the famous tourist attractions to visit from Jharipani are:

Mossy Fall
Soham Heritage & Art Centre
Cambridge Book Depot and many others.
Food:
Over the years, a few food outlets near Jharipani Falls have been opened for the public to satisfy their hunger.
Some of the famous restaurants near Jharipani Falls are

Little Lama Café
Café by the Way
Aggarwal Vegetarian
Café de Tavern
Urban Turban etc.
Best Time to visit:
Jharipani Falls can be visited all around the year. However, many people choose to throng here during the summer season.
During Monsoon, the Jharipani waterfall becomes voluminous and roars down with great enthusiasm.
We advise you to visit the waterfall during the daytime as the area remains unfrequented during the night time.
How to reach Jharipani Falls:
Jharipani Waterfall is located at a distance of 7 km from Mussoorie hill station.
It is enclosed in the beautiful surroundings of Barlow Ganj, Mussoorie. The waterfall is idyllically situated on the Mussoorie-Jharipani road.
After reaching a certain point by car, one needs to commence a short trek of 2 km to reach the waterfall.
Dehradun railway station at 30 km is the nearest railhead to Jharipani Falls.
Jolly Grant airport at 56 km away is the closest air connectivity from here.