Dwarahat, seated at an elevation of 1510 meters amidst the Kumaon hills of Uttarakhand, is an ancient, charming, and beautiful town. It is situated in Almora district of Uttarakhand. Ranikhet is 34 km away and Almora is 77 km from Dwarahat. The town is blessed with many important Hindu temples. Hence, it is also known as the 'The Town of temples'. 34 km from Dwarahat, a popular hill station Ranikhet is located. During the time period of Katyuri and Chand kings, this town was the prominent center of their dynasties.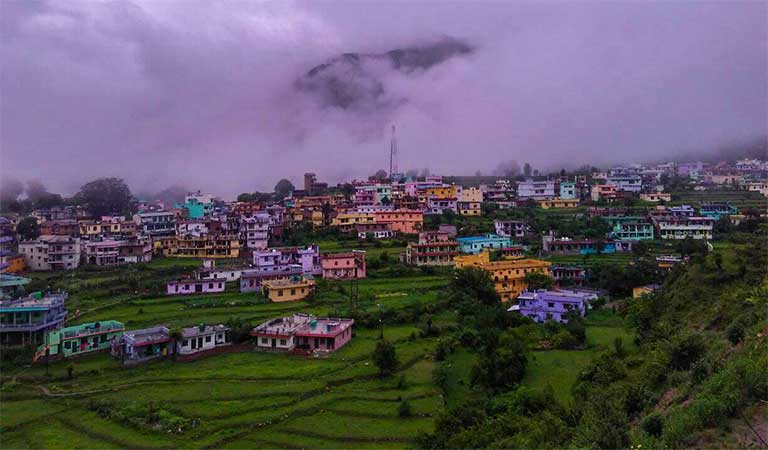 Brief History
Dwarahat literally means "Way to Heaven". The area was ruled by Chand and Katyuri kings. Their empire was stretched from the Satluj River in the west to Gandak river in the east from the hilly areas to the plains, including the whole area of Rohelkhand. Later Chand Kings of Kumaon came to rule the area and they ruled it during the 16th century.
What is Dwarahat Famous For
Dwarahat is famous for its ancient temples which were constructed mainly by the Katyuri kings. These are now maintained by ASI. The town has 55 ancient temples of exquisite architectural excellence. These are divided into 8 groups. These temples were constructed in the Indo-Aryan, Maru-Pratihara or Nagara type architecture. The temples are constructed mainly of masonry blocks of Pre-Cambrian granite available in the nearby area. Instead of mortar, iron clamps and dowels have been used to tie adjoining blocks. Hence, these temples now have great archaeological value.
Dunagiri Temple
Dwarahat is home to many important Hindu temples. Among these temples which bless this place, Dunagiri Temple stands out as one of the most prominent ones. This shrine is dedicated to goddess Durga. The temple is located on a small hillock amidst the lush green Kumaon Hills. Tourists and devotees not only from Kumaon region but also from Garhwal region and even out of the state come to seek the blessings of goddess Dunagiri. The temple is on a hilltop, therefore devotees need to climb a stairway of 500 steps to reach the temple.
Some of The Ancient Temples of Dwarahat are
Badrinath Group of Temples
Bandeo Temple
Gujar Deo Temple
Kacheri Group of Temples
Maniyan Group of Temples
Mritunjaya Group
The Ratan Deo Temple Complex
Bipin Chandra Tripathi Kumaon Engineering College, Dwarahat
Bipin Chandra Tripathi Kumaon Engineering College, formerly Kumaon Engineering College (KEC), is a government engineering and technology college in the Dwarahat. The institute was established in 1986 and officially started functioning in 1991.
The institute is named after well-known activist Bipin Chandra Tripathi. The college is affiliated to Uttarakhand Technical University(UTU), Dehradun. The engineering college provides degrees in the following engineering and non-engineering fields:
1. Bachelor of Engineering in Computer Science and Engineering(CSE)
2. Bachelor of Technology in Electronics and Communication Engineering(ECE)
3. Bachelor of Technology in Mechanical engineering(ME)
4. Bachelor of Technology in Biochemical Engineering(BE)
5. Bachelor of Technology in Electrical Engineering(EE)
6. Bachelor of Technology in Civil Engineering(CE)
7. Master of Computer Applications(MCA)
Bipin Chandra Tripathi Kumaon Engineering College has following departments:
1. Applied Science Department
2. Computer Science and Engineering Department
3. Electronics and Communication Engineering Department
4. Mechanical Engineering Department
5. Biochemical Engineering Department
6. Civil Engineering Department
7. Administrative Department
Fairs and Festivals
Hindu festivals such as Makar Sankranti, Basant Panchami, Harela, Bhaitauli, Olgia (Ghee Sankranti), Khatarua, Bat Savitri and Ganga Dussehra are celebrated popularly in Dwarahat. Some fairs are also held at this town. These are Doonagiri Mela and Syalde Bikhauti Mela which is held on Vishuwat Sankranti day.
How to Reach
By Road
The town is well connected by roads to all major cities of Uttarakhand and northern India. Taxis to this town are easily available from major destinations of Uttarakhand.
By Train
Kathgodam is the nearest railway station to this town. It is situated at a distance of 88 km. Taxis and buses are easily available from the Kathgodam to Dwarahat.
By Air
The nearest airport for Dwarahat is Pantnagar Airport. It is situated 112 km from this town. Taxis are available to Dwarahat, Ranikhet, Haldwani, Nainital and Almora from Pant Nagar Airport.