Omkarananda Ganga Sadan is a Guest House of Omkarananda Ashram Himalayas. It is on the bank of river Ganga in Rishikesh.
The guest house promises a pleasant stay to its guests, in its comfortable rooms. These offer a pictorial view of river Ganges, flowing by. All the rooms are well-maintained, hygienic and easy on your pocket.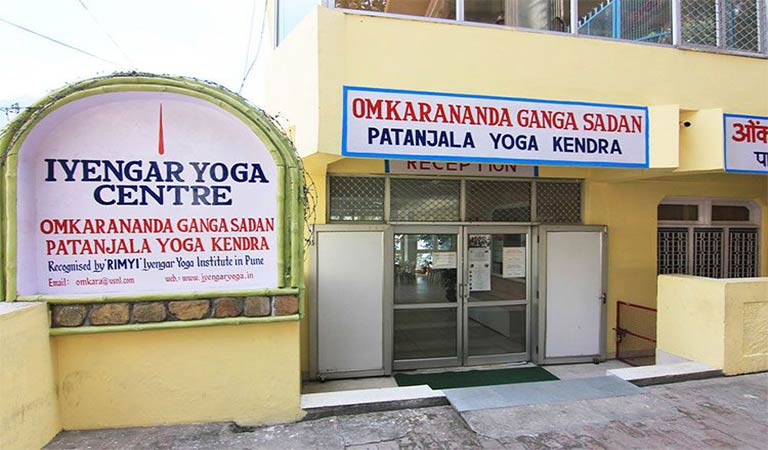 Source: indianholiday
Services and Activities at Omkarananda Ashram
The ashram imparts education, social services, religious and mindful practices like Yoga/Meditation.
The ashram runs a kindergarten and a school, under its charitable trust. Where classical Indian music and dance classes are also conducted.
It holds a magnificent view next to the holy waters of Ganga.
The kind of Yoga that they teach here is Iyengar Yoga. World-renowned Shri Guruji, B.K.S. Iyengar guide this yoga session. Guruji's method is based on the Indian tradition of Yoga which focuses on:

strength and stamina
flexibility and balance
concentration and meditation.

The ashram helps its devotees to attain

peace
solace
and tranquility through spiritual discourses.
Why you must stay at Omkarananda Ganga Sadan
Since Rishikesh is regarded as "Teertha Nagri" or pilgrimage site. Staying here without partaking in religious or spiritual activities would leave your trip incomplete. To make this possible, Ganga Sadan has its very own Patanjala Yoga Kendra. Here, a professional trainer Iyengar Yoga.
Along with this, books on Yoga and Philosophy are also available here.
If you want to appease Goddess Ganga, the ashram will take care of it. As it provides access to the Omkarananda Public Ghat. From here you can offer prayers or perform Aarti for Ma Ganga.
Satsang, meditation is also organised here, which enhances the spiritual experience.
The ghat offers magnificent views of sunset and sunrise.
If you are here, do take the ferry ride available from Ganga ghat. It will take you to Swarga Ashram and other nearby attractions.
About Omkarananda Ganga Sadan or Ashram
Omkarananda Ganga Sadan is a beautiful Guest House of Omkarananda Ashram Himalayas. It is in Rishikesh (Muni-ki-Reti), right at the banks of the holy river Ganga.
The guest house also operates a Yoga Centre with the blessings of Gurudev Paramahamsa Omkarananda Saraswati. The prestigious Yoga centre is named as "Patanjala Yoga Kendra". It is inside the Omkarananda Ganga Sadan. Here, the resident instructor Usha Devi teaches Iyengar Yoga.
Daily classes are available here, running from Monday to Saturday until May. Apart from this, group bookings and intensive courses are available.
Information of Rooms inside Omkarananda Ashram
The ashram has basic rooms, all of them have clean bedding with comfortable mattresses. Ganga facing rooms are available here. Food quality is good in the ashram but in case you don't want to eat here.
You can gorge on your tasty treats at the café and restaurants, pinned near the ashram area. The front desk also provides a music teacher on demand, for giving Tabla and Harmonium lessons.
Tariff: Rs 600 to Rs 1000 per night, depending on whether you want private bath, shower, air conditioning or river view.
Facilities and Services: Basic rooms with river Ganga view, air conditioned rooms, geyser, hot shower, TV, clean rooms and friendly staff.
How to reach
Omkarananda Ganga Sadan is a guest house, Dharamshala and a Yoga centre in Rishikesh. It lies next to the taxi stand at Muni ki Reti, squeezed between the main road and Ganga river. One can take local transport like auto-rickshaw and city bus to reach here.
The guest house is located at a distance of 3 km from the Rishikesh railway station and around 20 km away from Jolly Grant airport in Dehradun.
For information and room reservation contact
The Manager,
Omkarananda Ganga Sadan,
Muni-ki-Reti (near Shivananda Arch),
P.O. Shivananda Nagar – 249 192,
Distt. Tehri-Garhwal, Uttarakhand, INDIA
Phone: +91-135-2430763, -2431473 / +91-7300654448
Email: omkara@oah.in