"Maa Kali Mandir" in Dehradun
Daat Kali Temple is a famous Hindu devout place in Dehradun. Many locals from Dehradun who purchase a new vehicle bring it here to seek the blessings of the deity. The temple priest conducts a special puja in the name of the vehicle to protect him from any danger.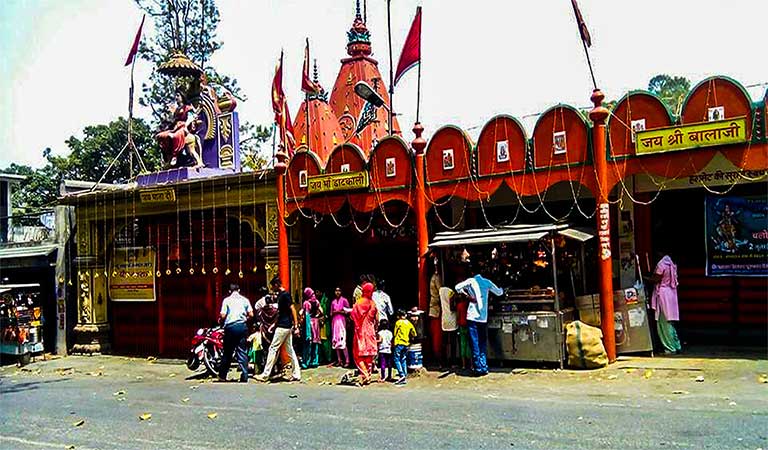 This Hindu shrine is dedicated to Goddess Kali and is locally famous as 'Kali ka Mandir'. It is visited by thousands of devotees each year and many passers-by stop here to worship the Goddess Kali. There is a tunnel nearby which is believed to be one of the oldest tunnels in Dehradun. Since the tunnel is one way, therefore all the vehicles move in a disciplined line to avoid road mishap.
Daat Kali Temple overview:
Location: near Dehradun
Exploration time: 1 Hour
Distance from ISBT Dehradun: 7.7 Km/16 Minutes
Religious Importance:
The Daat Kali Temple has utmost religious significance and those who buy a new vehicle bring it here to take the blessings of the Goddess. A special puja is conducted by the priest in which coconut is offered and a black thread is tied to the vehicle. A Vahan Durghatna Yantra is also attached to the vehicle to protect it from the evil eye, accidents and any other danger. Since the temple is located near Dehradun-Saharanpur road, therefore, all the vehicles stop here to pay obeisance.
History:
Daat Kali Temple was built on June 13th 1804. It is considered as one of the most prominent Devi Ma Temple in Dehradun. This holy place was made during the construction of Dehradun-Saharanpur highway.
Best Time to Visit:
Daat Kali Temple can be visited all around the year but since it is located on the highway, which sees a heavy flux of traffic during the tourist season of March-June. Therefore, one should avoid visiting it during those months.
According to a local legend, Goddess Kali once appeared in the dream of an engineer who was working on the national highway project. In his dream, the goddess handed him an idol of her and ordered him to construct a temple at the site. The engineer gave the idol to Mehant Sukhbir Gusain to establish the temple and named it as Daat Kali Mandir, where the goddess now resides.
The temple features a large hall, where the devotees can rest. One can also see a perpetual fire that continuously burns here since 1921. Many locals and tourists, who visit the temple wait patiently for their turn to offer oil, flour and ghee to the deity.
Fairs held at Daat Kali Temple:
During Navratri, the temple hosts a grand puja which is attended by a large number of devotees. During this time, the traffic stops at the highway to avoid chaos. Bhandara is also organized here and prasad is offered to the devotees, coming from all walks of life.
Significance of Daat Kali Temple in Hinduism:
Daat Kali is one of the best places to visit for those heading on a spiritual tour to Dehradun. The temple is located on Saharanpur road and is known as desired Seedhi Peeth or Kali Mandir. It is believed that Mata Daat Kali temple is considered to be one of those Seedhi Peeth.
How to reach Daat Kali Temple in Dehradun:
Daat Kali temple on Saharanpur road is around 14 km away from Dehradun. It is located at a distance of 7.7 km from ISBT Dehradun on Dehradun-Saharanpur road. Dehradun railway station at 13 km away is the nearest railhead to the temple. While, Jolly Grant airport at 41 km is the nearest air connectivity from here.