Dakpathar is a toy-town nestled near the silvery bank of river Yamuna in Dehradun district of Uttarakhand. It is famous for housing the Dakpathar Barrage which forms a reservoir along the tinsel town. The environs of this place are endowed with natural beauty. It has dense woodlands and sprawling gardens. Its proximity to Yamuna Hydel Scheme makes it ideal for bird watching. Varied bird species flock this place often. It is a popular leisure spot in Dehradun.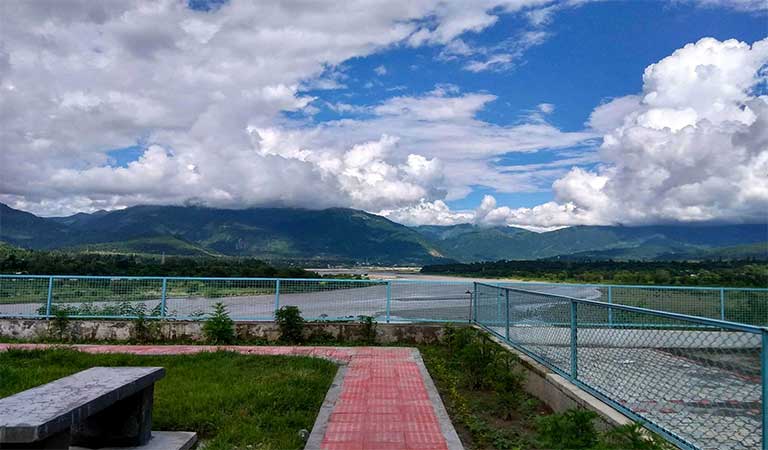 Dakpathar is popular for its untouched natural beauty. It has emerged as a popular recreational place for nature lovers and solitude seekers. Earlier this place was a lesser known attraction. But now it has been developed as a tourist attraction by the Garhwal Mandal Vikas Nigam.
Dakpathar Overview
| | |
| --- | --- |
| Location: | Near Vikasnagar, Dehradun |
| Exploration Time: | 2-3 Hours |
| Famous For: | Picnic |
| Distance from ISBT Dehradun: | 39.3 km/1 Hour 15 Min |
| Nearest Railway Station: | Dehradun (39.3 km) |
| Nearest Airport: | Jolly Grant Dehradun (66.5 km) |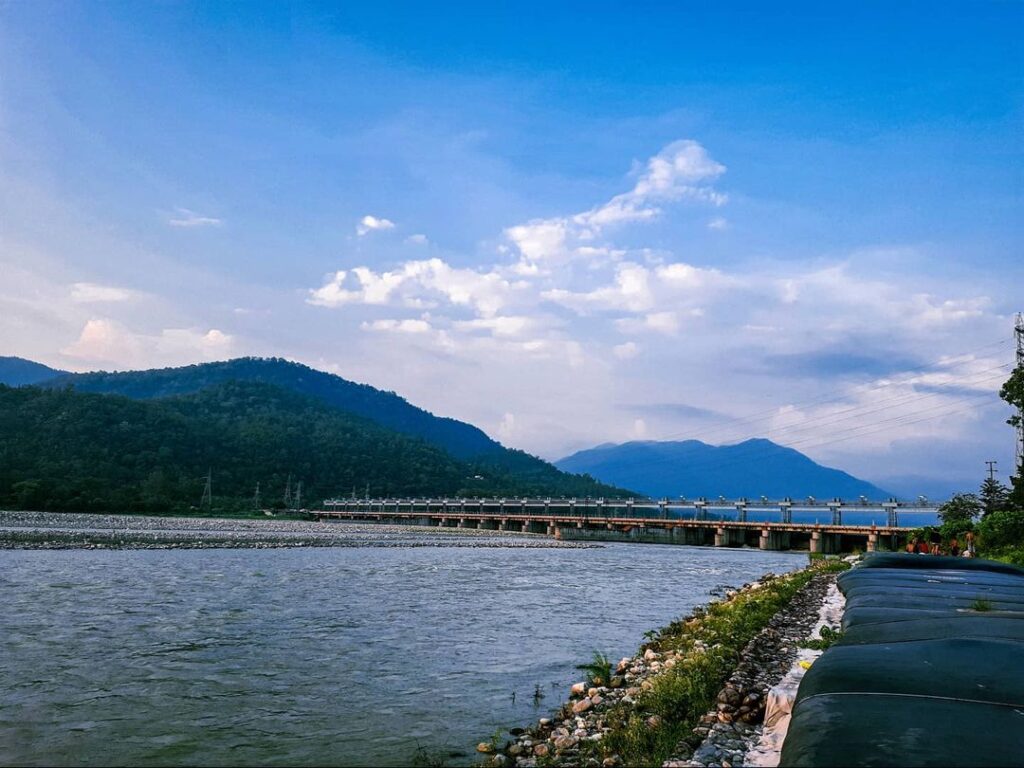 Things to do
Some people also spell it as Dakpatthar or Dakpather. It is a popular recreational place in Doon. Over the years, it has emerged as a popular weekend destination for Doonites. They wish to spend some time in the verdure of nature.
The quaint area around Dakpathar barrage is famous among those seeking:

Peace
Solitude
And tranquility in the lap of nature.

If you visit here then don't forget to see the Hydel Power Station. It stands near Yamuna river. Its mammoth size and dimension will leave you awe-struck.
Admire the beauty of Shivalik range. Capture stunning pictures of nature's bounty. One can visit the Dakpathar Park. It is a home to several animals such as

Turkeys
Rabbits
Deer
Owls
And parakeets.

The park also has a kid's play with swings. Here you can also let your children free. Canteen facility and parking facility are also available here.
Boating: Take a boat ride on the serene waters of the Yamuna River. Enjoy the tranquility and scenic beauty of the surroundings as you glide through the river.
Picnic by the Riverside: Dakpathar offers beautiful riverside spots where you can have a picnic with your friends or family. Relax by the riverbank, enjoy the fresh air, and soak in the natural beauty.
Trekking and Hiking: Explore the nearby hills and trails on foot. Trekking and hiking enthusiasts can embark on short treks or nature walks, immersing themselves in the lush greenery and enjoying the panoramic views.
Wildlife Spotting: Dakpathar is situated close to the Chilla Range of Rajaji National Park. Take a wildlife safari and spot various species of animals and birds in their natural habitat. Keep your camera handy to capture memorable wildlife moments.
Visit Temples: Dakpathar is known for its religious significance. Pay a visit to the Daksheshwar Mahadev Temple and seek blessings. Experience the spiritual ambiance and learn about the local customs and traditions.
Photography: If you're a photography enthusiast, Dakpathar offers picturesque landscapes, lush forests, and scenic views that provide excellent opportunities for capturing stunning photographs.
Local Cuisine: Explore the local cuisine of Dakpathar by trying out traditional dishes at local eateries. Indulge in the flavors of Uttarakhand and savor the regional delicacies.
Nature Walks: Take leisurely strolls along the riverbank or through the nearby villages. Enjoy the serene environment, interact with locals, and observe the local way of life.
Birdwatching: The region around Dakpathar is home to a variety of bird species. Birdwatchers can spend their time spotting and identifying different birds in the area.
Relax and Rejuvenate: Embrace the calmness of Dakpathar and use it as an opportunity to relax, unwind, and rejuvenate amidst nature. Enjoy the peaceful surroundings and let go of the stresses of everyday life.
Places to visit near Dakpathar
The travelers can time travel to early India, by visiting the ancient Rock Edict of King Ashoka at Kalsi. It is about 7 km from this place. The adventure seekers can throng the Asan Barrage Water Sports Resort Complex. It is approximately 11 km from this place. It also offers an array of water sports activities. For bird watching, you can visit the Asan Barrage Bird Sanctuary, an abode for several migratory birds.
For the spiritual quest, head towards Paonta Sahib Gurudwara located about 25 km from this place. If you have ample time then you can explore Lakha Mandal. It is about 80 km away from this place. Here you can discover several stone effigies and artifacts of historical significance. For picnicking, you can go to Vikasnagar. And for sightseeing drive all the way to Chakrata, a picturesque hill station.
Accommodation
One can have a pleasurable stay amidst the piercing beauty of nature. You can book your stay at Garhwal Mandal Vikas Nigam (GMVN) Tourist Rest House in Dakpathar. The TRH is well-facilitated with modern facilities and also offers sightseeing options. Other good accommodation options are:
Dakpathar Tourist Rest House: A government-run guest house offering comfortable rooms and basic amenities. It provides a scenic view of the surrounding area.
Hotel Doon Heritage: A budget hotel located near Dakpathar offering clean rooms, friendly service, and essential facilities for a comfortable stay.
Hotel Daksh: A mid-range hotel with spacious rooms, modern amenities, and a restaurant serving delicious meals. It is situated in close proximity to Dakpathar.
GMVN Dakpathar: A guest house operated by the Garhwal Mandal Vikas Nigam (GMVN), providing comfortable rooms and basic facilities for tourists.
Riverside Resort Dakpathar: A riverside resort offering serene and picturesque surroundings. It provides well-appointed rooms, a multi-cuisine restaurant, and various recreational facilities.
GMVN Chilla Tourist Rest House: Located in Chilla near Dakpathar, this government-run guest house offers comfortable rooms and a peaceful environment.
Hotel Shiva Residency: A budget hotel situated near Dakpathar, providing clean rooms, basic amenities, and a restaurant serving local and Indian cuisine.
Hotel Aketa: Located on the outskirts of Dehradun, this hotel offers comfortable rooms, modern facilities, and a serene ambiance for a relaxing stay.
Hotel Grand Legacy: A mid-range hotel located in Dehradun, offering spacious rooms, a multi-cuisine restaurant, and warm hospitality.
Hotel Pacific: Situated in Dehradun, this hotel offers comfortable accommodation, modern amenities, and a central location for easy access to nearby attractions.
Best Time to Visit Dakpathar
One can visit Dakpathar all around the year. However, summer and monsoon months are the best to travel Dakpathar. Because nature is in full swing here during these months. Winters are chilly here so do carry warm clothes.
Location of Dakpathar
Dakpathar nestles on the left bank of Yamuna river. It sits 790 metres above sea level on the foothills of Shivalik range. Dakpathar lies on the border of Dehradun district and Sirmaur district. Sirmaur district Paonta Sahib is west towards this place. It is near the Himachal Pradesh state border.
How to Reach
Dakpathar is a tiny village, which cocoons in the Vikasnagar block of Dehradun district. It lies on Dehradun-Chakrata road about 39.3 km away from the main city of Dehradun. It is only 5 km away from Vikasnagar. Dehradun railway station at 39.3 km away is the nearest railhead. Dehradun's Jolly Grant airport at 63 km away is the closest air connectivity from here.