Dehradun Zoo or Malsi Deer Park is one of the famous tourist attractions in Dehradun. It is developed as a mini-zoological park. It offers a sneak-peek in the lives of the fauna and avi-fauna. The zoo was established on the objectives of ex-situ conversation of wild animals, bio-diversity conservation. The aim was to develop as an education centre and Rescue centre for wild animals. It was formerly known as "Malsi Deer Park".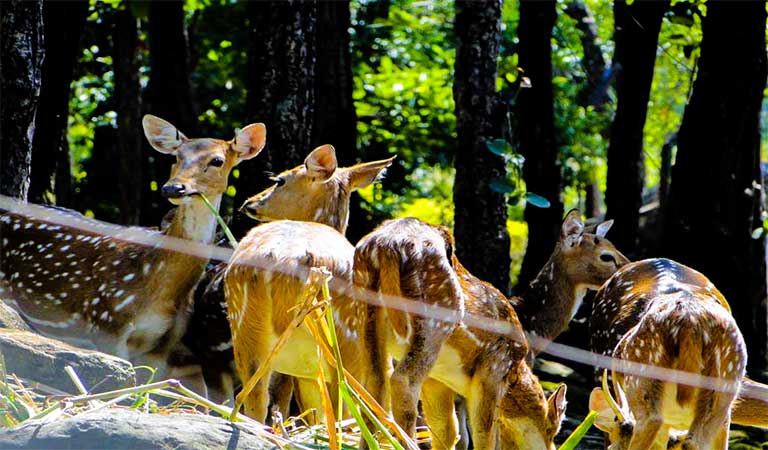 It is set in the foothills of Shivaliks. The Malsi Deer Park is one of the most popular destinations for the tourists visiting Mussoorie. The park showcases:
Well-manicured gardens
Parking space
Kids playing area with swings
Canteens
Restroom
A theatre
Aquarium
The newly introduced zip-line.
Dehradun Zoo or Malsi Deer Park Overview
| | |
| --- | --- |
| Location | Dehradun |
| Entry Fee | Adult Rs 20/-, Kids Rs 10/- |
| Timing | 10 AM – 5 PM |
| Exploration Time | 3 Hours |
| Distance from ISBT Dehradun | 16 km / 40 Minutes |
Note: Dehradun Zoo or Malsi Deer Park Overview is open from 10 am to 5 pm on all days of the week except Mondays.
Dehradun Zoo is in World's Top 10 Zoos
Dehradun Zoo has been ranked 10th among 181 zoos in the world. This ranking was determined by Facebook's "Likealyzer" software. Along with likes and comments, it is also seen how many people have visited Zoo. Thus, Ranking is determined on the basis of this.
Wildlife Found at Dehradun Zoo or Malsi Deer Park
This zoo lures many wildlife lovers by its varied flora and fauna found in the area. It is the second famous wildlife attraction after Rajaji National Park. The park lavishly sprawls over 25 hectares of land. It is a home to several wildlife species such as:
Two horned deer
Leopards
Neelgai
Emu
Ostrich
Turkey
Crocodiles
Turtle
The park also boasts of several avi-faunal species, such as:
Parrot
Peacock,
Owl
Parakeet
Macaw, to name a few.
The habitat for other exotic animals including snakes and a couple of other water animals is currently under construction.
Other Species:
African Grey Parrot
Sun Parakeet
Kalij Pheasant
Vulture
Eagle
Sambar
Goral
Black buck
Love Bird
Budgerigar
Silver Pheasant
Golden Pheasant
Red Jungle Fowl
Things to do at Dehradun Zoo
It is a hotspot for nature lovers and bird watchers. It is frequently visited by families, kids, couples and researchers. One can admire the glimpse of:
The leopard basking under the sun
The deer munching on the fresh grass
And the owls sitting on the over-reaching branches of the tree
You can let your children play in the kid's area. Take photographs of the resplendent natural beauty. Or feast on the tasty food served in the canteen.
Here are some of the best things to do at Malsi Deer Park:
Here are some of the things you can do at Malsi Deer Park:
Wildlife Spotting: The park is home to various species of deer, including spotted deer, sambars, and nilgais. Take a leisurely walk around the park and observe these graceful creatures in their natural habitat. You can also spot peacocks, rabbits, and various bird species.
Picnic: Malsi Deer Park provides a picturesque setting for a family picnic or a relaxed outing with friends. Bring along some food, snacks, and drinks, and enjoy a picnic amidst the lush greenery. There are designated picnic spots and seating areas available for visitors.
Nature Walks: The park features well-maintained walking trails that allow you to explore the beautiful surroundings. Take a leisurely stroll along the pathways, enjoy the fresh air, and immerse yourself in the tranquility of nature. The park is adorned with trees, flowers, and small streams, creating a peaceful ambiance.
Photography: Malsi Deer Park offers ample opportunities for photography enthusiasts. Capture the beauty of the deer, the serene landscapes, and the vibrant flora and fauna. Don't forget to bring your camera or smartphone to capture some memorable shots.
Children's Play Area: The park has a dedicated children's play area with swings, slides, and other recreational facilities. Kids can have a great time enjoying the outdoor play equipment and engaging in fun activities.
Refreshment Facilities: Malsi Deer Park also has small refreshment kiosks where you can buy snacks, beverages, and ice cream. Grab a quick bite or sip on a refreshing drink to rejuvenate yourself during your visit.
Nature Education: The park has informative signboards and displays that provide educational information about the flora, fauna, and wildlife found in the region. Learn about the various species and their habitats, making it an educational experience for both children and adults.
Dehradun Zoo Timings – Opening and Closing Time
Dehradun Zoo opens from 10 AM and closes at 5 PM.
Entry Fees at Dehradun Zoo
One can visit Dehradun Zoo by paying a minimal entry fee of Rs 20 for Adults and Rs 10 for Kids.
History of Dehradun Zoo or Malsi Deer Park
The Dehradun Zoo, formerly known as Malsi Deer Park, was established in the year 1976 as the Van consciousness center. Initially it was set up with 3 spotted deer, 1 goral, 2 barking deer, 3 peacocks and 5 slopes. In the past years the zoo was served as a rescue center for various species of wild animals and birds.
Malsi Dear Park was upgraded to the Mini Zoo by CZA under Section 28 (H) of the Wildlife Protection Act, 1972, for the first time on 09.03.2012. Dehradun Zoo Management Society was formed by the Government of Uttarakhand in 2016 and the Society Was registered under the Act. The revised Master Layout Scheme was approved in year 2016. The zoo was evaluated in 2017 and the situation was extended till 2019.
In December 2017, the director was posted separately in the zoo for the independent management of the zoo. Over the years, infrastructure has been improved, many old enclosures were rebuilt and new animals were built for better management and housing. Animals and birds were kept according to approved layout plans. Many new features such as aquariums and 3D theaters have been built.
The veterinary doctor of Rajaji National Park was given additional charge for the management of the zoo animals. The basic health facility was made for better animal health service. With all these improvements, the number of visitors increased from 2.5 lakh to 5.2 lakh. Currently, only 5 hectares of the total 25 hectares of the zoo are open to visitors and approximately 350 species of different birds and animals species have been managed by the zoo.
How to reach Dehradun Zoo
Dehradun Zoo idyllically situated on Dehradun–Mussoorie road. It is only 9 km away from the city center, Clock Tower. It can be easily reached by taking the local bus from Rajpur road. Or you can take the local autos or Vikram.
Take the Vikram no.1 which will drop you at Mussoorie diversion, a short hike from here will lead you to the zoo. Dehradun railway station at 11 km away is the nearest railhead. Jolly Grant airport at 37 km away is the closest air connectivity to here.