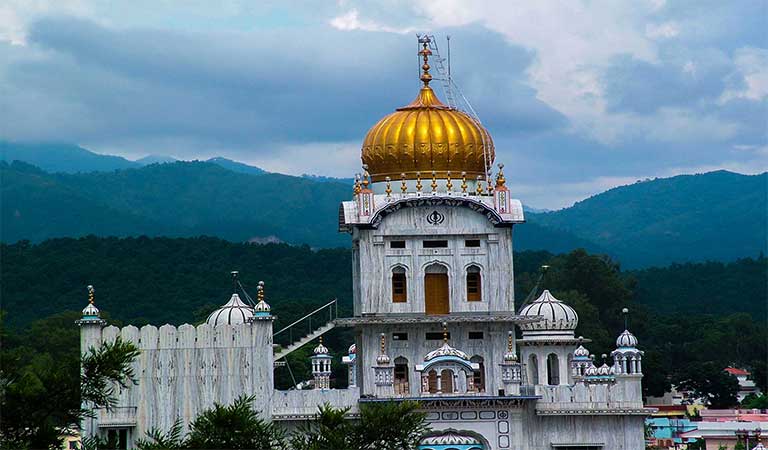 "Famous Sikh Pilgrimage Centre in Doon"
Gurudwara Nanaksar is a famous pilgrim place in Dehradun. It dedicated to the Sikh community. This holy Sikh centre is located in the heart of Doon. It lavishly sprawls over 2.5 acres of land area. The Gurudwara was built with a motive of:
Preaching
Promoting
And practicing the Sikh religious observances
And additionally, spreading the teachings of the holy saints.
They constructed the building of Nanaksar Gurudwara under the patronage of Sant Baba Gurdev Singh Ji in 1973. It is currently running under the spiritual guidance of his holiness, Sant Baba Gurdev Singh Ji. The Gurudwara has a spiritual aura. It attracts people of different sects and religion to pray here.
Nanaksar Gurudwara overview:
Location: Dehradun
Exploration time: 1 Hour
Distance from ISBT Dehradun: 12.9 Km/33 Minutes
Services Offered by Gurudwara Nanaksar:
Gurudwara hosts Bhandara or feast on several occasions. Here people from all walks of life come here with an open heart. There is a free dispensary in the premises of the Gurudwara. Here, qualified doctors are available as per the schedule. The services of doctor and medicines are available free of cost.
Architecture:
Gurudwara Nanaksar showcases a marvellous architecture. It has a dome-shaped structure on top. It is painted in gold. And the bottom part is painted in pristine white colour. A narrow trail will lead you to the Gurudwara having clean environs.
About Nanaksar Institution:
Sant Baba Nand Singh Ji is the founder of Nanaksar Institution. Under which the Gurudwara operates.
Then, Baba Nand Singh Ji unveiled Sri Guru Granth Sahib. In this he brought into notice the glories of Sri Guru Nanak Dev Ji, the founder of Sikhism.
Initially, Sant Baba Ishwar Singh Ji carried out the mission for about 13 years. After which he transferred the responsibility to Sant Baba Gurudev Singh Ji.
At present, Sant Baba Gurudev Singh Ji has taken the charge. He has been instrumental in establishing 17 Nanaksar Gurudwaras both in India and abroad.
Local Legend:
According to a local lore, the place where Gurudwara Nanaksar stands. There was once a residential place of a man who died prematurely. After his sad demise, his ghost kept haunting the house for years. But Baba Ishwar Singh was able to give him mukti. He set his soul free. After the ghost left the palatial house, they demolished it. After that, they built Nanaksar Gurudwara at its place.
Fairs and Festival held at Gurudwara Nanaksar Dehradun:
On the auspicious occasion of Poornamashi (Full Moon Night) and Guru Nanak Dev Jayanti, Gurudwara hosts special events. In the evening, they perform Bhog of Sri Sampat Akhand Path of Sri Guru Granth Sahib Ji. This is followed by Katha and kirtan. The administration of Amrit is also done on the first Sunday after Pooranmashi.
How to reach Gurdwara Nanaksar:
Nanaksar Gurudwara near Shivlok Colony lies on Raipur road in Dehradun. It falls at a distance of 11 km from ISBT Dehradun. It is only 3 km away from Dehradun Clock Tower. One can easily reach here by taking the Seemadwar-Nalapni route bus. Or by taking Vikram no. 1 or 2 that travels all the way up to Raipur. Dehradun railway station at 5 km away is the nearest railhead. And Jolly Grant airport at 26 km is the closest air connectivity.