Kanatal is a lovely tourist place on the Chamba-Mussoorie highway in the Tehri Garhwal district of Uttarakhand. The greenery around Kanatal is heart-wrenching. Snow-covered mountains, rivers, and forests add to the beauty of this place. A long time ago, there was a lake in this place, after which this ancient and charming village was named. It is a beautiful place to visit. It is called a sister Hill station to Mussoorie.
Are you looking for a rewarding getaway near Delhi? Where you can spend some quality time in the lap of nature. And relish your favorite book while savoring the beauty of Kaleidoscopic mountains?
If yes, then you must bag pack to Kanatal, a quaint hill station in the heart of Tehri district. It is a tranquil hill town which is scarcely populated and an ideal place for those in pursuit of peace. This sublime hill station is revered for its less explored virgin beauty. The hill station is perfect for those searching for beautiful hill stations near Delhi.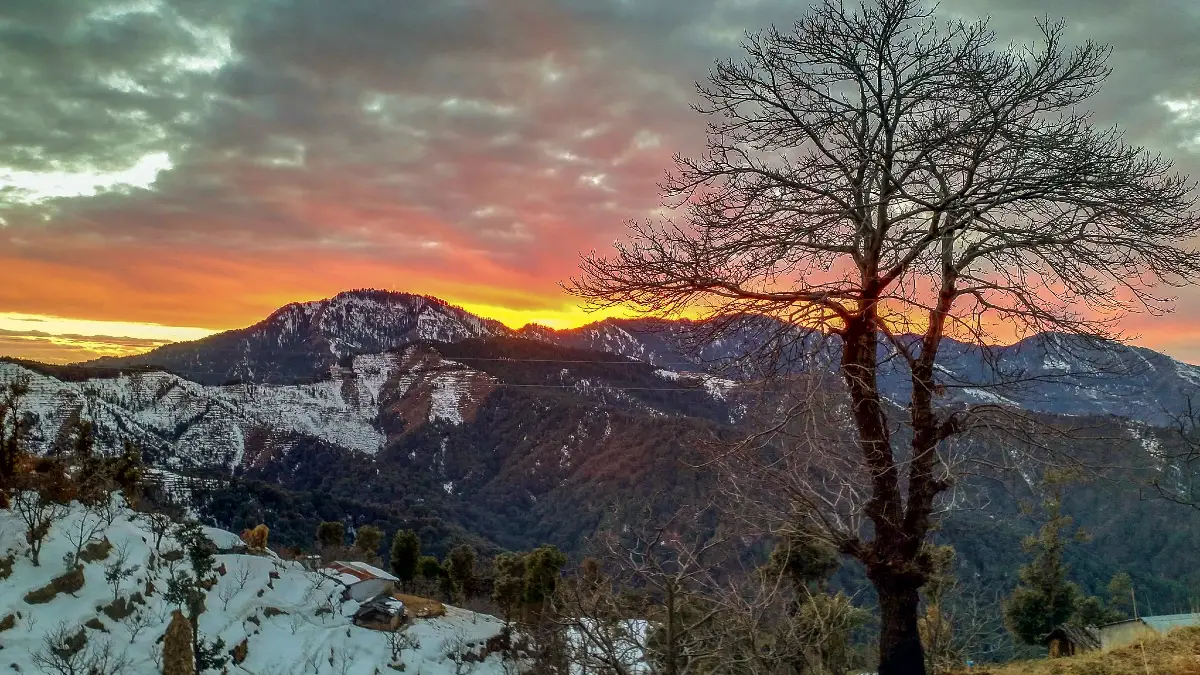 Overview
| | |
| --- | --- |
| Location | Tehri Garhwal, Uttarakhand |
| Best Time to Visit | April to October |
| Snowfall | December to February |
| Things to do | Trekking, Camping, Nature Walks |
| Distance from Mussoorie | 38 km |
| Distance from Chamba | 12 km |
| Distance from Dehradun | 78 km |
| Places to visit | Kodia or Kaudia Jungle, Surkanda Devi Temple, Dhanaulti, Tehri Dam, Chamba, Mussoorie |
Interesting History
It is one of the prime duties of the backpackers to take home some interesting stories from their trips and to research the rich history of that place. So let's expand your knowledge about the rich history of Kanatal, which dates back to some decades.
Kanatal in the regional dialect of the area refers to 'one-eyed-lake.' The place got its name from a small lake or "taal", which has now been dried up. When the lake dried up, people started referring it to as "kaana tal" which means a dry well or pond in Hindi. Hence, the nearby area came to be called as Kanatal as it became dry land.
Snow season in Kanatal
All the snow babies, who desperately wait for the winter season to tip-toe would be enthralled to hear that Kanatal experiences dense snowfall during the months of December to February.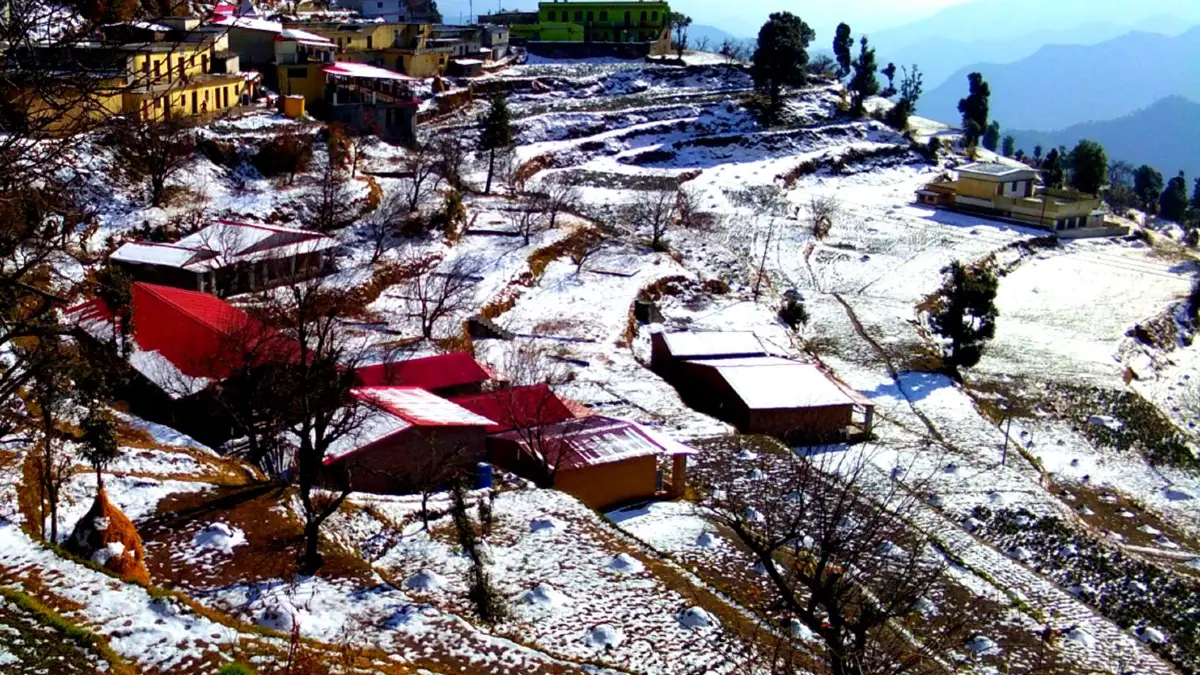 If you are lucky enough to get a small break from work during the winter season, then you can throng here. As the hill station clads a layer of pristine white snow in the winter season and it's one of the most amazing experiences to see the fleece-like snow settling on the trees, making everything go hush for the moment.
What kind of clothes to pack for Kanatal
You don't have to carry woollens in all the seasons and carry the weight of the heavy bag on your shoulders. Just pack cotton or light clothes for summers, light woollens for Monsoon season as the winds are harsh during night time, and keep heavy woollens for winter season. Since, the temperature drops down to three degrees celsius. Therefore, you must keep your body insulated with layers of warm clothes.
Things To Do
Camping
Enjoy luxury tent accommodation, delicious food, and adventure sports here. You can explore the surroundings while camping.
Trekking
Kodia jungle is the best place for trekking. On the 5 to 6 km trek, you can enjoy the beautiful views of the surroundings and feel nature.
Rock Climbing & Rappelling
The natural mountain cliffs of Kanatal are perfect for rock climbing and rappelling. You can enjoy such activities with friends or corporate outings.
Nature Walks
Taking a long nature walk amidst the immaculate beauty of nature in Kanatal or watching the panoramic views of the lush green surroundings will swell your mind. While taking a nature walk, you will be immersed in the beautiful scenery.
Location of Kanatal
Kanatal is a minion village and a beautiful hill station located in the heart of Uttarakhand, India. It lies on the Chamba-Mussoorie road and is nearly 300 km from Delhi.
It is one of the best hill stations to visit near Delhi. As it is located at a distance of 78 km from Dehradun (capital of the State Uttarakhand), 38 km from Mussoorie and 12 km from Chamba.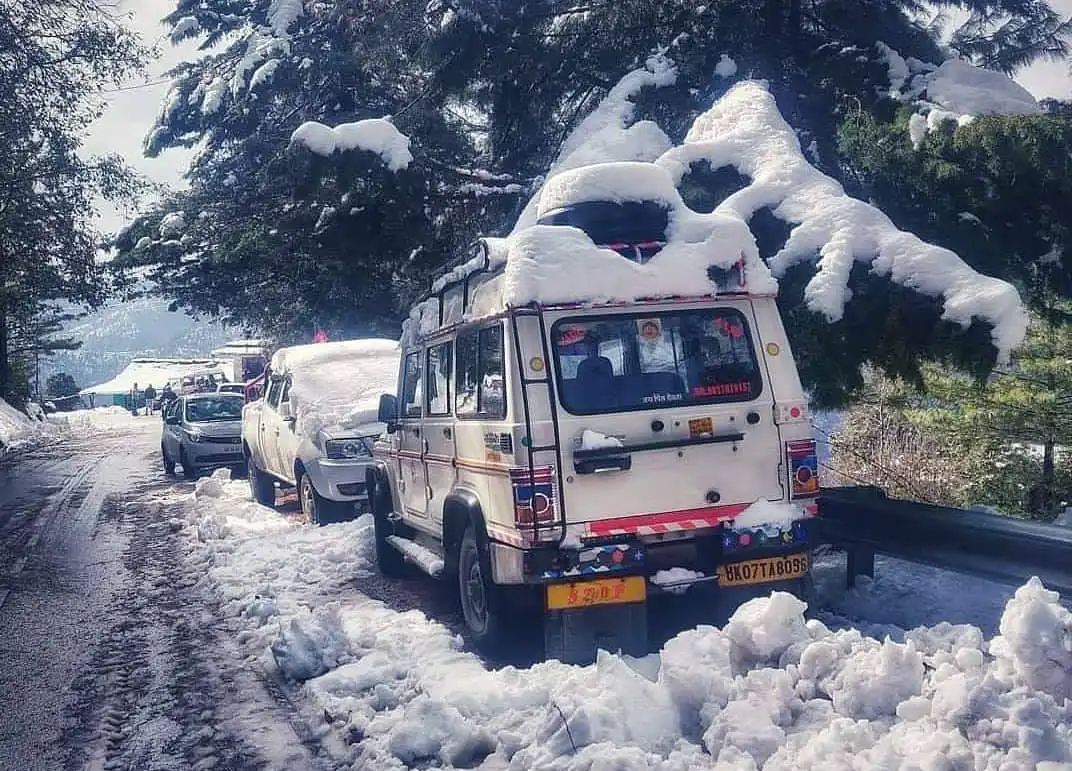 Which one is better Kanatal or Mussoorie?
If you are to spend your money on travel, then it's better to choose a destination from where other famous attractions are just nearby. And to your surprise, Kanatal is one such destination which is close to the "Queen of Hills" Mussorie.
Not only is it a traveller's paradise but it is one of the best places to experience the bliss of solitude. Unlike Mussoorie, the hill station is left undisturbed by the gridlock traffic jams.
One can easily go for rewarding nature walks in this minion village and can bond with the locals at the road-side tea shops. Having small chit-chat sessions with the local people will give you an insight of the life, beliefs, and the culture of the mountains. Once you come back home, you'll have a collection of cool stories of haunted houses, old temples, supernatural elements, and the hidden gems you explored during your trip.
7 Reasons to visit Kanatal
The perks of visiting Kanatal is that you can simultaneously visit Mussorie, Dhanaulti, and Chamba as they fall on the same circle.
You will save money too because at the price of one trip, you can explore other two- three places at once. What a treat!
Can rush back home, in case if your crazy boss calls you or you have an important meeting to attend. Nobody will ever know you are on a long vacation, chilling under the smouldering sun.
The sun, the broke back blue mountains, and the cool breeze. Ah! The trio of it, isn't it therapeutic? And 9 to 6 office goers need this to combat their stress and anxiety, they get from their exhausting work schedule.
There are fewer people around, you won't be bothered by the constant blowing of horns and pollution. As peace prevails in the hills.
They sell you fresh Himalayan air in bottles? Huh! Here you will get it for free so hit the road and enjoy the O2.
Places to visit in and around Kanatal
Kanatal offers many splendid getaways to hit in this magical hill town. Let's give you the insights of some of the hidden gems to explore in and around this minion village.
Kodia or Kaudia Jungle
It is a thick forest of tall coniferous trees reaching up to heaven. It is only 1 km away on the road towards Chamba. This enchanting forest will surely remind you of Narnia, especially if you visit during the winter months. It's a dense forest that hides inside it several natural springs, which makes it a popular picnic spot. You can enjoy nature walks here, indulge in photography or go for a safari.
Mussoorie
Mussoorie, The Queen of Hills, is one of the most visited hill stations of Uttarakhand, that lies in the vicinity of Kanatal. It is famous for its attractions like Gun Hill, Nag Tibba, Mall Road, George Everest, Kempty Falls etc.If you love exploring old rustic buildings and heritage sites, then you are bound to fall in love with this place.
Pro Tip: You can plan your trip between the month of October to February. As you can throng to Mussoorie and relish the beautiful winter-line from there, that appears in the sky between October to February.
Surkanda Devi Temple
It is a famous place of worship, which is visited by many devotees each year. This historic site is dedicated to Goddess Sati and can be easily accessed on foot. It is around 10 km away from Kanatal and can be reached by following the Chamba-Mussoorie Road. A short 3 km trek will take you to the temple site. Surkanda Devi temple is the place where the charred head of Goddess Sati fell, when Shiva was carrying her burnt body on his trident to mourn his loss.
Pro Tip: Want to take part in the festivities of the temple? Then plan your trip between May and June. As the Surkanda Devi Temple observes the Ganga Dusshera festival during this time of the year.
Tehri Dam
Tehri Dam one of the most popular tourist attractions in Kanatal is the tallest dam in India. The dam is built on the confluence of River Bhagirathi and Bhilangna.It is located at a distance of 1 hour 11 minutes and can be easily accessed via Chamba-Mussoorie Road and Chamba-New Tehri Road.
Chamba
Chamba is yet another beautiful hill stations in India blessed with nature's bounty, a hotspot for travellers. You can easily cover this in your trip as it is only 15 km away and can be reached via Chamba-Mussoorie road.
Dhanaulti
A snow haven, Dhanaulti also spelled as Dhanolty enchants its visitors with its snowy opulence. The hill station receives heavy snowfall during winters andis a perfect weekend getaway for worn-out souls.
The alluring hills of Dhanaulti will tempt you to have conjugal bliss. So all the newly-wed couples pack your bags and knit memories here by visiting these places of attractions. Some of the best two are Aaloo Khet and the Dhanaulti Eco Park. Dhanaulti has more surprises in hand as the adventure lovers can on adrenaline pumping trekking expeditions from here. So don't waste time and pack your bags now.
Shivpuri
This is another offbeat place to hit, where you can sit and savour the tempting beauty of the azure blue water of the river Ganga. Shivpuri is about 75 km from Kanatal and is within the periphery of Rishikesh. All the avid adventure sports lovers would be pleased to know that you can enjoy white water river rafting, kayaking, snorkeling, zip lining and other adventure activities.
Accommodation at Kanatal
Although Kanatal does not have many accommodation options but still you will find a decent number of budget-friendly to luxury hotels, resorts, and campsites. The hill stations assure mesmerizing mountain view from your hotel's window.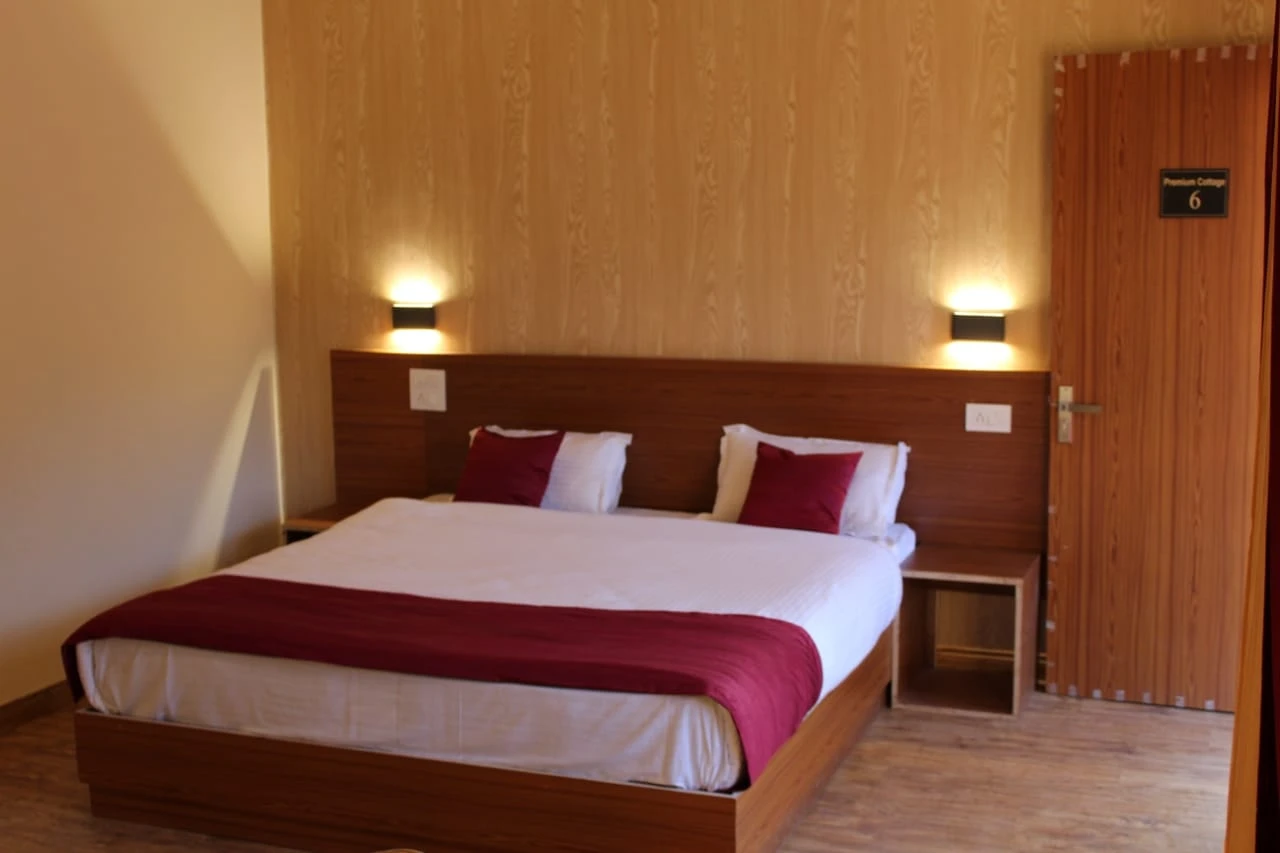 It's a treat to nature lovers, who dream of settling here and writing on lengths on its beauty. Some of the popular campsites in kanatal, that offer impeccable hospitality and a panorama of hills are Camp Carnival, Little Jaguar, and Kanatal Orchids.
If you are a down-to-earth person, who loves the smell of mud houses, and has a knack for rustic beauty. Then you can dwell in the traditional Pahadi house, which offers an authentic experience of the true mountain life to the tourists.
Best Time to Visit in Kanatal
Although Kanatal has pleasant weather throughout the year, the best time to visit Kanatal is during summers and winters.
| Month | High/Low (°C) |
| --- | --- |
| January | 10°/ -1° |
| February | 13°/ 1° |
| March | 16°/ 4° |
| April | 20°/ 8° |
| May | 26°/ 11° |
| June | 27°/ 14° |
| July | 21°/ 15° |
| August | 21°/ 14° |
| September | 21°/ 13° |
| October | 20°/ 8° |
| November | 17°/ 6° |
| December | 12°/ 1° |
Summer (April – June)
The summer season is the best time to visit Kanatal. The temperature at this time ranges from 25 to 38 degrees Celsius. This destination is perfect for staying in the summer holidays. One can enjoy all the outdoor activities in summer like trekking, camping, and exploring.
Monsoon (July – September)
Visitors are advised to visit Kanatal with care and planning during monsoon as it can cause road damage, mountain break, floods, cloudburst, poor visibility, and strong winds due to rain. If you travel after the monsoon, it can be much safer.
Winter (October – March)
Winter is one of the best times to enjoy the valleys of Kanatal. The temperature ranges from 1 to 15 degrees Celsius, and the whole village is covered in snow. This time is suitable for camping and winter treks.
How to reach Kanatal
By Road
You don't have to worry about connectivity as Kanatal situated on Mussoorie-Chamba road is well connected with major cities of India by swift motorable roads.
Luxury as well as normal state buses are easily available to Mussoorie, Rishikesh and Chamba from ISBT Kashmiri Gate. Buses and taxis to Kanatal are easily available from major destinations of Uttarakhand like Dehradun, Rishikesh, Haridwar, Tehri, Chamba and Mussoorie.
By Train
Dehradun and Rishikesh are the two nearest railway stations to Kanatal. Taxis and buses are available from both these destinations to Kanatal. It is well connected by motorable roads with both these destinations.
By Flight
Jolly Grant Airport at Dehradun is the nearest airport to Kanatal. It is situated around 92 km from Kanatal. Taxis from Jolly Grant Airport will take you in no time. Jolly Grant Airport is connected to Delhi with daily flights. The distance from Jolly Grant Airport to Kanatal can be easily covered within 3 hours of time.
FAQs
What is the best time to visit Kanatal?
The best time to visit Kanatal is during summers and winters. The temperature in summer ranges from 25 to 38 degrees Celsius. In winter, the temperature ranges from 1 to 15 degrees Celsius.
Why is Kanatal famous?
Kanatal is famous for its beauty. The beautiful scenery around makes the mind swell. Along with activities like camping, trekking, rock climbing, and nature walk, one can enjoy snowfall in winter.
Is there snowfall in Kanatal?
In winter, Kanatal remains covered with snow. At this time, the temperature drops below one degree.
How far is Kanatal from Mussoorie?
The distance from Mussoorie to Kanatal is about 38 km.
Is Kanatal near Nainital?
Kanatal is not near Nainital; the distance from Nainital is about 337 km. The aerial distance from Nainital is about 158 km.
How can I go to kanatal?
Dehradun, Rishikesh, Haridwar, Tehri, Chamba, and Mussoorie are the nearest destinations to Kanatal. Buses and taxis are readily available from these destinations in Uttarakhand.
What should I wear in Kanatal?
Cotton or light warm clothes are a must for Kanatal in summer, but keep a jacket and a pair of warm clothes with you as the weather can get too cold at any time. In winter, wear jackets, sweaters and warm clothes.
Is Kanatal worth visiting in July?
Due to rain in July, one can face problems like road damage, mountain break, floods, cloudburst, poor visibility, and strong winds.
What is the height of Kanatal?
Kanatal is located at 2,590 m (8,500 ft) above sea level.