Nag Devta Temple snuggled in the luscious vistas of Tapovan in Dehradun is a holy shrine dedicated to Snake God, a mythical creature in Hinduism. There are many holy shrines in Uttarakhand but this temple is one of its kind. Cocooned in the wilderness of Raipur, Nag Devta Temple is a place of faith for many Hindu devotees.
Naga is a word derived from Sanskrit and Pali language used for a deity or class of entity or being taking the form of a serpent, especially the King Cobra found in the Indian religions of Hinduism, Buddhism and Jainism.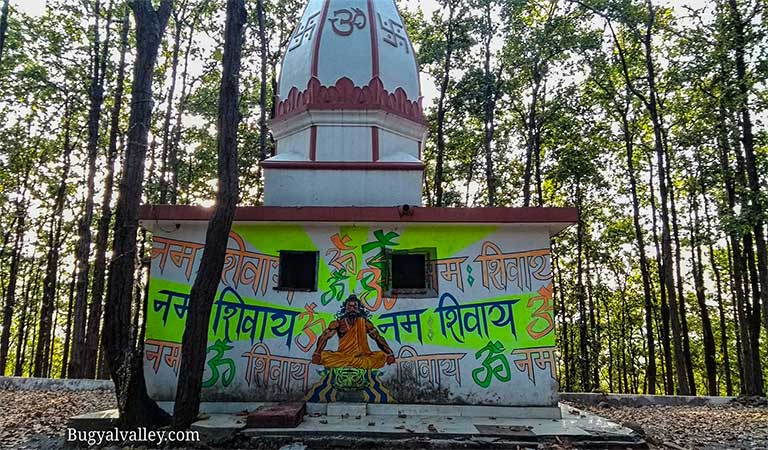 Architecture
The sacred Nag Devta Mandir possesses a unique architecture. The temple wall showcases a cool graffiti of a Sadhu or sage meditating in lotus pose. One can also see the statue of King Cobra spreading its multiple heads on the Shivlinga, installed inside the sanctum sanatorium of the temple.
Nag Devta Temple in Dehradun
One of the lesser known temples in Uttarakhand, Nag Devta Temple is a place of faith of many Hindu devotees. According to the Hindu legend, it is believed that a serpent couple lives here since the inception of the temple and can still be seen here.
Things to do in and around Nag Devta Mandir
Perched in the thick woodlands of Tapovan, Nag Devta Temple is a place to find peace and sanctity. One can pay obeisance and bow their head in faith at the idol of Nag Devta, guarding the Shivalingam installed inside the temple.
If you are an explorer by nature then you can trek up to Khalanga Top and can visit Sagar Tal en-route where you can relax in the open. If you have ample time then you can visit some of the nearby attractions to Nag Devta Temple like Tapovan Mandir, Maldevta Picnic Spot, Sahastradhara, Khalinga War Memorial and Sai Darbar Temple.
How to Reach
Nag Devta Temple is located about 8 km from the city centre, Clock Tower towards Nalapani in Raipur, Dehradun. It is situated at a distance of 9 km from Dehradun railway station and about 27 km from Jolly Grant airport in Dehradun. One can easily approach this place by taking the Seemadwar-Nalapani route bus that will drop you at Khalanga Dwar near Vedic Sadhan Ashram. From here an approximately 2.5 km trek will take you to Nag Devta Temple.