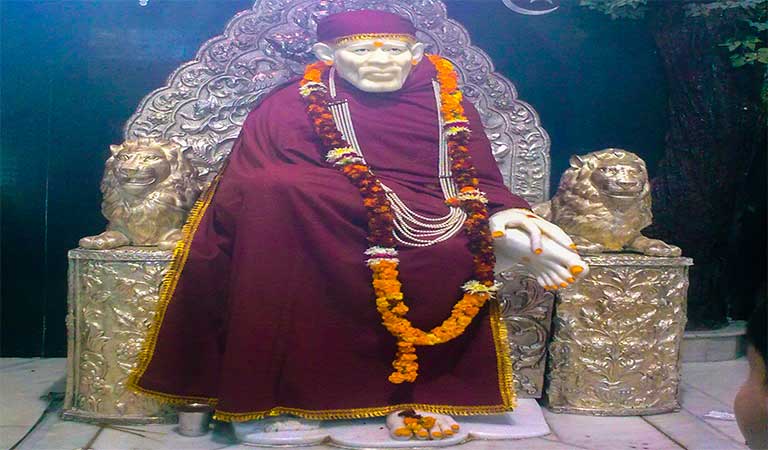 Sai Darbar Temple locally known as Sai Baba Mandir is one of the famous pilgrim sites in Dehradun. Snuggled in the plush surroundings of Rajpur, the Sai Temple is flooded with devotees all around the year. The temple installs an idol of Sai Baba in a large hall where prayers are held every evening.
The temple boasts a unique architecture which is entirely made of white stone marble and also features corridors on all four sides. The interiors are charming and are well decorated with colourful glass paintings.
Sai Mandir overview:
Location: Dehradun (Rajpur road)
Exploration time: 1 Hour
Timings: 9 AM to 12 PM & 5 PM to 9:30 PM
Distance from ISBT Dehradun: 19 Km/48 Minutes
About Sai Darbar Temple:
Many devotees visit here with utmost devotion and if their wishes are fulfilled they host a feast or Bhandara at the temple. People from all walks of life visit the temple with utmost devotion and offer chadar, flowers and sweets.
Apart from the Sai Baba's shrine, the temple also houses the idols of other Hindu deities like Lord Shiva, Hanuman, Goddess Durga, Kali etc. Bhajan and kirtans are also held here from time to time and Bhandaras are hosted here on every Thursday. The temple sees a lot of devotees during Thursdays as it is the day of Sai Baba.
Opening and Closing Time:
The Sai Baba Temple remains open on all days of the week. If you wish to come to this temple thenTimings are here:
9:00 AM – 12:00 PM
5:00 PM – 9:30 PM
How to reach Sai Darbar Temple:
The Sai Baba Temple in Rajpur road is located about 9 km away from Dehradun's city centre, Clock Tower. One can reach here by taking the Vikram no. 1 from Astley Hall or by taking the bus to Rajpur. The temple is situated about 10 km from Dehradun railway station and around 36 km from Dehradun's Jolly Grant airport.