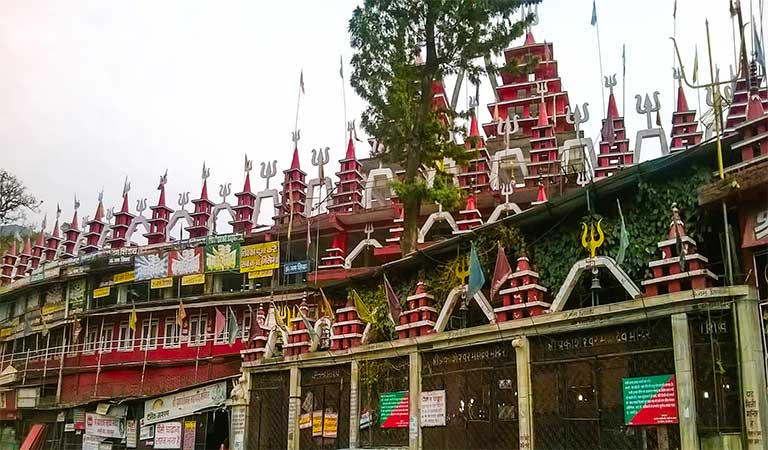 "Shri Prakasheshwar Mahadev"
Shiv Mandir, also popular as Prakasheshwar Temple, is one of the most visited holy sites in Dehradun. It sits in the lush green hills. Shiva temple near Kuthal Gate is strategically en-route Mussoorie.
Not only locals but devotees from all around the world visit this temple. The sphatik stone Shivalinga is the main attraction of the temple. Special Pooja and Aartis are held on the occasion of Shivratri and Saawan.
The divine Shiva temple is in the pictorial surroundings, overlooking Doon Valley. One can have a scenic view of the glittering Doon from here.
The temple hosts a feast or Bhandara every other day, where they offer Prasad to the devotees. There are some small jewellery shops open in the temple that sell precious stones and gems.
Shiv Mandir overview:
Location: Dehradun (near Kuthal Gate Mussoorie road)
Exploration Time: 1 Hour
Distance from ISBT Dehradun: 20.8 Km/51 Minutes
Architecture and History of Prakasheshwar Mahadev Mandir:
The temple boasts an interesting architecture with the tridents of Shiva on its terrace.
The walls of the temple are painted in the hues of red, orange and a ting of black in the middle.
The temple's history is unknown and many locals believe that one of Shiva's followers built it.
Things to remember while visiting Shiv Mandir Mussoorie Road Dehradun:
While visiting Prakasheshwar Mahadev temple note that you are not allowed to offer anything. Prakasheshwar Mahadev is among those few temples that do not accept any kind of donation. They don't even accept anonymous donations.
The devotees are strictly prohibited to take pictures of the shrine.
One can pay obeisance at the temple and take Prasad or tea served in the temple's kitchen.
Since the area is quite popular for monkey menace, don't eat out in the open and take care of your belongings.
If you have a sweet tooth, you can stopover at the ice-cream parlour adjacent to the temple. The parlour has an array of flavourful ice-creams, sweets and other eatables.
How to Reach Shiv Mandir mussoorie road:
Shiv Mandir is in Khala Gaon, Which is on the way to Mussoorie from Dehradun near Diversion.
It is only 9 km away from Dehradun on Mussoorie road near Kuthal Gate.
The temple is only 8 km away from Dehradun bus stop. It is 7 km from Dehradun railway station and 34 km from Jolly Grant airport in Dehradun.
One can easily reach the temple by taking the bus to Rajpur which travels all the way to Kuthal Gate.
A short 5-10 minutes walk from here will lead you to the temple.