Bageshwar, the cultural hub of the Kumaon region, is well-known for its scenic beauty, glaciers, rivers, festivals, rich culture, and many important Hindu temples. It is a town and one of the thirteen districts of the Uttarakhand state in India. The town is perched at a height of 960 meters above sea level at the confluence of the Gomti and Saryu rivers.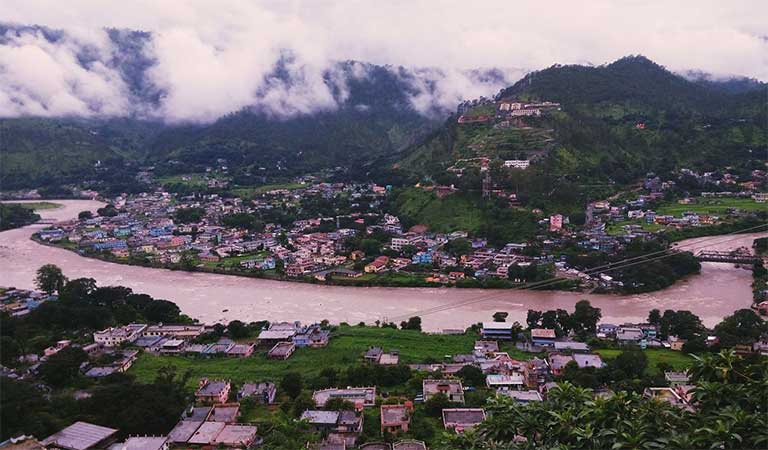 Brief History:
The town of Bageshwar was initially a tehsil of Almora district. It got separated from Almora and emerged as a new district on 15th September 1997. Bageshawar gets its name from Bagnath temple, which is situated near the confluence of Gomti and Saryu river in the town of Bageshwar.
Mythology:
According to a Hindu mythology, Sage Markandeya worshipped Lord Shiva in Bageshwar. Lord Shiva got impressed and blessed sage Markandeya by visiting the place in the form of a Tiger.
Major Festivals in Bageshwar:
Harela:
Harela is a very important festival in Kumaon, celebrated in the month of July and August. This is a 10-11 day celebration in which plants of Harela are planted in a flowerpot inside or outside the house. Harela festival is a symbol of the beginning of Monsoon. People pray for the good harvest and prosperity.
Uttaraini Festival:
The most popular and biggest festival and fair celebrated in Bageshwar is the Uttaraini festival. It is celebrated in the month of January for a whole week. Various sellers from the country come to Uttaraini fair. The major items available in fair are furs, sheep, shoes, borax, Yak tails, goats, musk pods and books.
Vishuvati or Bikhauti:
Vishuvati or Bikhauti is a major festival celebrated in this district. It is one of the oldest festivals of Uttarakhand. Special meals including fried cuisine, betel-leaves, sweetmeat etc are prepared. Bara is a popular traditional Kumaoni food, which is prepared in this festival.
Nanda Asthami:
Nanda Asthami falls on Aug-Sep and continues for a month. On the occasion of Nandashtami devotees fast and pray to Goddess Laxmi for prosperity. This ancient ritual is being followed from the time of Chand rulers.
Ghughutiya:
The festival of Ghughutiya, also known as "Ghughutiya Tyar" is celebrated in the entire Kumaun region of Uttarakhand on the eve of Makar Sankranti. The locals call this ritual "Kale Kauwa", which literally means "Black Crow". Ghughutiya is celebrated by preparing the sweet delicacy "Ghughute". Ghughute are prepared by wheat flour, mixing it with jaggery using milk or ghee. The first bite of Ghughute is for black crows.
Best time to visit Bageshwar:
You can visit Bageshwar at any time throughout the year. The temperature here ranges between 7 °C and 30 °C. This place resides in the lap of the Himalayas and it has immense greenery to offer. You will find pleasant weather during most part of the year.
But the best time to visit Bageshwar is between September and February if you like to enjoy the snow. Most parts of the district look so amazing in this time period. The snow-covered mountains and lush green grasslands give you an everlasting experience.
Places To Visit in Bageshwar:
Bageshwar District Stats:
District Headquarters: Bageshwar

Division: Kumaon

The Geographical area: 2,302 km2

Coordinates: 29.8404° N, 79.7694° E

Total Population in 2011: 259,898

Literacy rate: 80.69%

Altitude: 1,004 meters

Language: Hindi, Kumaoni

Best Season: Oct – May

Summer temperature: 35°C to 27°C

Winter temperature: 20°C to 8°C
How to Reach:
By Road
Bageshwar is a district and well connected to all the major cities of Uttarakhand and Delhi as well. Buses from ISBT, Dehradun and Anand Vihar ISBT, Delhi are available.
By Train
Kathgodam railway station is the nearest railhead. It is 171 km from Bageshwar. Taxis and buses are available from railway station of Haldwani and Kathgodam.
By Air
The closest airport to Bageshwar is Pantnagar Airport, which is about 205 km from Bageshwar.