Champawat, sitting at an elevation of 1670 m above sea level, is a town and a district in the northern state of Uttarakhand, India. Once it used to be the capital of Kumaon kingdom. The district is well-known for its important ancient temples, including:
Baleshwar temple
Kranteshwar temple
And the Nagnath temple.
These temples are known for their remarkable architecture.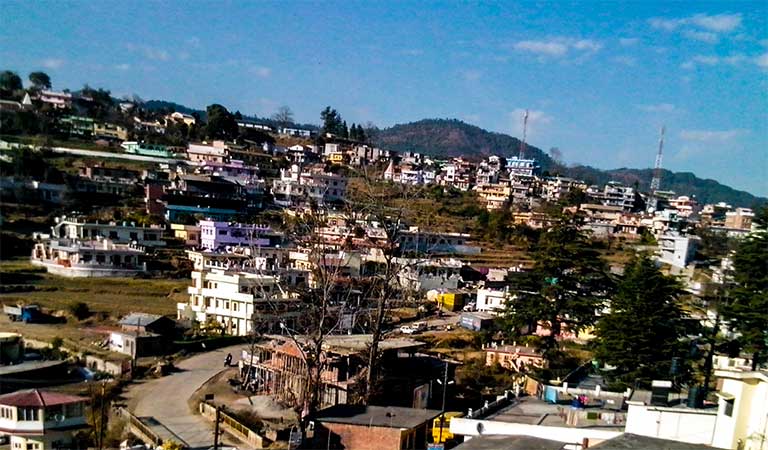 Who Should Visit Champawat
Champawat is popular for its pleasant weather and temples. It has pleasant summers and in winters there is no heavy snowfall.
This is what makes it a perfect destination for people who want a quiet getaway in the lap of nature. It is a bliss for travelers who do not like crowded places.
Mythology
According to the legend, Champawat is the place where the Kurmavatar (the turtle incarnation) of God Vishnu came into the Earth.
Another legend states that after the death of Ghatotkacha (son of Bhima and Hidimba) in the war of Mahabharata, his head fell here. There is a temple called Gahtku mandir, which is dedicated to Ghatotkacha.
Brief History of Champawat
Chand rulers of Kumaon one ruled the region of Kumaon. It was the capital of Chand dynasty.
The Chand kings built the Baleshwar temple in the 12th century. Baleshwar, Poornagiri, Devidhura and Pancheshwar temple are few architectural temples which were built by Chand kings.
Bagwal Fair of Devidhura
Bagwal is a type of traditional and cultural fight played between different people from different villages in Devidhura temple.
These groups are known as "Khams" in the local language. These Khams are namely:

Lamgariya Kham
Valig Kham
Chamyal Kham
And Garahwal Kham.

After each Kham did the parikrama of the temple, they go to each different corner of the field with sticks and stones. Many people have injured themselves because of this. Therefore, now they use fruits instead of stones to avoid injury.
They do not stop until they hear the sound of the Shankh. After the Fight ends, fighters of each Kham hug each other.
Places To Visit in Champawat
Champawat District Stats
| | |
| --- | --- |
| District Headquarters: | Champawat |
| Division: | Kumaon |
| Geographical Area: | 1,766 km2 |
| Coordinates: | 29.3361° N, 80.0910° E |
| Total Population in 2011: | 259,648 |
| Literacy Rate: | 91.69% |
| Altitude: | 1,610 m |
| Languages: | Hindi, Kumaoni, and English |
| Summer Temperature: | 30°C to 20°C |
| Winter Temperature: | 15°C to 4°C |
How to Reach Champawat
By Road
The district is well connected with major cities of Uttarakhand and Delhi. Buses from ISBT Anand Vihar and ISBT Dehradun are available to this place.
By Train
The nearest railway station is Tanakpur at a distance of 60 km from Champawat. Taxis and buses are easily available from Tanakpur to this place.
By Air
The closest airport to Champawat is Pantnagar Airport, which is 160 km away. Pantnagar Airport is well-connected with this place. Another option is Naini Saini Airport, Pithoragarh but flights are not regular here.