Bugyal which literally suggests "meadow" is a high altitude grassland which serves as a grazing field for the livestock. These lush green pastures lavishly sprawl over a few acres of land in Uttarakhand. They remain engulfed in snow throughout the winters and in summers the meadows bloom with varied Himalayan flora that is known to the region. Many wildflowers, berries and shrubs grow in these meadows which becomes a feast for the cattle to munch on. These alpine pasture land or meadows are usually seated at a high altitude, ranging between 3,300 metres (10,800 feet) and 4,000 metres (13,000 feet) in Uttarakhand.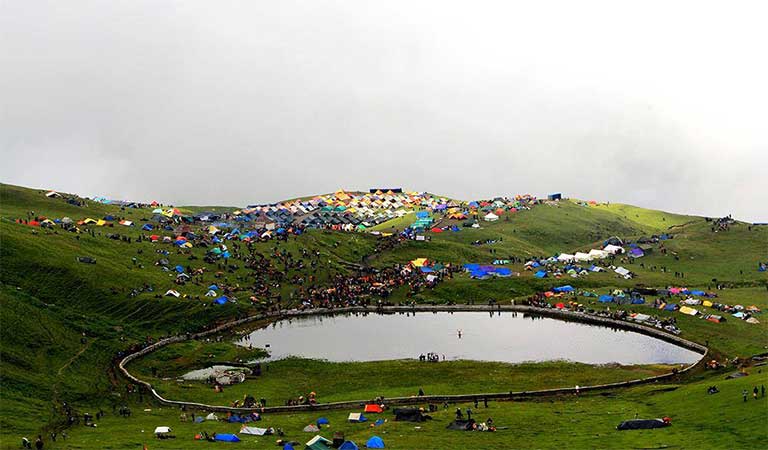 These naturally manicured gardens of the Himalayas are enveloped with velvety grass and seasonal alpine flowers. Since bugyals are nature's own garden and are considered to be fragile ecosystems; they need proper attention and conservation. Some of the famous bugyals in Uttarakhand are Dayara Bugyal, Auli near Joshimath, Gorson Bugyal or Gorso Bugyal, Ali Bedni Bugyal, Chainsheel Bugyal, Gidara Bugyal, Kwani Bugyal and Kushkalyani bugyal. 
Exploring the ravishing beauty of the alpine meadows (Bugyal) in Uttarakhand:
The velvety bugyals of Uttarakhand are a treat to one's eyes. These beautiful paddocks are revered by the denizens of Uttarakhand. Once lost in time, the meadows of Uttarakhand have earned the reputation of being the finest place to visit in Uttaranchal. Owing to their beauty, some of the popular treks in Uttarakhand pass through these lush grasslands. Over the years, these picturesque Himalayan praries have given a source of livelihood to the locals by attracting the tourists to explore the best meadows in Uttarakhand.
Some of the popular meadows in Uttarakhand like Dayara Bugyal and many others have been listed in the category of the best treks in Uttarakhand for beginners. If you are a nature lover then you should definitely visit some of the famous meadows in Uttarakhand and if you are a solitude seeker then you should explore some of the lesser known meadows in Uttarakhand that are seemingly beautiful. One can trek, camp, pitch your tent near the lakeside and admire the Himalayan flora- fauna that thrives in the valleys. To make your sojourn successful check out some of the top bugyals in Uttarakhand that are listed below.
Check out most enchanting Bugyal (Meadows) of uttarakhand that are given below: