Mukteshwar is a small scenic town in Nainital district of Uttarakhand state, India. It derives it's name from the name of Lord Shiva. Mukteshwar is a calm and seclude town. It is a popular tourist destination in the Kumaon region of Uttarakhand, India.
The town's name derives from two Sanskrit word. 'Mukti' means eternal life and 'Ishwar' another term for God. It refers to an ancient legend of a demon battle with Shiva. People believe that though the demon is defeated, he attains immortality.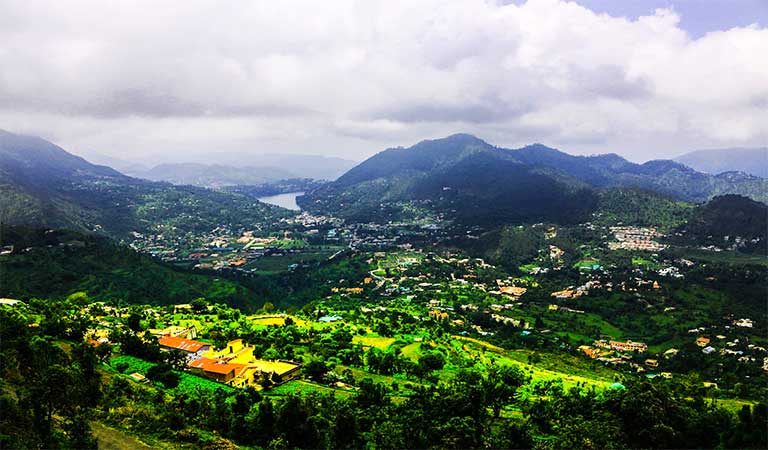 Quick Overview
The town is at a distance of 51 km from Nainital, the district's administrative headquarter.
It is 72 km from Haldwani and Kathgodam. Haldwani is the largest city in Kumaon region.
This enchanting town sits at a height of about 7500 feet in the Kumaon Hills.
The town has many tourist attractions. Mukteshwar temple and Chauli ka Jali are two of the popular attractions.
Brief History
Mukteshwar's old name is Muktesar. The government changed the name after 1947.
Until 1893 the place was popular for its shrines and temple. It was before they selected it for serum production to protect animals from cattle plague.
On the recommendation of the Cattle Plague Commission, the Imperial Bacteriological Laboratory had its genesis on 9 December 1889 at Pune.
Then they relocated to Mukteshwar in 1893 to facilitate segregation and quarantine of highly contagious organisms.
Activities to Do in Mukteshwar
Activities to do in Mukteshwar are mentioned below:
Paragliding
Paragliding is one of the most exciting adventure activities here. Travel agents usually include this in the camping package, which includes:
River crossing,
Night trekking
Wildlife trekking etc.
In this entire package, tourists also get the convenience of food and tents. The cost of this whole package is Rs 5000-7500 per person.
Trekking & Camping
Mukteshwar is one of the most special destinations for trekking because of its:
Unusual topography
Beautiful trails,
Lush green forests
And narrow lanes
Depending on your experience and endurance, you may choose different trekking trails here. Most trails here are good for beginners.
So one can do it without professional guidance. This can fascinate you with fresh air and mountainous vegetation. Here are some of the popular trails, such as:
Peora to Almora
Peora to Mukteshwar,
Arta Trek from Binsar
And Trek routes along the rivers.
Trekking and camping at night is quite popular here. You can enjoy a great trip with family or friends here.
Rock Climbing & Rappelling
Mukteshwar is a mountainous destination in Uttarakhand. Here tourists can indulge in adventure activities along with scenic scenes.
Apart from

Trekking
Camping
Paragliding; rock climbing and rappelling are also available in Mukteshwar.

Since this is a mountainous place, it is full of hard hills.
Exotic travelers and trekkers visit here to experience these adventurous activities.
Rock climbing is also available here because the hill rocks here are quite strong.
However, this adventure may be a little risky in the rainy days.
Sunset and Sunrise view
Apart from adventurous activities, one can also enjoy scenic natural beauty here.
India's second highest peak Nanda Devi is visible from Mukteshwar.
The amazing views of the sky kissing peaks make the tourists enthralled.
The view of the sunrise is very pleasant from Mukteshwar. Many couples await to see the sun rises.
The sunlight ignites the Mukteshwar hills. During this time, Mukteshwar takes on a divine form.
Sunset and sunrise are one of the most favorite times for photography enthusiasts.
Ancient Temples
In addition to the adventure, one can visit the holy sites of Mukteshwar.
There is an ancient Shiva Temple. Mukteshwar gets its name from this temple.
Apart from this, you may also visit other ancient temples Rajarani temple and Brahmashvar temple.
The most famous temple, Mukteshwar Dham is dedicated to

Lord Shiva
Mata Parvati
Ganesh
And Nandi.

Many devotees come to visit these ancient temples.
Attractions in Mukteshwar
Mukteshwar is surrounded by a magnificent oak and rhododendron forest. It offers a breathtaking view (380 km.) of Garhwal, Kumaon & Nepal snow peaks. These include:
BANDAR POONCH
CHAUKHAMBA
NEEL KANTH
TRISHUL
NANDADEVI, PANCHACHULI
Mt. API,
and NAMPA to name a few.
The town also offers a calm atmosphere, replete with leisure. During the fruit season orchards laden with:
Apples
Peaches
Pears
Chestnuts
& plums.
The major attractions of this beautiful town are:
The IVRI laboratories (experiments on tiny rats, gold-plated books, cattle-sheds)
Orchards of the Central Institutes of Temperate Horticulture-Regional Station
An expansive deodar forest (Himalayan cedar) measuring 15 square miles
22 pristine snow-peak views
And the adventure of living among wildlife such as tigers and bears are.
The town is rich in scenic beauty, with magnificent views of the Indian Himalayas. It includes India's second-highest peak, Nanda Devi. There is also a Renewable Park. It is developed by The Energy and Resources Institute generating solar electricity for most of its electricity needs.
Places to Visit in Mukteshwar
There are following places to visit in mukteshwar:
Mukteshwar Temple
Mukteshwar Temple, which is called Shiv Temple and Mukteshwar Dham, is a major religious center.
This temple is situated at a height of 7000 feet above sea level, on a small hill.
The temple is 350 years old dedicated to Lord Shiva having a huge religious significance.
Inside the temple, the Shivling is made of white marble and copper.
Shivalinga is surrounded by many idols of Hindu Goddess Deities such as:

Vishnu
Brahma
Ganesha
Hanumana
Nandi
And Parvati.

You can reach this temple by steep stairs made of rocky curved stairs.
Sitla
Sitla is a beautiful hill station situated at an altitude of 7,000 feet.
It is a fascinating tourist spot near Mukteshwar.
This hill station is spread over an area of ​​39 acres and offers a panoramic view of the Himalayas.
Sitla hill station is surrounded by oak and cedar forests.
Chauthi Jaali or Chauli Ki Jaali
"Chauthi Jaali" or "Chauli Ki Jaali" is famous for its traditions.
It is said that there was a war between the Goddess and the monster here.
One can still see a shield, a trunk of elephant and a light line of sword.
Raja-Rani Temple
Another popular tourist destination is the ancient Rajarani temple.
This temple was built in the 11th century.
It has a beautiful statue of Rajarani stone.
View of Nanda Devi
From this place, tourists can see the view of Nanda Devi peak.
It is India's second highest peak and overall 23rd in the world.
It stands 7,816 m above the sea level.
Mukteshwar Inspection Bungalow
Mukteshwar inspection bungalow is dedicated to the famous British hunter and naturalist Jim Corbett. He is also known as Edward James.
This bungalow was the resting place for Jim Corbett. Here he used to plan to kill the dangerous tigers of Kumaon.
The Kettles which he brought here is still present in this bungalow.
Indian Veterinary Research Institute
The Indian Veterinary Research Institute is a heritage colonial organization which was established in 1893.
It is playing an important role in veterinary science in India.
This institute is doing extensive research in bacteriology, genetics and animal nutrition.
One can visit the veterinary museum and library in the premises.
Bhalu Gaad Waterfall
Bhalu Gaad waterfall is situated near Dhari village 7 Km away from Mukteshwar.
From Dhari village, there is a trek of almost 2 Km.
This waterfall is 60 feet high. 
You can have bath in summer season but not in rainy season as the level of water goes high.
Mythological beliefs of "Chauli Ki Jaali" located in Mukteshwar Mahadev Temple
There is a legend about "Chauli Ki Jaali" rock/stone. People believe that if a woman crosses the holes on this stone with the wish child on the day of Shivratri, then she surely gains a boon to have a child. A local woman told that even after eight years of marriage, she did not get a child.
On the advice of another woman of the village, she worshiped the temple of Mukteshwar Mahadev. Before one day of Shivratri she reached the hole on the stone while reaching. At present, the woman has a blissful life with two children.
Temperature
The town has a pleasant climate throughout the year.
The maximum temperature rises to about 26°C – 27°C.
The minimum temperature falls to about -2°C -4°C.
The best time to visit Mukteshwar is between March and July.
How To Reach Mukteshwar
By Road
One can reach Mukteshwar by road from Nainital (51 km) or Haldwani (72 km). Mukteshwar is connected to other cities. State transport operated government buses in all cities.
Private and luxury buses are available. Buses are also available from the Vivekanand Interstate Bus Terminal of Delhi for tourists.
By Train
Kathgodam Railway Station in Kathgodam – Haldwani is the nearest railway station to Mukteshwar. It is approximately 73 km away. Taxis are available from the station. One can reach Mukteshwar in 2 hours from railway station.
By Air
The nearest airport to this town is 100 km away in Pantnagar. Delhi International Airport is the nearest international airport to the hill station. Delhi and Pantnagar have regular flights.
Flights fly from Delhi international airport to other major cities of the country and the world. One can rent taxis from the Pantnagar airport to Mukteshwar.
Distance From Major Cities
Delhi: 336 kms
Meerut: 282 kms
Moradabad: 165 kms
Chandigarh: 517 kms
Bareilly: 164 kms
Kanpur: 433 kms
Lucknow: 411 kms
Shimla: 616 kms
Jaipur: 600 kms
Restaurants in Mukteshwar
Cafe Chandi Mati
Cafe Local
Nirvana Organic Kitchen
Restaurant at The Birdcage
Rosefinch Cafe and Restaurant
Chirping Tales Cafe
Restaurant at Casa Dream The Resort
Alankar Restaurant & Home Stay
Travel Tips
Kathgodam railway station is the nearest railway station to reach here which is at a distance of 65 km. From here, Mukteshwar can be reached by road.
Mukteshwar is situated at a distance of 35 km from Almora. 
The best time to get the beauty experience of the Himalayas is in the morning. For this, preparation of waking up before sunrise is necessary. You can select a place to stay from where the scenario is clear.
The best location for the landscape observation is the Mukteshwar Temple situated above the hill.
Noodles trousers are available for out-of-the-day meal.
Always keep drinking water together. You can have your own meal like Chips, Biscuits, Dry food etc.
Every season except for the rainy season, it is suitable for excursion.