Munsiyari is a popular hill station in Pithoragarh district in the hill-state of Uttarakhand, India. It sits at an elevation of about 2,200 m (7,200 ft) at the base of the mighty Kumaon Himalayan mountain range. The area serves as the starting point of various treks into the interior of the Himalayan range. The town is surrounded by snow covered peaks. the key attraction here is the trekking route to Khalia Top.
Travelers, Mountaineers, glacier enthusiasts, high altitude trekkers, and nature lovers commonly use it as their base camp. Munsiyari is situated on the banks of Goriganga river. It is a fast-growing hill-station and a popular tourist destination. It falls on the ancient salt route from Tibet, it at the entrance of the Johar Valley, along with the flow of the Goriganga River from its source the Milam Glacier. It is inhabited mainly by the Shauka people. Describing the beauty of Munsiyari, A popular local saying goes like this:
Sara sansar ek Munsyar.
It means if you have visited Munsyari at least once in your life then it is equivalent to visiting the rest of the world.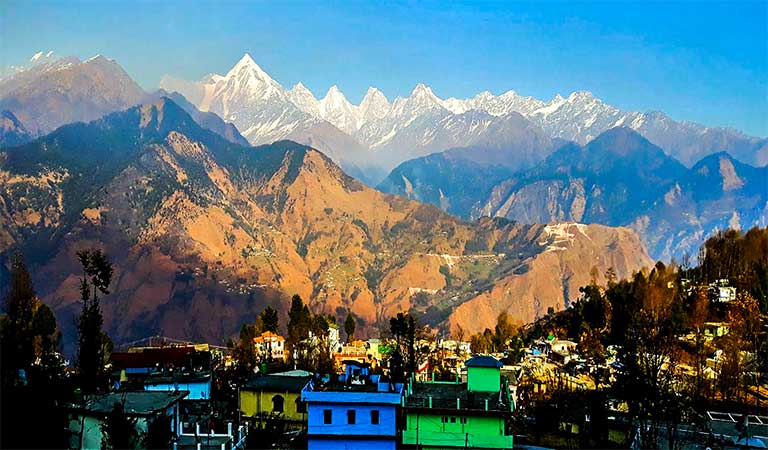 Munsiyari Overview
| | |
| --- | --- |
| State: | Uttarakhand |
| District: | Pithoragarh |
| Exploration Time: | 2 Days |
| Best time to visit: | Nov-Feb, Apr-Jun |
| Languages: | Hindi, Kumaoni, and English |
| Summer Temperature: | Max 30°C & Min 16°C |
| Winter Temperature: | Max 18°C & Min 5°C |
| Nearest Major City: | Haldwani (285.7 km) |
| Nearest Airport: | Pantnagar Airpot (313 km) |
| Nearest Railway Station: | Tanakpur (275 km) |
Munsiyari is very close to the borders of India, China, and Nepal. A beautiful trek leads via the Madkot (12 km) village to the glaciers of the Panchachuali range to the alpine meadows of Chiplakot Bugyal (30 km) up to the Milam Glacier and Johar Valley. Many small lakes are present in the trek. There is another 11 km long trek which extends to the famous Kalika Pass (2700 meters). A small Shakti temple is situated here in between the dark pine trees.
Things to do in Munsiyari
Munsiyari has a number of things to offer to visitors that include bird-watching, trekking, and sightseeing. You can buy some incredible hand-woven rugs or Himalayan tree saplings. Enjoy the local dish, Kuka. Trek to the places like Khaliatop and Betulidhar for some skiing. One can enjoy stream rafting at Goriganga.
Eco Park Munsiyari
5 km from the town of Munsiyari, there is a beautiful Eco Park on Thal road. The park has lush green grass lands and trees. It has a beautiful little restaurant and many cottages to stay for the night. They have variety of food options in the restaurant.
It has many swings, hammocks and small huts, where you can eat and spend some quality time with family and friends. You can even rent out tents to spend the night of rent cottages.
Snowfall in Munsiyari
Munsiyari witnesses snowfall every year during December and February. If you want to experience snowfall then December and January are the best time to visit Munsiyari.
Places to visit in Munsiyari
Birthi Fall
Birthi fall is an amazing cascading waterfall, which is situated 35 km from Munsyari and is one of the most popular and breathtaking picnic spots in the whole Kumaon valley.
Darkot
It is a little pleasant villa arranged 6 km from Munsiyari on Madkot street. The old imaginative places of Darkot speak to the rich society and inventiveness of the general population of Kumaon.
Maheshwari Kund
It is an old and beautiful lake near Munsiyari. Maheshwari Kund is situated at a walking distance from the town of Munsiyari. A 45 minutes uphill trekking trail will take you to Maheshwari Kund.
Madkot
Madkot is a town, best known for its common springs of heated water, which can treat skin problems. This little town is away from the crowded city life and is considered as a standout among the most amazing spots in Munsyari.
Thamri Kund
It is one of the most ravishing freshwater lakes in the Kumaon Valley. A beautiful trek surrounded by thick trees of paper leads to this lake. The trek takes around 8 hours to reach to the lake from Munsyari.
Mythology
Munsiyari has its name mentioned in Hindu mythology. There is a legend related to the Pandava brothers of the Mahabharata era. Many Hindu devotees believe that this town is the place from which the Pandava brothers ascended on their final journey to heaven.
History of Munsiyari
There was an ancient salt route from Tibet to India, Munsiyari was a part of this route. The locals of this area had to cross the dangerous Himalayan passes to trade with Tibet on a regular basis. India-Tibet border was closed in 1962. This incident left several of the locals without a viable livelihood. Most of the locals in this area are Bhotiyas and Shaukas.
The climate here remains extremely cold, which made it difficult for them to cultivate crops. As a result, a huge portion of the population of Bhotiya and Shauka communities migrated to other parts of India. This is still the reason that even today the villages near Munsiyari like Milam and Burfu are deserted.
How to Reach Munsiyari
By Road
State-owned buses and private buses run from Delhi, Dehradun, Almora, Pithoragarh, and Haldwani to Munsiyari. However, one has to check the timings for buses. Since the journey to Munsiyari is very long, from Haldwani and Kathgodam, buses and taxis are regularly available in the morning only.
By Train
Kathgodam (275 km) and Tanakpur (286 km) are the two options to reach Munsiyari via train. Then one has to get on the bus or book a taxi. Since the journey to Munsiyari is very long, it is good to break your journey into several stops.
By Air
Pantnagar airport is the nearest airport at a distance of 249 km. One can take buses and taxis from there to reach Haldwani. Naini Saini Airport in Pithoragarh is the other option but the flights are not regular. Haldwani is 285.3 km away from Munsiyari via NH309A.
Munsiyari Weather Throughout the Year
| Month | Avg. Minimum | Avg. Maximum  |
| --- | --- | --- |
| January | -1°C | 16°C |
| February | 5°C | 20°C |
| March | 12°C | 24°C |
| April | 16°C | 29°C |
| May | 20°C | 28°C |
| June | 20°C | 29°C |
| July | 23°C | 27°C |
| August | 23°C | 27°C |
| September | 22°C | 27°C |
| October | 17°C | 25°C |
| November | 10°C | 23°C |
| December | -2°C | 20°C |