Kausani is a popular hill station proudly sitting in Bageshwar district of Kumaon division. It falls in the northern state of Uttarakhand, India. Mahatma Gandhi called this place the 'Switzerland of India', due to the similarity in views and landscapes. It is famous for its scenic splendor and spectacular 300 km-wide panoramic views of Himalayan peaks like Trishul, Nanda Devi and Panchchuli.
Situated 53 km to the north of Almora, Kausani, is a picturesque hill station famous for its scenic splendor and its spectacular view of the Himalayas. Flanked by the rivers Kosi and Gomti, this small town sits atop the Pingnath Peak. Visiting Kausani just once is enough for one to fall in love with this lovely hill station. The vista of the hills makes one promise himself/herself to come back again and again.
You can travel with your own car but traveling through train would be a good option too. Get a train to Kathgodam and further distance can be covered by taxi or local buses.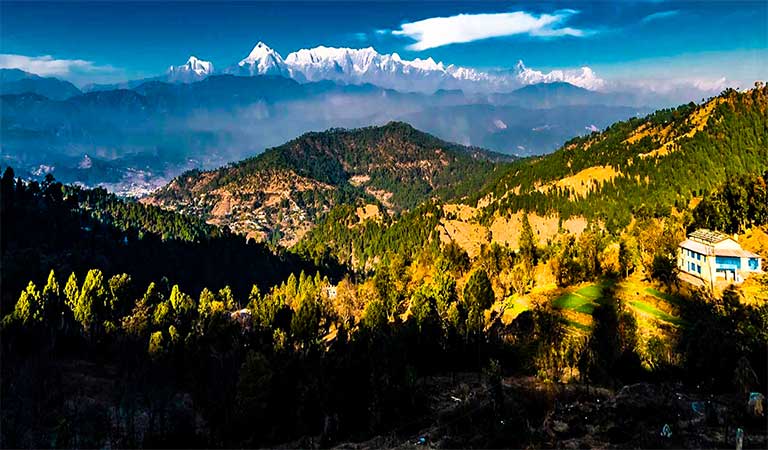 Kausani Overview
| | |
| --- | --- |
| State | Uttarakhand |
| Total Time to Explore | 2 Whole Days |
| Best time to visit | Apr-Jun, Sep-Nov, Dec-Jan |
| Languages | Hindi, Kumaoni, and English |
| Summer Temperature | Max 24°C & Min 14°C |
| Winter Temperature | Max 13°C & Min -3°C |
| Nearest City | Bageshwar (37.5 km) |
| Nearest Major City | Haldwani (140.7 km) |
| Nearest Airport | Pantnagar Airport (168 km) |
| Nearest Railway Station | Kathgodam Railway Station (133.3 km) |
Kausani Tourist Attractions
It sits at a height of 1890 meters above sea level. The place is a wonderful little heaven of

most natural and charming allures
sweet bird-songs
imposing coniferous trees
silent though the majestic Himalayas
bubbling streams and creeks and reticent valleys.

A wonderful destination for photography enthusiasts as well as quiet family vacationers.
Kausani is a place where one can witness millions of colors from morning till evening across its wide and exotic landscape.
Kausani is not a place for those who like happening places or malls, but for those who are looking for peace, tranquility, and solitude.
There is nothing to do in Kausani, except enjoying the views of the Himalayas and sunrise and sunsets. For people who would like to explore can go for a nature walk, bird watching can visit Pant museum, Anashakti ashram or Gandhi ashram, shawl factory and Tea Factory.
A place, popular for amazingly exquisite natural beauty, lush greenery and calming serenity, Kausani is a destination par excellence for tourists looking to spend a memorable vacation.
Places to visit in Kausani
Kausani is blessed with several enchanting places to visit that showcase the natural beauty and cultural heritage of the region. Here are some notable attractions:
1. Anasakti Ashram
Anasakti Ashram is located in Kausani of Uttarakhand state. This Ashram is also popular as Gandhi Ashram.
Followers built this ashram to pay homage to Mahatma Gandhi. Hence this immersive place named 'Anasakti Ashram' has been given the name of Mahatma ji's immortal creation 'Anasakti Yoga'.
There is a small prayer hall in the ashram where prayer is held every morning and evening.
2. Sumitranandan Pant Museum
Sumitranandan Pant Museum is dedicated to the famous Hindi poet Sumitranandan Pant, born in Kausani.
Here you will find a large collection of his books in English and Hindi in glass shelves.
Manuscripts, literary works and their rewards given in the museum can be seen.
Every year, the museum organizes a poetic discussion on the occasion of Sumitranandan Pant Jayanti.
3. Kausani Tea Estate
Kausani Tea Estate is spread over 208 hectares of land, 5 km away from Kausani. This garden is divided into 21 parts. The famous 'Giriys Tea' of Uttarakhand is produced here.
Here biological tea is also produced and this tea is exported to the United Nations, Germany, Korea and Australia.
Kausani Tea Estate is closed from November to March.​​​
4. Starscapes Observatory
Located in the serene hill station of Kausani, Uttarakhand, the Starscapes Observatory offers a unique and captivating experience for astronomy enthusiasts and nature lovers alike. Established in 2016, it is the first private observatory in the region. Nestled amidst the picturesque surroundings that earned Kausani the nickname "Switzerland of India," the observatory provides an opportunity to explore the wonders of the universe.
With the guidance of friendly and highly experienced StarGuides, visitors can embark on a fascinating guided tour of the night sky. Equipped with an impressive 8-inch computerized GoTo telescope, the observatory allows for up-close observations of celestial objects. From the Moon, planets, star clusters, galaxies, to nebulae, the telescope unveils the captivating beauty of the cosmos.
In addition to stargazing, the observatory offers the chance to learn how to capture breathtaking images of celestial objects through astrophotography. Visitors can gain hands-on experience and knowledge about photographing the night sky, capturing its mesmerizing essence.
One of the unique features of Starscapes Observatory is the opportunity to safely observe the sun. Using specialized equipment, visitors can directly witness the magnificence of the sun without harming their eyes, allowing for an immersive experience with our closest star.
The observatory also offers experiential learning opportunities, allowing visitors to deepen their understanding of physics. Engaging activities like rocket-building and camera-making provide an interactive way to explore scientific principles.
To further enrich the experience, visitors can explore the Space & Astronomy Museum, which showcases fascinating exhibits related to space exploration, astronomy, and the wonders of the universe.
Before leaving, visitors can browse through the observatory's store, where they can find unique memorabilia to commemorate their visit and continue their cosmic journey.
At Starscapes Observatory in Kausani, you can immerse yourself in the beauty of the night sky, expand your knowledge of the cosmos, and create unforgettable memories of an astronomical adventure in the heart of the Himalayas.
5. Rudradhari Falls And Caves
Rudradhari Falls is 12 kms away from Kausani. It is surrounded by paddy fields and pine forests.
Devotees believe that this place is related to Lord Shiva and Vishnu. Here is the temple of Someshwar, home to Lord Shiva near the waterfall.
Tracking in the Kailash area can be traced to the secrets of ancient caves of this place.
6. Baijnath Temple
Baijnath is a very important and historical place in Uttarakhand. This temple is in Garuda tehsil of Bageshwar district.
This temple is 2 km from Garuda and 17 kilometers from Kausani on the banks of river Gomti.
The Baijnath temple is about 1000 years old. People say about this temple that this temple was built in just one night.
The center of the attraction for tourists is Shiva, Ganesh, Parvati, Chandika, Kuber and Sun Temple.
There are many stone-made temples in which the main temple is Lord Shiva.
Some Facts About Kausani
Kausani is the birthplace of popular Hindi poet Sumitra Nandan Pant, who wrote some of his memorable poems in praise of this paradise on earth.
In 1929, Mahatma Gandhi stayed here for 14 days at the Anasakti Ashram while scripting his book titled 'Anasakti Yoga'. He was greatly impressed by its environs.
Kausani has a rich historical background and is associated with various ancient kingdoms and dynasties. It was a part of the Katyuri dynasty, which ruled the region during the 7th to 11th centuries.
During the British colonial era, Kausani served as a popular retreat for the British officials and officers. They were drawn to its pleasant climate and captivating views of the Himalayas.
One of the most significant historic events in Kausani was Mahatma Gandhi's visit in 1929. He spent some time in Kausani and was deeply inspired by its beauty and tranquility. His stay in Kausani is said to have influenced his philosophy of non-violence and simplicity.
Kausani has been a source of inspiration for many renowned poets and writers. The famous Hindi poet Sumitranandan Pant, who was born in Kausani, drew inspiration from its natural beauty and wrote several poems praising its splendor. Kausani has also been mentioned in various literary works.
Kausani's serene surroundings and breathtaking landscapes have attracted artists and painters over the years. The town's natural beauty has been depicted in numerous artworks, capturing its essence and allure.
Kausani is home to several ancient temples and archaeological sites that hold historical and cultural significance. The Baijnath Temple, dating back to the 12th century, is a prominent attraction in the region and showcases intricate stone carvings and architectural marvels.
Kausani played a role in India's freedom struggle. Mahatma Gandhi's stay in Kausani and his discussions on freedom and self-reliance had a profound impact on the local population, inspiring them to actively participate in the independence movement.
Kausani has a rich cultural heritage with its local traditions, folk music, and dance forms. The region's cultural events and festivals provide insights into the vibrant cultural fabric of the local communities.
Accommodation
Here is a list of 15 accommodation options in Kausani along with a brief description of each that we have handpicked for you:
Himalayan Village Resort: A picturesque resort surrounded by lush greenery, offering comfortable accommodations and a peaceful atmosphere.
Corner Inn Kausani: This is a small inn that provides good room and at affordable prices. The views of mountain peaks from the rooms and terrace is excellent.
Himalaya Darshan Resort: A tranquil resort offering comfortable accommodations, a garden, and a multi-cuisine restaurant.
My Nest Resort: My nest provides a garden and elegant rooms at reasonable prices with modern amenities.
Chevron Eco Lodge: A serene eco-friendly lodge offering comfortable rooms and breathtaking views of the Himalayas.
Sun n Snow Inn: A cozy inn nestled amidst scenic surroundings, providing well-appointed rooms and a warm ambiance.
Nature's Valley Resort: A nature-centric resort offering spacious rooms, modern amenities, and panoramic views of the mountains.
Pratiksha Himalayan Retreat: A peaceful retreat featuring elegant rooms, a terrace with stunning views, and an in-house restaurant.
Suman Royal Resort: A luxurious resort with spacious rooms, a swimming pool, a spa, and a restaurant serving delicious local and international cuisine.
Hotel Krishna Mountview: A budget-friendly hotel offering clean and comfortable rooms, a restaurant, and scenic mountain views.
The Buransh Retreat: A peaceful retreat surrounded by nature, offering comfortable accommodations, a garden, and a restaurant.
Kausani Best Inn: A budget-friendly inn known for its friendly staff, cozy rooms, and beautiful surroundings.
Pine Havens: A charming guesthouse offering cozy rooms, a garden, and panoramic views of the Himalayas.
Hotel Uttarakhand: A budget-friendly hotel offering basic amenities, comfortable rooms, and a convenient location.
Chevron Mountain Villa: A rustic villa with comfortable rooms, a garden, and a terrace providing stunning views of the mountains.
Himalaya Darshan Resort & Spa: A resort with spacious rooms, a spa, a restaurant, and a peaceful atmosphere.
Hotel Sagar: A budget-friendly hotel offering clean and comfortable rooms, a restaurant, and friendly service.
Food
Below restaurants provide a range of dining experiences, from regional specialties to international flavors. Each has its unique charm and offerings, making them worth a visit during your time in Kausani.
Moon Restaurant: A cozy restaurant offering a pleasant ambiance and a diverse menu of Indian, Chinese, and Continental cuisine.
Himvadi Restaurant: A restaurant specializing in authentic Kumaoni cuisine, serving delicious local dishes made with traditional ingredients.
Pine View Restaurant: Located amidst picturesque surroundings, this restaurant offers stunning views of the Himalayas along with a menu of Indian and Chinese delicacies.
Uttarakhand Food Court: A small eatery serving mouthwatering local Uttarakhand dishes, including traditional thalis and snacks.
Chevron Eco Cafe: Situated in a scenic location, this cafe offers a relaxed atmosphere and serves a selection of beverages, snacks, and light meals.
Best Time to Visit Kausani
Kausani experiences snowfall during the months of December and January. Thus, you might avoid these two months. Or if you want to witness snowfall, this is the best time.
The hill resort of Kausani is a retreat in the summer months and one can visit here during April-June and September-November.
Monthly Weather:
| Month | Avg. Minimum (°C) | Avg. Maximum (°C) |
| --- | --- | --- |
| January | 6°C | 15°C |
| February | 10°C | 20°C |
| March | 12°C | 25°C |
| April | 20°C | 30°C |
| May | 20°C | 30°C |
| June | 22°C | 30°C |
| July | 22°C | 29°C |
| August | 24°C | 29°C |
| September | 24°C | 29°C |
| October | 18°C | 26°C |
| November | 13°C | 23°C |
| December | 10°C | 20°C |
How To Reach Kausani
By Road
By road, Kasauni is well-connected to major cities and states of the country. Many private bus companies operate buses from New Delhi to Kasauni on daily basis. Kasauni is also well-connected to places such as Joshimath (185 km), Tehri (250 km), Gopeshwar (147 km), Almora (60 km), Ranikhet (60 km) and Jageshwar (48 km).
By Train
Kathgodam is the nearest railway station as it is located very close to the Kasauni. It is around 142 kilometers from the region. From the station, tourists can take buses and taxis to reach any destination in the region.
By Air
Naini Saini in Pithoragarh is the nearest airport to Kasauni which is around 112 km away from the center of the city. Delhi airport is at a distance of 425 km from the Kasauni.
Distances From Major cities:
| Destination | Distance from Kausani |
| --- | --- |
| Almora | 51 km |
| Ranikhet | 60 km |
| Pithoragarh | 107 km |
| Gwaldam | 39 km |
| Nainital | 117 km |
| Delhi | 431 km |