Chopta is a small scenic town and a hill station in a valley of bugyals (meadows) and evergreen forests in Rudraprayag district of Uttarakhand state, India. The town is sometimes called as "Mini Switzerland of Uttarakhand" because of its incredible natural beauty and landscapes.
It serves as the base town for Chopta – Tungnath – Chandrashila trek. Tungnath is the third temple in Panch Kedar group of temples. It is world's highest Shiva temple. The entire valley of Chopta and Tungnath is a part of Kedarnath wildlife sanctuary.
The place is still unexplored by many travelers. Chopta is a perfect place if you are looking for peace and solitude away from the city crowd. The valley welcomes many travelers, trekkers, solitude seekers and devotees of the lord Shiva every single year.
The place offers a magnificent views of Himalayan peaks such as Trishul, Nanda Devi and Chaukhamba. Natural fresh water high altitude lake Deoria Tal is also close, which is a must to explore.
Chopta Overview
| | |
| --- | --- |
| State | Uttarakhand |
| Trip Duration | 2-3 Days |
| Best time to visit | Apr-Jun, Sep-Nov, Dec-Jan |
| Languages | Hindi, English, and Garhwali |
| Summer Temperature | Max 25°C & Min 6°C |
| Winter Temperature | Max 10°C & Min -5°C |
| Nearest Town | Ukhimath (44.7 km) |
| Nearest Major City | Dehradun (198.4 km via NH 7) |
| Nearest Airport | Jolly Grant Airport, Dehradun |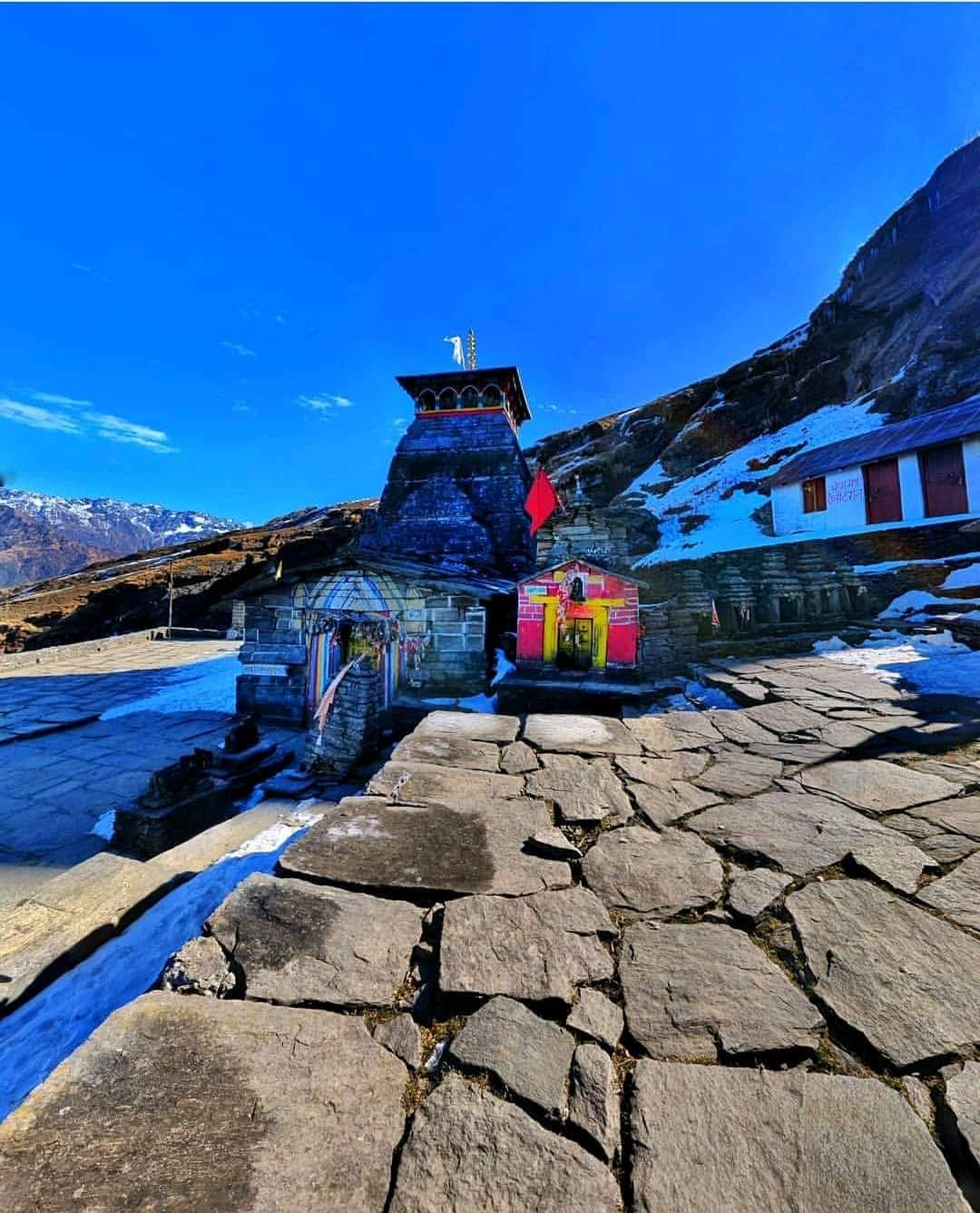 Chopta – Tungnath – Chandrashila Trek
Chopta serves as the base town for Chopta – Tungnath – Chandrashila trek. The trek starts with an ascend and takes you through the dense wood of rhododendron flowers. The total distance of the trek is 5 km from Chopta to the highest point Chandrashila peak. So the total trekking distance becomes 10 km including the return.
It usually takes less than a day to complete the trek depending on how much time you spend in Tungnath temple and on Chandrashila peak.
If you are doing the trek in the months of March and April then you will notice the whole valley and trek to Tungnath have become reddish because of rhododendron flowers with lush greenery.
The entire valley is surrounded by meadows, rhododendron, pine, deodar and other trees, which makes the entire valley of Chopta rich in flora and fauna. Rhododendron flower is locally known as Buraans in Uttarakhand.
The Chopta – Tungnath – Chandrashila Trek Continues
As you move forward, you will see many high altitude lush green meadows, where people camp. These beautiful campsites in such high altitude place look so amazing and mesmerizing. There are many meadows with beautiful little wildflowers along the way.
You will see many local, migratory Himalayan birds and also Monal, the state bird of Uttarakhand, which is only found in high altitude Himalayan areas. Many birdwatchers come here to capture the photographs of these birds.
While trekking, just below the Tungnath temple you will see a campsite on a huge lush green Bugyal (meadow) with a magnificent views of nearby snow-covered Himalayan peaks. Here, you can spend some time enjoying the view, talk to people and have some tea and snacks. There are a few tea stalls, shops and small hotels just beside the temple.
Once you reach Tungnath temple, you can worship the lord Shiva and move on to the Chandrashila peak, which is the highest point of the trek. From Tungnath mandir, you will have to cover a steep climb of 1.5 km to reach Chandrashila. It almost takes an hour to cover this distance.
Why Chopta is Popular Among Tourists
Chopta is popular among tourists because of its breathtaking natural beauty, serene environment, and proximity to several famous trekking trails and pilgrimage sites. The picturesque landscapes, lush meadows, and panoramic views of the Himalayan ranges attract nature lovers, adventure enthusiasts, and spiritual seekers alike. Chopta offers a perfect blend of tranquility, adventure, and spirituality, making it a sought-after destination for those seeking an escape from the bustling city life and an opportunity to connect with nature. Below are two big reasons that you would love Chopta:
1. Lush Green Valley and Bugyals (Meadows)
Chopta is very popular among trekkers and tourists because of the amazing landscapes, meadows, rich flora and fauna.
The entire region would prove to be a heaven for you if you are looking for a good place to relax, without the hustle and bustle of a typical hill station.
You can visit the entire Chopta valley, Tungnath, Deoria tal, Ukhimath and Chandrashila peak and see several tall Himalayan peaks.
2. Tungnath Temple
Chopta – Tungnath – Chandrashila trek starts from Chopta. The length of the trek is 5 km. Tunganath is located on a mountain just above a beautiful meadow in an enchanting location where you will find the natural beauty, adventure, devotion, solitude, and peace in the lap of mother nature.
Tungnath has something to offer to everyone. Either you are hardcore lord Shiva's devotee or a nature lover or you love adventurous activities such as rock climbing and rappelling.
Tungnath is more than a thousand years old Hindu temple of lord Shiva. It holds a significant religious importance and is one of the five Panch Kedar temples.
The height of the temple 3680 m (12073 ft), which makes it the highest temple of lord Shiva in the whole world. Kedarnath temple is the second highest lord Shiva temple in the world.
Activities to do
Chopta is a hidden gem that unveils its enchanting beauty to those fortunate enough to visit. The air is crisp and pure, carrying with it the aroma of blooming flowers and the invigorating scent of pine trees. As you wander through its lush meadows, you are greeted by a carpet of vibrant wildflowers that paint the landscape in a myriad of colors. The snow-capped peaks stand tall, creating a breathtaking backdrop against the clear blue skies. Every corner of Chopta exudes tranquility, inviting you to immerse yourself in its serene surroundings.
The silence is broken only by the gentle rustling of leaves and the melodies of chirping birds. The breathtaking vistas offer a visual feast, with panoramic views of the snow-clad mountains, dense forests, and meandering rivers. Whether you embark on a trek to the famous Tungnath Temple, explore the nearby Chandrashila peak, or simply sit back and soak in the natural beauty, Chopta leaves an indelible impression on your soul.
It is a place where time seems to stand still, allowing you to escape the chaos of everyday life and find solace in the lap of nature. Chopta's beauty is a symphony that touches your heart and leaves you yearning for more, making it a must-visit destination for all nature lovers and wanderers seeking a glimpse of paradise. Here are 5 best activities that you can do in Chopta:
1. Camping and trekking
Chopta is well-known for its high altitude meadows and the magnificent trek of Tungnath and Chandrashila. It is an easy trek for beginners as well as for intermediate and advance trekkers. The trek takes you through rhododendron, pine, conifers, and oak forest to the meditative spiritual place of Tungnath and Chandrashila. During December, January, and February, the trek is covered with snow. It adds a whole new experience to the trekking if you are into snow trekking.
2. Yoga and Meditation
Chopta, Tungnath and Chandrashila peak have a certain spiritual vibe. Even the entire valley has a strong yogic energy of lord Shiva himself. If you are a spiritual being then practicing yoga and meditation in the abode of lord Shiva himself will fill you up with a strong positive energy.
Standing on Chandrashila peak feels like you are on the top of the world and doing meditation on the top is an experience that will leave an everlasting impact on your soul and individuality.
3. Snow trekking
During the months of December and January, the trek is filled with snow. If you want to have an experience of snow trekking then December, January and February are the best months for you.
4. Photography of rare Himalayan species of Monal bird and Musk Deer
Chopta – Tungnath – Chandrashila trek is heaven for birdwatchers. The place gets many local Himalayan and migratory birds. The valley is famous for an abode of beautiful Monal bird, which will insist you to take out your camera and capture a picture of this rare bird. If you get lucky, you might see a musk deer, which are very rare.
Rock craft: You can also show your talent in rock crafting.
5. Rock climbing and Rappelling
You can participate in adventure activities such as rock climbing and rappelling here. Climbing up a rock formation is rock climbing and coming down is rappelling. The charges of rock climbing and rappelling in Chopta are 300 to 400 per person for a group of 15 people. The natural rock formations near Duggalbitta provide a perfect opportunity for adventure enthusiasts whether you are a professional of just an amateur. You can also learn rock climbing and rappelling here.
Places to Visit near Chopta
There are many beautiful places in and around Chopta that will make your visit more worthwhile. To name some:
1. Ukhimath
Ukhimath is a beautiful town with a great religious importance. It is winter abode of lord Shiva. During winters, the idol of lord Shiva is shifted to Ukhimath from Kedarnath. The town is at an elevation of 1317 m and many snow-covered Himalayan peaks are clearly visible from here. While visiting Chopta you will also come across Ukhimath, which comes 40 km earlier.
2. Deoria Tal
Deoria Tal is a beautiful high altitude fresh water lake. It is located at Ukhimath – Chopta road and is surrounded by snow covered Chaukhamba hills. It is popular for camping among the trekkers. Your journey would feel like incomplete if you don't visit Deoria tal.
3. Madmaheshwar
Madmaheshwar is an ancient temple of lord Shiva. It is the fourth temple in Panch Kedar group of temples. It remains closed during winters and the idol of lord Shiva is shifted to Ukhimath. Madmaheshwar temple is 36 km away from Chopta.
4. Kedarnath
Kedarnath is one the most important temples of Hinduism. This temple of lord Shiva is an essential part of Char Dham yatra. It is 42 km from Chopta. To reach Kedarnath temple, you will have to complete a trek of 16 km. It is one of the 12 Jyotirlingas and the most important one among Panch Kedar group of temples. Kedarnath temple is located at a height of 3584 m from the sea level on the banks of Mandakini river.
5. Guptkashi
Guptkashi is a small town located on the way to Kedarnath. Kedarnath is 23 km away from Guptkashi. The town is at an elevation of 1319 m. Guptkashi is also popular for ancient Vishwanath Temple, of Lord Shiva, which is similar to the one in Varanasi (Kashi). This is why both places have Kashi in common. People who are unable to visit Varanasi can visit Guptkashi, which is also of same religious importance. The town has an idol of Ardhanareshvara, which is a half man and half woman form of Lord Shiva and Maa Parvati.
Best Time To Visit Chopta
Summer (March - May)
As most of the hill stations, summers in Chopta are very pleasant and not too hot. Themperature goes down on the evening with some breeze. The temperature in Chopta ranges between 10 and 35 degrees Celsius in Summers. If you want to visit the valley for sightseeing then summers are the best time because mostly the sky the clear and nearby Himalayan peaks are clearly visible.
Monsoon (June - September)
In monsoons, Chopta experiences a lot of rain fall due to which roads might get damaged because of minor landslides in the hilly areas. We don't recommend to visit Chopta during monsoons, wait till September. Monsoons arrive in this place from July and make the weather rainy. The place become full of greenery with the onset of monsoon.
Winter (October - February)
After monsoons, Chopta valley becomes lush green. Winters in this place are very chilly and freezing as the temperature tend to go below zero degrees during this time. It is best to avoid visiting the place in winters if you are not used to the cold temperatures. Otherwise many trekkers prefer winters to visit Chopta.
Distance from Dehradun to Chopta is 203 km via road. It usually takes 7-8 hours via car to cover this distance. If you are 4 or 5 people then booking a cab is a convenient and cheaper option. You can find many taxis at taxi stand Dehradun, which will take you to Chopta. Or you can contact a travel agency before reaching Dehradun.
Generally cab drivers charge 6 to 7 thousand rupees for a one way journey from Dehradun to Chopta, that means 12 to 14 thousand rupees for the whole journey. You can share this cab fare between 4 or 5 guys. This is the general rate but you might find a cheaper taxi.
Food
Here is a list of good restaurants and eateries in Chopta that we have handpicked for you:
Tungnath Restaurant: Located in the heart of the town, Tungnath Restaurant offers a wide variety of vegetarian dishes. It is known for its warm hospitality and cozy ambience, making it a popular choice among visitors.
Blue Poppy Swiss Cottage Restaurant: Known for its Swiss-style cottages and delightful cuisine, Blue Poppy Swiss Cottage Restaurant is a charming place to dine in Chopta. The menu features a mix of Indian, Chinese, and continental dishes, all prepared with fresh ingredients.
Maggi Point: As the name suggests, Maggi Point is famous for its delicious and piping-hot Maggi noodles. This small eatery is a favorite spot for trekkers and travelers looking for a quick and tasty snack during their visit to Chopta.
Snow View Restaurant: Situated amidst the picturesque surroundings of Chopta, Snow View Restaurant offers a stunning view of the snow-capped Himalayan peaks. It serves a range of Indian and Chinese delicacies, along with refreshing beverages.
Shiva Café: Nestled amidst nature, Shiva Café is a cozy and relaxed eatery in Chopta. It offers a range of vegetarian dishes, including local specialties, in a rustic ambiance.
Himalayan View Restaurant: Situated at an elevated spot, Himalayan View Restaurant lives up to its name by offering panoramic views of the Himalayan range. It serves a range of cuisines, including Indian, Chinese, and continental, making it a popular choice among tourists.
Chauhan Tea Stall: A small roadside tea stall, Chauhan Tea Stall is a favorite spot for tea lovers. Enjoy a hot cup of tea accompanied by some snacks while soaking in the serene beauty of the surrounding mountains.
Moon Restaurant: Moon Restaurant is known for its delectable North Indian cuisine and warm hospitality. It provides a comfortable dining experience and is a great place to savor authentic flavors.
Hotel Snowview Restaurant: Located within Hotel Snowview, this restaurant offers a scenic view of the mountains while you enjoy your meal. It serves a variety of vegetarian and non-vegetarian dishes, including local delicacies.
Chopta Dhaba: Chopta Dhaba is a roadside eatery that offers simple and delicious meals. It specializes in traditional North Indian dishes and is a convenient stop for travelers passing through Chopta.
Staying
Chopta has many budget hotels and lodges to stay at a reasonable price. You can also stay at Ukhimath, which has more accommodation options than Chopta. Ukhimath is 45 km before Chopta. Most of the hotels here has their own restaurants, who serve north Indian food and fast food.
There are many places to camp if you don't want to pay for a hotel and enjoy the night under a tent. The valley has many lush green bugyals (meadows), where you can camp comfortable and have a peaceful night under the stars.
Below is a list of accommodation options in Chopta. These accommodation options cater to a range of budgets and preferences, providing visitors with a comfortable stay amidst the scenic beauty of Chopta.
Tungnath Camps: Tungnath Camps offer tented accommodation for those seeking a closer connection with nature. The camps provide a rustic experience with comfortable bedding and basic facilities. They are popular among trekkers and adventure enthusiasts.
Hotel Snow View: Located in the picturesque surroundings of Chopta, Hotel Snow View offers comfortable rooms with scenic views of the mountains. The hotel provides basic amenities and warm hospitality, making it a suitable choice for budget travelers.
Magpie Eco Retreat: Magpie Eco Retreat is a nature-based accommodation option in Chopta that emphasizes eco-friendly practices. The retreat offers cozy cottages and tents, blending comfort with sustainability. It is known for its tranquil atmosphere and organic food options.
Swiss Tent Camping: Swiss Tent Camping in Chopta offers spacious tents equipped with essential amenities. It provides a unique camping experience amidst the serene surroundings of the Himalayas. The campsite offers stunning views and is ideal for nature lovers.
Hotel Snow Land: Hotel Snow Land is a budget-friendly option in Chopta offering comfortable rooms and basic amenities. It is conveniently located and provides easy access to nearby attractions. The hotel's friendly staff ensures a pleasant stay for guests.
Camp Deori: Camp Deori offers tented accommodation amidst the natural beauty of Chopta. The camp provides comfortable tents and basic facilities. It is a popular choice for adventure enthusiasts and nature lovers looking for a unique camping experience.
Forest Rest House: The Forest Rest House in Chopta is a government-owned accommodation option. It offers simple rooms with basic facilities and is situated in a serene forest area. This rustic accommodation is a good choice for nature enthusiasts.
The Chopta Meadows: The Chopta Meadows is a beautiful resort nestled amidst lush green meadows. It offers spacious rooms with modern amenities and stunning views of the surrounding valleys. The resort provides a peaceful and rejuvenating atmosphere for guests.
Hotel Snowbird: Hotel Snowbird is a budget hotel offering clean and comfortable rooms. It is located close to the main market area of Chopta, providing easy access to nearby attractions. The hotel's friendly staff and peaceful atmosphere ensure a pleasant stay.
Sky Heaven Resort: Sky Heaven Resort is a mid-range accommodation option offering comfortable rooms and modern amenities. It provides a peaceful and scenic environment, making it a popular choice among travelers. The resort also has a multi-cuisine restaurant serving delicious meals.
How to Reach Chopta
By Road
Chopta is well connected to all major cities of Uttarakhand. Chopta is about 40 km from Ukhimath. One can reach Tungnath from Rishikesh via Chamoli–Gopeshwar-Chopta route. Buses are available from Srinagar and Rudraprayag to Ukhimath. Then one can get a shared cab from Ukhimath to Chopta.
By Train
The nearest railway station to Chopta is Rishikesh, which is at a distance of 215 km. From Rishikesh, buses to Srinagar and Rudraprayag are available. From where you will find a bus to Ukhimath and then take a shared cab to Chopta. Directly hiring a cab to Chopta from Rishikesh is the best and convenient option if you are visiting in a group of 4 or 5 people.
By Air
Nearest airport to Chopta is Jolly Grant airport Dehradun at a distance of 232 km. From the airport, there are a number of buses and cabs available to Srinagar and Rudraprayag. From there you can find a bus or a taxi to Ukhimath or you can directly hire a cab to Chopta from the airport.