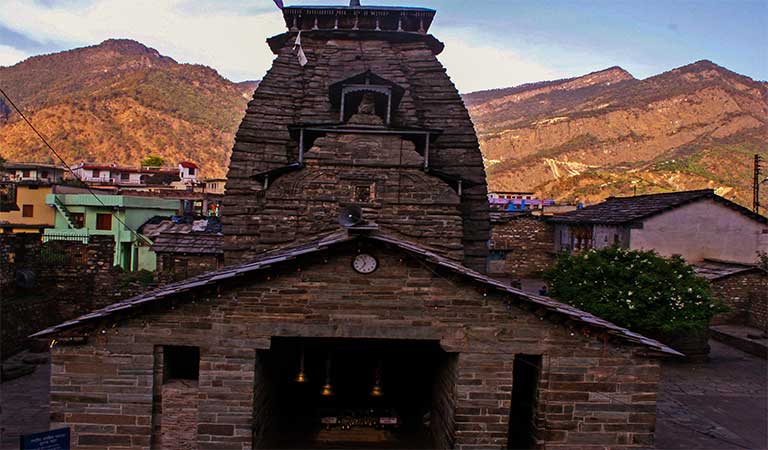 Gopinath temple is an important and ancient Hindu temple situated in Gopeshwar town (Chamoli district) of Uttarakhand, India. It is dedicated to Lord Shiva.
Architecture of Gopinath Temple:
The temple has an amazing dome at the top. It has 24 doors, which will lead you to the sanctum sanctorum. There are several ancient broken idols and images of Hindu gods, which provide the proof for the fact that there were several other temples around Gopinath temple.
History Behind The Trident (Trishul):
In the courtyard there is a very old trident(Trishul), which is almost 5 m high. The Trishul is made of 8 different metals dating back to the 12th century. It has inscriptions attributed to Anekmalla, king of Nepal who ruled the region of Chamoli back in 13th century.
Legend of Gopinath Temple:
According to the legend this trishul belonged to lord Shiva. who threw it at Kamdeva(God of love) to kill him, then it got fixed at this point.
It is said that you can not move this trident if you apply a lot of force, but a slight touch by a devotee is enough to produce a tremor in it. The metal of the trident is still the same after so many centuries.
Festivals:
The Mahashivratri festival attracts many devotees to Gopinath temple. It is celebrated here with great joy.
How to Reach Gopinath Temple:
By Road
Roadways buses are the best option to reach Gopeshwar. The town is well connected to all the major cities of Uttarakhand.
By Train
Nearest railhead is in the Rishikesh at a distance of around 210 kilometers. There are a many buses and taxis available outside the railway station.
By Air
Jolly Grant Dehradun Airport is the nearest airport. It is around 227 kilometers from Gopeshwar. One can easily get a bus or taxi to Gopeshwar outside the airport.