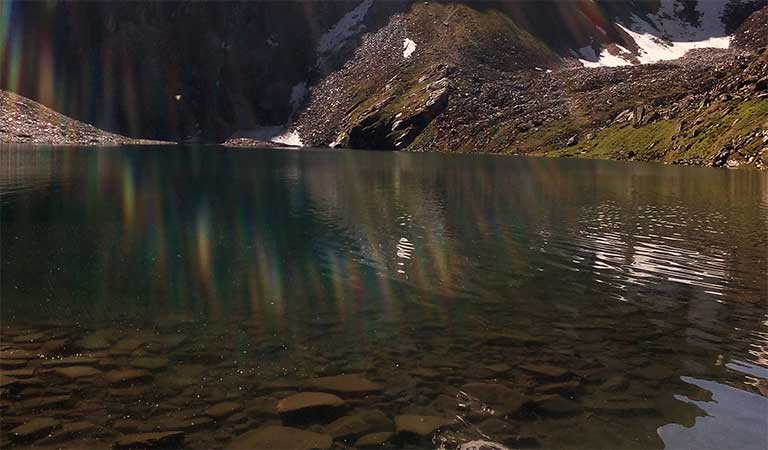 Hemkund Sahib, formally known as Gurudwara Sri Hemkund Sahib Ji, is a Sikh Gurudwara(place of worship) and a popular pilgrimage site in Chamoli district, Uttarakhand, India. It is an important pilgrimage destination for Sikhs and all other religions.
It is devoted to Guru Gobind Singh (1666–1708), the tenth Sikh Guru. This holy pilgrimage site is perched at an altitude of 4329 m above the sea level. It lies among the snow covered mountains of Himalayas. The name of the place literally means 'Lake of Snow'.
Natural Beauty of Hemkund Lake:
The Gurudwara is build beside a beautiful lake known as Hemkund. Glaciers from majestic peaks known as Hathi Parvat and Saptrishi peaks feed the lake. A small stream known as Himganga originates from the lake. Hemkunt Sahib is nestled amidst seven snow capped peaks and marvelous snowy glaciers. These amazing things make this place a great option for quiet and spiritual vacations.
Importance:
This gurudwara is the world's highest gurudwara. It is visited by Sikhs as well as Hindus.
Sikhs consider this as a scared region. A Hindu shrine dedicated to mythological hero Lakshmana is attractive for Hindu Pilgrims. This temple is built on the banks of Hemkund.
Mythologies of Hemkund Sahib:
It is believed that Guru Gobind Singh meditated here for a long time. According to Hindu mythology, Rishi Medhasa of the Markandeya Purana and Lord Ram's younger brother, Lakshmana, performed penance at this site.
How to Reach Hemkund Sahib:
Govindghat, situated on the banks of Alaknanda River, is the starting point of the trek to Hemkund Sahib. It is well connected by motorable roads. One can book taxis from rishikesh, haridwar or dehradun. The trek from Govindghat to Ghangharia is 13 kms long and then a challenging 6 kms long trek to Hemkunt Sahib starts from here.