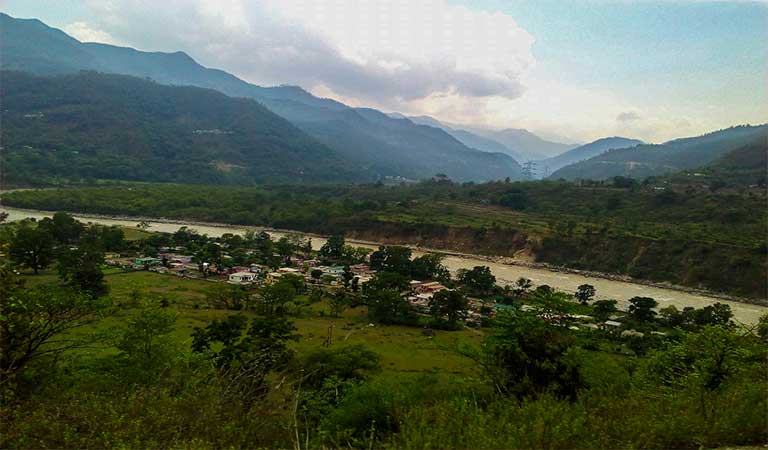 Nandaprayag is situated at an altitude of 900 meters in Chamoli district of state Uttarakhand, India. It is surrounded by the amazing Himalayan mountains and beautiful sceneries. This place is great for sight seeing, spirituality, devotion and beautiful landscapes, which has a great religious significance.
Nandaprayag is also popular for many adventurous activities such as trekking, sightseeing and Rock climbing.
Breif History:
NandPrayag once used to be the capital of Yadu Kingdom. Raj Nanda performed Yagna on a huge stone. This Yagna was later used as the foundation of Nand temple, which is situated in NandPrayag.
Legends and Mythologies:
According to the mythology the name of the place comes from the pious Raja Nanda. He once came here to perform the Maha Yagna. The slab on which the Yagna was performed is the foundation stone for the Nand temple. It is also believed that a dip in this confluence cleans all the sins.
According to a legend, the king Raja Nanda was promised a boon that Vishnu would be born as his son. But the same boon had been granted to Devki too, the imprisoned sister of the king, Kansa. Ultimately, the gods found a soulution that Vishnu would be born as krishna to Devki but would be brought up by Raja Nanda's wife, Yasodha.
Places to See Near Nandaprayag:
Karnaprayag:
Karnaprayag is at a distance of 22 kms from Nandprayag. It is situated at the confluence of Alaknanda and Pindar River at an elevation of 788 mts.
Nand Temple:
Nand Temple has s great significance. It is situated at the confluence of Alaknanda River and Nandakini River.
Chopta is situated 53 kms from Nandprayag. Tungnath(World's highest Shiva temple) trek starts from Chopta.
How to Reach Nandprayag:
By Road
Nandprayag is on Rishikesh-Badrinath Highway. Rishikesh to Nandprayag is 190 km. Taxis and buses are available from major destination nearby.
By Train
Rishikesh is the nearest railhead connected to most of the major stations of the country.
By Air
Jolly Grant Dehradun Airport is the nearest airport. It is 18 kms away from Rishikesh. Buses and taxis to Nandprayag are available from airport.