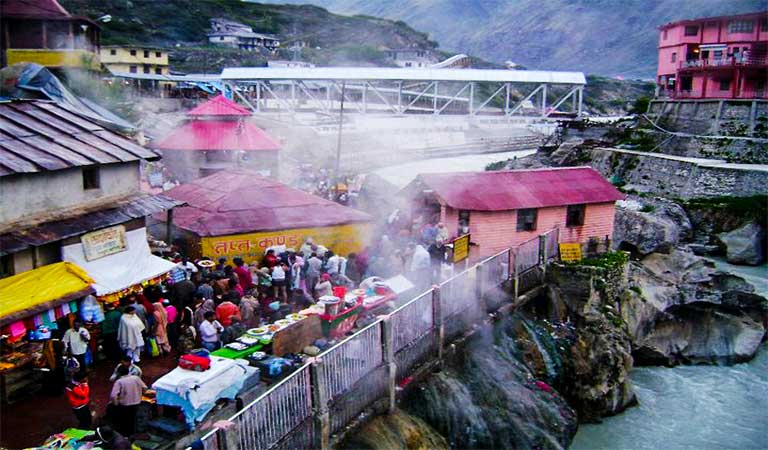 Taptkund is one of the main attractions of Badrinath Dham. It is a fresh spring of hot water. Tapt Kund is the adobe of Lord Agni (God of fire), which is believed to be the region of the hotness of its water. Its water is famous for its medicinal properties.
Visitors have to take a dip in Tapt Kund before entering the Badrinath Temple. The temperature of the water of Taptkund is about 45° Celsius. There are number of other hot water springs on the banks of Alaknanda River and Taptkund is one of them.
It is unbelievable that there are springs of hot water in Himalaya mountains where the outer temperature can reach to almost zero degrees. But the temerature of water of these springs is more than 40 degree Celsius.
Amazing Fact:
A Holy Dip In The Tapt Kund:
Devotees believe that a dip into the hot water of this kund is spiritually rejuvenating. It is considered to be a good cure for many skin diseases. Devotees take a dip in the spring before entering the Badrinath temple.
Mythology of TaptKund:
According to mythology, Lord Vishnu was happy with Agni Dev's (God of Fire) devotion and penance. He granted a boon to reside in the form of this kund (Pond) in Badrinath. The dip into the hot water of this kund is very refreshing and rejuvenating.
According to Hindu mythology, performing rituals of ancestors in the Tapt kund marks their souls go to heaven and ensures that their souls rest in peace.
How to reach TaptKund (Badrinath):
Taptkund is just near Badrinath temple. It is well-connected to all the major cities of Uttarakhand. Railways are available upto Dehradun and Haridwar, after that one has to book a taxi take a bus.
Jolly Grant airport is the nearest airport to Badrinath. It is at a distance of 314 km from the temple. The nearest railway station is Rishikesh at a dsitance of 295 kms.
Road distance from Dehradun– 340km
Road distance from Haridwar– 320km
Nearby bus station – Joshimath, 42km
Nearest airport- Jollygrant airport Dehradun 340 km