Eco Cave Gardens is a cluster of natural caves in Nainital, which has been developed as an eco-garden by Nainital Tourism. This distinctive garden catches the attention of visitors from all around the world, who find it unconventional and amusing at the same time. It is an iconic cluster of caves in the lake city of Nainital.
| | |
| --- | --- |
| Address: | Sukhatal, Mallital, Nainital, Uttarakhand 263001 |
| Phone Number: | 9760794088, 05942 – 231438 |
| Highlights: | Hanging Gardens, Cave Exploration, Picnic Spot, Musical Fountain & Mechanical bull ride |
| Best Time to visit: | Goods news! It can be visited all-round the year. |
| Entry Fee and Ticket: | Rs. 100 per person for Adults, Rs. 50 per person for Children |
| Mechanical Bull Riding Ticket: | Rs. 100 per person |
| Opening and Closing Time: | 10 AM – 4:30 PM from Monday to Sunday |
Why you must visit Eco Cave Gardens in Nainital: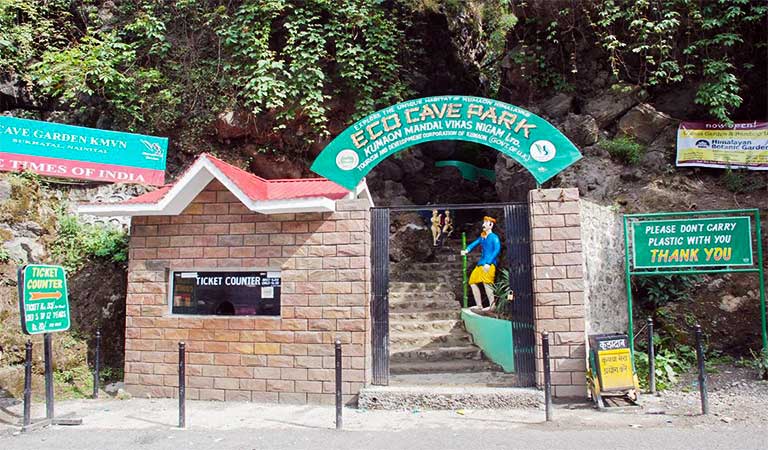 The Eco Cave Gardens is a semi-natural and semi man-made garden. This beauteous place is maintained by Nainital Tourism and is a great example of harmony between man and nature.
The garden showcases the rich bio-diversity of Kumaon region and also holds great educational value for people.
Moving along the caves of Eco Cave Garden is one such thrilling adventure that you shouldn't miss at any cost.
Other than cave exploration, you can also enjoy the mechanical bull ride at the Eco Cave Park, which is quite popular among the tourists.
If you love exploring new places, then you must visit here once.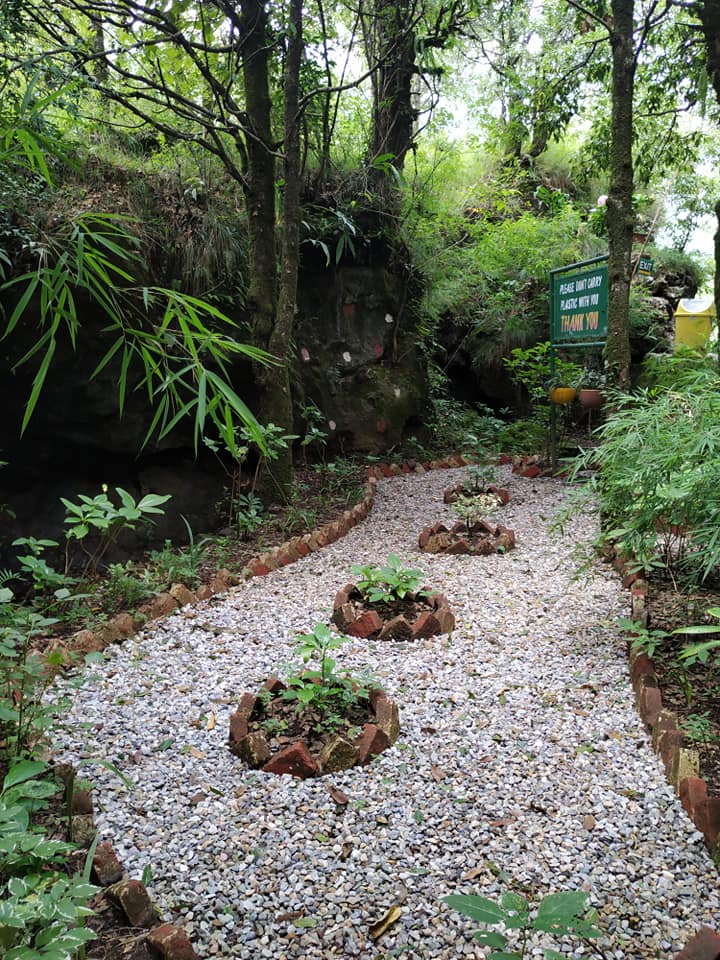 Types of caves at Eco Cave Gardens:
The Eco Cave Garden features 6 caves that are formed in the shape of animals. These dim-lit, narrow caves offer an exhilarating experience to the visitors.
Some of the popular caves of Eco Cave Gardens are as follows: Panther Cave, Tiger Cave, Bat Cave, Apes Cave, Porcupine Cave, and Flying Fox Cave. The Tiger Cave is the easiest one to access. While the Panther Cave is a bit difficult to get in.
The narrow caverns of Eco Cave Gardens will remind you of the freaky caves shown in the movie Lord of the Rings, that are outlandish and enthralling at the same time.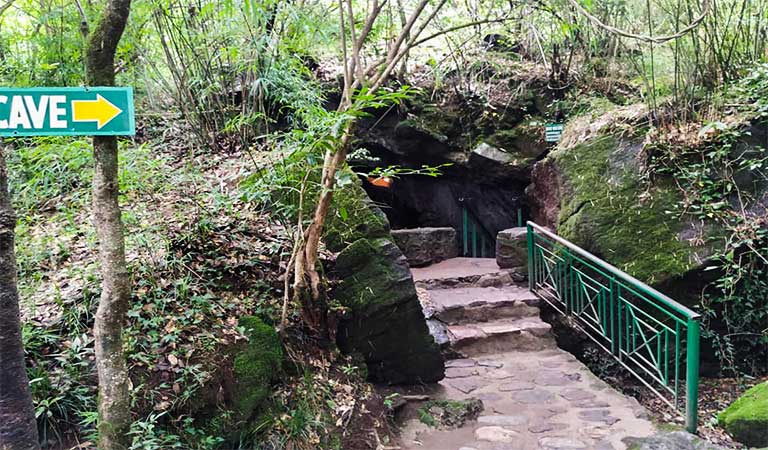 Inside Eco Cave Gardens:
On stepping inside, you'll notice the hanging gardens, that add an element of surprise to this place. The garden is lit with the traditional petroleum lamps to give an Indo-ethnic rural vibe to this place.
There are signboards, suggesting the direction of the caves to the tourists. Follow these signs to locate the rocky caves of Eco Cave Garden. One can also see a musical fountain at Eco Cave Gardens which enhances the beauty of this place, with its audio and visual effects.
The musical fountain operates in the evening during the peak months of tourism. This fountain is one of its kind modeled after Disneyland in Florida U.S.A. If you are planning to visit here, then you must spare a few hours to check every nook and cranny of this place.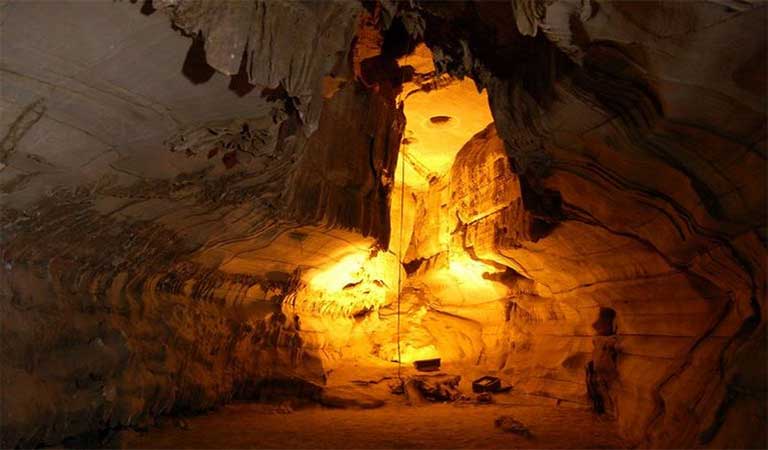 Things to do at and around Eco Cave Gardens:
Eco Cave Garden is one of the best sightseeing places in Nainital. If you are interested in this place, then check out some of the fun activities to do at Eco Cave Gardens in Nainital:
Over the years Eco Cave Gardens KMVN has become a popular picnic destination in Nainital. The spooky caverns and the lush greenery entice the kids as well as their parents to visit here. So make your weekend special by taking your family on a picnic to Eco Cave Gardens in Nainital.
An educational trip to Eco Cave Gardens would be awesome, as the students can explore how the wildlife habitat works. To make it even more interesting, you can combine this trip with a short visit to Nainital Zoo located nearby.
If you want to enjoy nature's benevolence coupled with bird watching. Then head towards Pangot hill station or visit Kilbury Bird Sanctuary, which is at a fair distance from Eco Cave Gardens in Nainital.
Visit Naina Devi Temple, which is just 1.8 km away from Eco Cave Gardens. You can take an auto-rickshaw or walk on foot to reach the temple.
You can also enjoy boating at Naini Lake, which is within the proximity of the lake.
Willing to spend some bucks? Shop at the Bhotiya market. From there, you can buy fashionable garments along with beautiful designer-scented candles.
You can also visit some of the other sightseeing places in Nainital such as– Snow View Point, Pt. GB Pant High Altitude Zoo, Gurney House, Land's End and Kilbury Bird Sanctuary.
Entry Fees of Eco Cave Gardens in Nainital:
One can easily reach Eco-Cave Garden by paying a one-time fee. The entrance fee for Eco Cave Gardens is Rs 100 for adults and Rs 50 for children.
Timings for visiting Eco Cave Gardens:
The garden is open for tourists from 9:30 am to 5:30 pm on all days of the week.
Best Time to visit Eco Cave Garden in Nainital:
The best time to visit Eco Cave Garden is from March to June. The flora is in full bloom during this time of the year. If you are a snow baby, you should visit this place between November-December. Be prepared as the fresh snowfall awaits you.
Travel Tips:
Wear sturdy shoes, as you have to walk a lot.
Stay hydrated by keeping a water bottle with you.
The place is full of natural beauty, don't forget to take your camera along.
If you are claustrophobic, then you shouldn't visit here.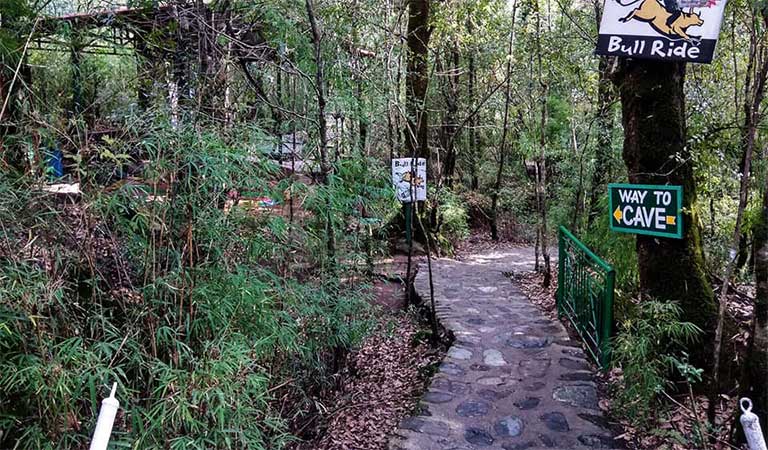 How to reach Eco Cave Garden in Nainital:
Eco Cave Gardens is located in the Mallital area of Nainital. The garden is only a km away from Nainital Mall road and can be easily reached on foot. You can also hire an auto-rickshaw or take a taxi to reach here.
Nearest railway station to Eco Cave Gardens: Kathgodam railway station at 37 km away
Nearest airport to Eco Cave Gardens: Pantnagar Airport at 72 km away
Eco Cave Park Guide Map: