Berinag, nestled in Pithoragarh district of Northern state Uttarakhand, is a Tehsil and a scenic hill station. The suffix of name "Berinag" is "Nag", which literally means snake. The region is well known for many important Nag-Devta(Snake-God) temples.
Perched at an elevation of 1,860 meters (6,100 feet) above sea level, the town is surrounded by snow covered Himalayan peaks, charming valleys and lush green environment. Thal, Didihat, Bageshwar, Kameri Devi, and Pithoragarh are some nearby places to explore.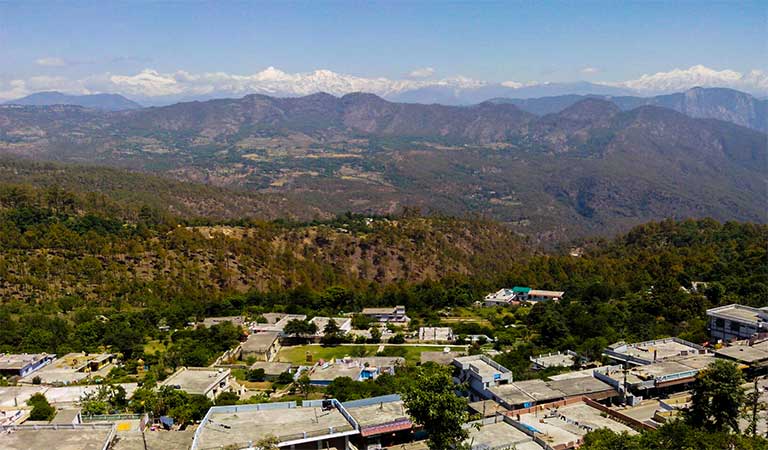 What Berinag has to Offer
The town and nearby villages offer amazing panoramic views of the Kumaon, Garhwal and Nepal Himalayan peaks such as Nanda Devi, Trishul, Rajrambha, and Panchchuli. Apart from that, the valley offers lush green surroundings and trekking to nearby villages to explore. It is surrounded by thick forests, cascading natural streams and diverse flora.
It is also popular for its Nag-Devta(Snake-God) temples. The highly important Tripura temple is at a distance of 5 km from here at Uttarayan. The region has many temples devoted to Nagas(Snakes) namely Dhaulinag, Kalinag, Feninag, Bashukinag, Pinglenag, and Harinag temple. Some nearby villages to explore are Dhanoli, Sangarh, Bana, Bhattigaon, Tripuradevi, Banoli and Kuarali.
Berinag Tea
The town was home to one of the best tea gardens in India until the demise of late Dan Singh Bisht. Berinag Tea was once highly popular in India and England during British Raj. It was one of the most preferred tea in London tea houses. William McKay Aitken and Laurie Baker have documented about Berinag tea and its popularity during those days.
Thakur Dan Singh Bisht bought Berinag Tea estate from agents of Corbett. It was distributed by the name of D.S. Bisht & Sons. Unfortunately, after his death, the tea estate was taken over by settlers and encroaches. The tea was grown in a very large region, but it is now only grown in Chaukori. Britishers established tea gardens in Chaukori.
Activities to do in Berinag
In Berinag, Uttarakhand, there are several interesting things to do that allow you to explore the natural beauty and cultural heritage of the region. Here are some activities you can enjoy in Berinag:
Visit the Bagnath Temple: Pay a visit to the ancient Bagnath Temple, dedicated to Lord Shiva. This beautiful temple is known for its intricate architecture and religious significance.
Explore the Tea Gardens: Berinag is famous for its lush tea gardens. Take a leisurely stroll through the tea estates, breathe in the fresh mountain air, and admire the scenic beauty of the surrounding hills.
Enjoy Nature Walks: Berinag offers picturesque landscapes and serene surroundings, perfect for nature walks. Explore the nearby forests, meadows, and valleys while immersing yourself in the tranquility of the surroundings.
Witness the Himalayan Views: Berinag offers breathtaking views of the snow-capped Himalayan peaks. Find a vantage point, such as a hilltop or viewpoint, to admire the majestic beauty of the mountains.
Discover the Village Life: Interact with the locals and get a glimpse into the traditional village life of Berinag. Learn about their culture, customs, and daily activities, and gain insights into the rural way of living.
Photography Opportunities: Berinag is a paradise for photography enthusiasts. Capture stunning landscapes, vibrant tea gardens, colorful flora, and the essence of village life through your lens.
Taste Local Cuisine: Indulge in the flavors of the region by trying traditional Kumaoni cuisine. Visit local eateries or dhabas to savor authentic dishes like Bhatt ki Churkani, Aloo Ke Gutke, and Kumaoni Raita.
Seek Spiritual Solace: Berinag is known for its serene and spiritual ambiance. Find inner peace and tranquility by meditating in the peaceful surroundings or participating in yoga sessions.
Trekking and Hiking: Explore the nearby trails and embark on a trekking or hiking adventure. Enjoy the thrill of walking through scenic landscapes and discovering hidden gems of nature.
History
The town was a major place of worship for the rules of Chand dynasty. Locals mention that when the Pants from Maharashtra came to settle at this town they witnessed a large number of snakes of various colours coiled together. During the 14th century, they built a snake temple after this event.
Berinag has a rich history dating back to ancient times. The town was once a part of the Katyuri dynasty, which ruled the Kumaon region of Uttarakhand from the 7th to the 11th century. The Katyuris were known for their architectural brilliance, and remnants of their temples and forts can still be seen in and around Berinag.
During the British era, Berinag served as a popular summer retreat for the British officials due to its pleasant climate and scenic beauty. It was also a significant trading center for the local agricultural produce, especially apples. The town witnessed developments in infrastructure and witnessed the establishment of schools and administrative buildings during this period.
Berinag is known for its temples, including the famous Lord Nag Devta temple, which is considered highly sacred by the locals. The town has also been an important center for traditional arts and crafts, with skilled artisans creating beautiful handicrafts like wood carvings and handwoven textiles.
Today, Berinag attracts tourists seeking peace, tranquility, and natural beauty. It offers breathtaking views of the Himalayan peaks, including the majestic Nanda Devi. The town still retains its old-world charm with its traditional architecture, narrow lanes, and friendly locals. Visitors can explore the surrounding forests, visit the ancient temples, indulge in local cuisine, and immerse themselves in the serene atmosphere of this enchanting town.
Mythology Related to Berinag
Lord Krishna defeated the serpent Kalinag(Kaliya), a poisonous Naga, living in the Yamuna river, in Vrindavan. Kalinag recognizing the greatness of Krishna and surrendered. After this, Lord Krishna ordered him to leave the Yamuna river and go somewhere else. Kalinag left the Yamuna river and went on to reside in this region of this town.
Food
Berinag has a number of small restaurants and Dhabas, which offer regular North Indian and delicious Kumaoni food. Local mouth watering and healthy food options such as Gahat ki dal, Bhatt ki Churkani, Aloo ke Gutke with Kakdi ka Raita, Kaapa and Hari Sabzi are popular in this town and other towns of Kumaon.
Below restaurants in Berinag cater to various culinary preferences, offering a mix of local and international cuisines. Whether you're craving traditional Kumaoni flavors, North Indian specialties, or international dishes, you can find options to satisfy your taste buds. Enjoy a delicious meal in the charming ambiance of these eateries during your visit to Berinag. Here is a list of 10 restaurants in Berinag, Uttarakhand, along with some details about each:
Kamat Restaurant: A vegetarian restaurant offering a wide selection of Indian and Chinese delicacies. It is known for its clean and hygienic food preparation.
Maa Naina Restaurant: A popular restaurant serving a variety of Indian and Chinese dishes. It offers a casual dining ambiance and friendly service.
Himadri Restaurant: Known for its delicious North Indian and Kumaoni cuisine, this restaurant offers a range of vegetarian and non-vegetarian options. It has a cozy atmosphere and attentive staff.
Pahadi Rasoi: A small eatery specializing in Kumaoni cuisine. It serves traditional dishes prepared with locally sourced ingredients, providing a taste of the region's flavors.
Mountain View Cafe: Situated amidst scenic surroundings, this cafe offers a peaceful ambiance and stunning views of the mountains. It serves snacks, beverages, and light meals.
Food Plaza: A multi-cuisine restaurant that offers a diverse menu featuring Indian, Chinese, and Continental dishes. It caters to different tastes and preferences.
Shivaay Dhaba: A roadside dhaba that serves authentic North Indian food. It is known for its flavorful curries, tandoori dishes, and freshly prepared bread.
Sunrise Restaurant: Located near Berinag market, this restaurant offers a diverse menu of Indian, Chinese, and Continental dishes. It has a spacious dining area and prompt service.
Taste of Kumaon: This restaurant focuses on serving authentic Kumaoni dishes, showcasing the local culinary traditions. It offers a range of vegetarian and non-vegetarian options.
Kumaon Cafe: A cozy cafe known for its freshly brewed coffee, sandwiches, and snacks. It provides a relaxed atmosphere for enjoying a cup of coffee and light bites.
Accommodation & Staying
There are a few hotels and guest houses in Berinag near the bus stand and market area. Chaukori is only 12.5 km from here, where one can find many luxury resorts and budget hotels. Chaukori offers more options to stay than Berinag does. The town has many ATMs of major banks such as SBI and PNB and some other banks. Many hotels have inside restaurants for the convenience of visitors.
These accommodation options in Berinag ensure a pleasant stay with their comfortable rooms, scenic views, and warm hospitality. Whether you're looking for luxury resorts, budget-friendly hotels, or authentic homestays, there are options to suit different preferences and budgets. Here is a list of 10 accommodation options in Berinag, Uttarakhand, along with some details about each:
Him Shikhar Homestay: A charming homestay nestled amidst picturesque surroundings. It offers cozy rooms, home-cooked meals, and a warm and friendly atmosphere.
Te Aroha: A luxury boutique hotel offering comfortable rooms with modern amenities. It provides panoramic views of the snow-clad Himalayas, a multi-cuisine restaurant, and a spa for relaxation.
Hotel Himshikhar: A budget-friendly hotel offering clean and comfortable rooms. It provides essential amenities, a restaurant serving Indian cuisine, and easy access to nearby attractions.
Shyamkhet Tea Retreat: Situated in the serene tea gardens of Berinag, this retreat offers comfortable rooms with a tranquil atmosphere. It features a restaurant, a tea garden tour, and opportunities for tea tasting.
KMVN Tourist Rest House: Run by the Kumaon Mandal Vikas Nigam (KMVN), this budget-friendly property provides basic rooms and essential amenities. It offers a restaurant serving local cuisine and easy access to nearby attractions.
Binsar Eco Resort: Situated near Berinag, this eco-friendly resort offers well-appointed rooms with scenic views. It features a restaurant, a garden area, and outdoor activities like nature walks and bird watching.
Mahadev Mountview Resort: Located amidst scenic surroundings, this resort offers spacious rooms with beautiful views. It features a restaurant, a garden area, and outdoor activities like trekking and camping.
Deodar Homestay: A traditional Kumaoni-style homestay offering comfortable accommodation and local hospitality. It provides home-cooked meals, a garden, and a peaceful atmosphere.
The Misty Mountains Retreat: Located amidst lush greenery, this retreat offers cozy cottages with serene views. It provides a restaurant serving delicious food, a bonfire area, and outdoor activities like hiking and bird watching.
Panchachuli Homestay: A homestay with well-appointed rooms and a warm and welcoming ambiance. It offers home-cooked meals, a garden, and a chance to experience the local culture.
How to Reach Berinag
To reach Berinag, you can take a train to Kathgodam (adjacent to Haldwani), which is the nearest major railway station and airport. From Kathgodam, you can hire a taxi or take a local bus to Berinag, which is approximately 170 kilometers away. The journey from Kathgodam to Berinag takes around 5-6 hours by road. Here are 3 modes of transportation to reach here:
By Road
It is well connected to Pithoragarh, Almora, Haldwani and all major cities of Uttarakhand. Almora is 96 km away, Nainital is 160 km away, Haldwani is about 200 km away, Bageshwar is 62 km and Pithoragarh is 85 km away from Berinag.
By Train
The nearest railway station is Kathgodam, at a distance of 178 km. Cabs and buses are available from the railway station.
By Air
The nearest airport is Naini Saini Airport, Pithoragarh, which is at a distance of 112 km but flights are not regular here. Pantnagar airport is 210 km away from here. From Haldwani and Kathgodam there are many taxis and buses available. The distance from Haldwani is almost 200 km.