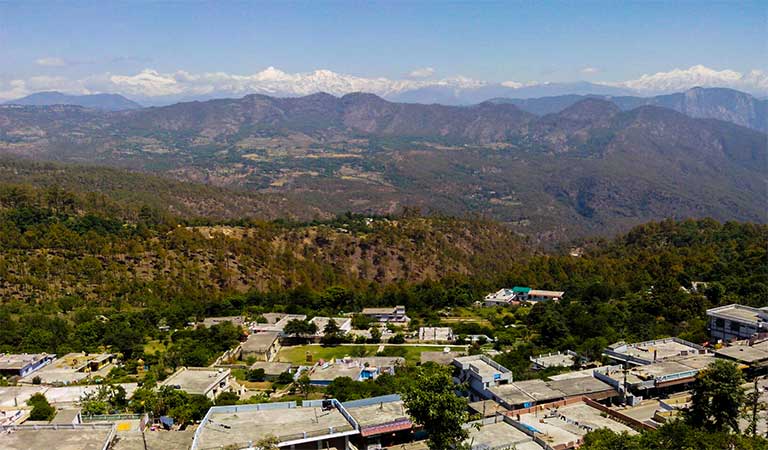 Berinag, nestled in Pithoragarh district of Northern state Uttarakhand, is a Tehsil and a scenic hill station. The suffix of name "Berinag" is "Nag", which literally means snake. The region is well known for many important Nag-Devta(Snake-God) temples.
Perched at an elevation of 1,860 metres (6,100 feet) above sea level, the town is surrounded by snow covered Himalayan peaks, charming valleys and lush green environment. Thal, Didihat, Bageshwar, Kameri Devi, and Pithoragarh are some nearby places to explore.
What Berinag has to Offer:
The town and nearby villages offer amazing panoramic views of the Kumaon, Garhwal and Nepal Himalayan peaks such as Nanda Devi, Trishul, Rajrambha, and Panchchuli. Apart from that, the valley offers lush green surroundings and trekking to nearby villages to explore. It is surrounded by thick forests, cascading natural streams and diverse flora.
It is also popular for its Nag-Devta(Snake-God) temples. The highly important Tripura temple is at a distance of 5 km from here at Uttarayan. The region has many temples devoted to Nagas(Snakes) namely Dhaulinag, Kalinag, Feninag, Bashukinag, Pinglenag, and Harinag temple. Some nearby villages to explore are Dhanoli, Sangarh, Bana, Bhattigaon, Tripuradevi, Banoli and Kuarali.
Berinag Tea:
The town was home to one of the best tea gardens in India until the demise of late Dan Singh Bisht. Berinag Tea was once highly popular in India and England during British Raj. It was one of the most preferred tea in London tea houses. William McKay Aitken and Laurie Baker have documented about Berinag tea and its popularity during those days.
Thakur Dan Singh Bisht bought Berinag Tea estate from agents of Corbett. It was distributed by the name of D.S. Bisht & Sons. Unfortunately, after his death, the tea estate was taken over by settlers and encroaches. The tea was grown in a very large region, but it is now only grown in Chaukori. Britishers established tea gardens in Chaukori.
History:
The town was a major place of worship for the rules of Chand dynasty. Locals mention that when the Pants from Maharashtra came to settle at this town they witnessed a large number of snakes of various colours coiled together. During the 14th century, they built a snake temple after this event.
Mythology Related to Berinag:
Lord Krishna defeated the serpent Kalinag(Kaliya), a poisonous Naga, living in the Yamuna river, in Vrindavan. Kalinag recognizing the greatness of Krishna and surrendered. After this, Lord Krishna ordered him to leave the Yamuna river and go somewhere else. Kalinag left the Yamuna river and went on to reside in this region of this town.
Food:
Berinag has a number of small restaurants and Dhabas, which offer regular North Indian and delicious Kumaoni food. Local mouth watering and healthy food options such as Gahat ki dal, Bhatt ki Churkani, Aloo ke Gutke with Kakdi ka Raita, Kaapa and Hari Sabzi are popular in this town and other towns of Kumaon.
Staying:
There are a few hotels and guest houses in Berinag near the bus stand and market area. Chaukori is only 12.5 km from here, where one can find many luxury resorts and budget hotels. Chaukori offers more options to stay than Berinag does. The town has many ATMs of major banks such as SBI and PNB and some other banks. Many hotels have inside restaurants for the convenience of visitors.
How to Reach Berinag:
By Road
It is well connected to Pithoragarh, Almora, Haldwani and all major cities of Uttarakhand. Almora is 96 km away, Nainital is 160 km away, Haldwani is about 200 km away, Bageshwar is 62 km and Pithoragarh is 85 km away from Berinag.
By Train
The nearest railway station is Kathgodam, at a distance of 178 km. Cabs and buses are available from the railway station.
By Air
The nearest airport is Naini Saini Airport, Pithoragarh, which is at a distance of 112 km but flights are not regular here. Pantnagar airport is 210 km away from here. From Haldwani and Kathgodam there are many taxis and buses available. The distance from Haldwani is almost 200 km.