Buddha Temple or Buddha Garden or "Mindrolling Monastery" is one of the popular tourist attractions in Dehradun, Uttarakhand. It nestles in the foothills of the Himalayas. Buddha Temple is regarded as one of the largest Buddhist centers in India. Buddhists have built it with the motive to preserve and promote Tibetan culture in India. The temple has its own healthcare clinic, a primary and secondary Buddhist school, Guest houses and a community prayer hall.
Buddha Temple is popular for its marvelous architecture, Charming interiors and the colorful murals that depict the life of Gautam Buddha. One of the major attraction of the this temple is the Great Stupa. They inaugurated it in 2002. The artwork of the Great Stupa is a marvel of Buddhist art. It is about 220 feet in height and 100 sq. feet in width.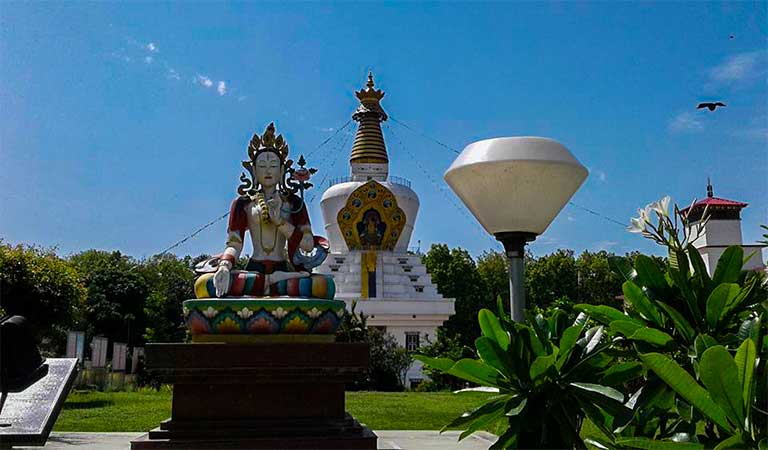 Buddha Temple Dehradun overview
| | |
| --- | --- |
| Location: | Dehradun |
| Timing: | 7 AM to 7 PM |
| Exploration Time: | 2 Hours |
| Distance from ISBT Dehradun: | 5 Km / 20 Minutes |
Opening and Closing Time of Buddha Temple Dehradun
Buddha Temple is open for its visitors from 7 am to 7 pm daily.
History of Buddha Temple or Mindrolling Monastery
Buddha Temple is a highly celebrated Tibetan religious site. Kochen Rinpoche and few other monks built this temple in late 1965. The aim was to protect religious and cultural understanding of Buddhism. It is a replica of the original temple monastery in Tibet. They built it as one of the four Tibetan religion schools and named "Nyingma"or the Old Translation School. The other three schools are:
Sakya
Kagy
And Geluk having a great importance in the Tibetan religion.
Architecture of Buddha Temple Dehradun
Mindrolling Monastery boasts a unique Japanese style architecture. People believe that 50 artists made the unique design of the temple and paintings. They took about three years to complete it. It has five floors which enshrine the idols of Lord Buddha and Guru Padmasambhava. First three floors are decorated with intricate gold color wall paintings. The fourth floor consists of an open platform, offering a panoramic view of the Dehradun valley.
Things to do at Buddha Temple Dehradun
Buddha Temple is one of the best places to enrapture in peace and sanctity. You can pay obeisance at the 130 feet tall statue of Lord Buddha. They have installed it at the temple complex in an honor to Dalai Lama.
One can enjoy a bird's eye-view of the city from the open-air viewing platform of the temple.
There are many tiny shops and cafes that align the temple complex. You can slurp some delicious Tibetan cuisine. One can also buy some fancy clothes from the clothing stores situated here.
If you are an avid reader then you can handpick some spiritual and Tibetan books. These are available at the bookstores.
Seize some beautiful shots of the temple's architecture and cherish the Tibetan culture.
Things to remember while visiting Buddha Temple
If you are an admirer of art and architecture, then we advise you to visit the temple on Sunday. The garden area and shops are open on all days. But the interior of the temple is only open on Sundays.
Don't forget to remove your shoes before entering the temple. There is shoe check at the temple, where they will give you a token at a nominal fare.
Since it is a holy place so maintain peace here as the Lamas and Buddhist disciples pray and meditate here.
They have placed many dustbins in the Buddha Garden. So don't litter around and keep the environment clean.
Location of Buddha Temple Dehradun
Buddha Temple or Mindrolling Monastery is in Mohabewala, Clement Town in Dehradun. It is only 5 km away from ISBT Dehradun.
How to reach Buddha Temple Dehradun
One can easily reach here by:
Taking the bus to Clement Town, which is available from Parade Ground and Rajpur.
Alternatively, you can also take the Vikram no. 5 from Survey Chowk. It will drop you to the temple.
Dehradun railway station at 10 km is the closest railhead. While Jolly Grant airport at 36 kilometres away is the closest air connectivity.