Morrison Memorial Church in Dehradun is a sacred place of worship for people having faith in Christianity. This elegant church has a distinguished architecture akin to American Church style architecture. It is one of the oldest churches of Doon.
The Morrison Memorial Church is situated in the hush area of Rajpur, which gives off olde-worlde vibes. English and Hindi service are held regularly at the Church. Christian, as well as non-Christians, are warmly welcomed at the Church to sing praises in the Lord's name.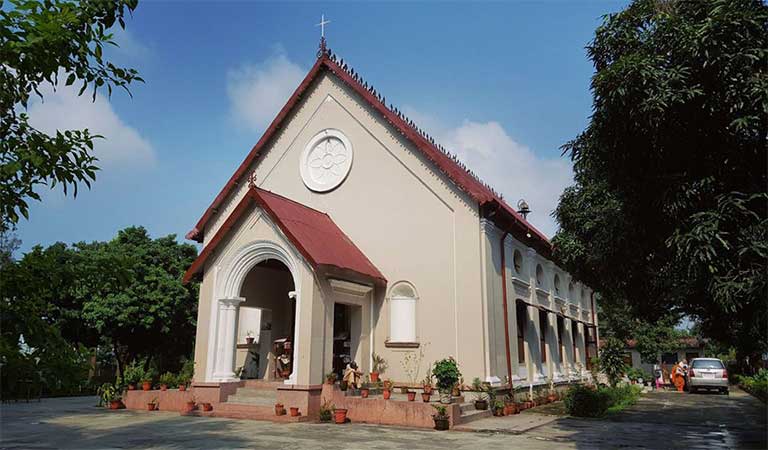 Morrison Memorial Church Service timings
Summer –
English Service – 08.00 am
Hindi Service – 09.30 am

Winter –
English service – 09.00 am
Hindi Service – 10.30 am
Rev. P. J. Singh,
Presbyter in Charge
Contact Number: 9258035240, 7599009584

Opening and Closing Time to Morrison Church: Hours: 8:30 am – 3:00 am
Morrison Memorial Church Address: 51 – C, Rajpur Road, Dobhalwala, Chukkuwala, Dehradun, Uttarakhand 248001
Christmas and Easter Celebration at Morrison Memorial Church in Dehradun
Christmas and Easter are taken seriously by the Church members. During the festive season, the Morrison Church is decked with starry lights. And the church building glows like a Christmas tree at night.
Many people come here to join each other for celebrating Christmas. The choir group and the members of the church sing Christmas carols and the word of Jesus Christ is shared by the pastor. The aura becomes heavenly and everybody rejoices the birth of Jesus Christ.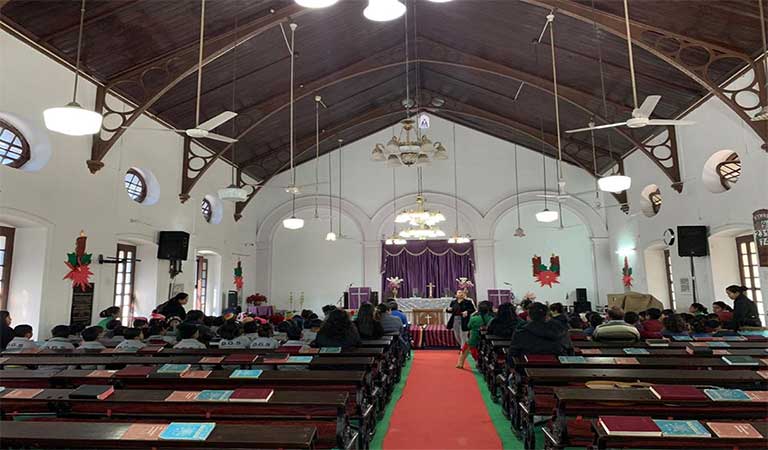 Morrison Memorial Church is one of the oldest churches of Dehradun.
Established on 25 August 1884, the Morrison Memorial Church is around 127 years old.
Morrison Memorial Church was formerly known as "Dehra Presbyterian Native Church".
In the year 1890, the name of Morrison Memorial Church was changed to AP Mission Hindustani Church.
The church finally got its name Morrison from the missionary reverend John J.H Morrison, who came to India for sharing the teachings of Christianity.
Sightseeing and Places to visit near Morrison Memorial Church
If you have more time on your hands and want to chill, then you can enjoy sightseeing around Morrison Memorial Church. Take a stroll around the placid trails of Rajpur and capture the beauty of this place in your camera.
You can also see some of the famous tourist places in Dehradun that are nearby, like —Dehradun Zoo, MDDA Park, Robbers Cave, FRI. For shopping, you can head to Paltan Market, Tibetan Market or the famous Pacific Mall.
Places to eat near Morrison Memorial Church
Some of the restaurants and cafes to have a quick snack near Morrison Memorial Church CNI are– Yo China, China King, Inderlok Restaurant, Alcove Restaurant, Udipi Restaurant, Kumar Sweets, Prez Restaurant and Nirulas. Some of the nearest cafés from Morrison Memorial Church are at Astley Hall. Burger and pizza lovers will find their fav McDonald's at Astley Hall, which is at a walking distance from the church.
How to reach Morrison Memorial Church in Dehradun
Morrison Memorial Church located on Rajpur road can be easily reached from any part of the city. The church is only a km away from Clock Tower Dehradun and can be accessed by public transport such as bus, Vikram or shared auto/taxi.
Astley Hall is the nearest landmark to the church around 10 minutes of walking distance from the church. People belonging to different religions and walks of life can visit this church.
The nearest railhead to Morrison Memorial Church: Dehradun railway station at 3 km away
Nearest airport to Morrison Memorial Church: Jolly Grant airport at 30 km away