Raahat is the first ever animal shelter and veterinary hospital established in Dehradun. It was founded in 2005. The organization strives to live by its name. "Raahat" means offering 'peace and comfort' to animals in distress. The animal shelter has successfully managed to treat sick and ill-treated animals surviving in the streets of Dehradun.
The campus of Raahat is spread over 1 acre of land which is privately owned by the organization. The shelter house mainly caters to the needs of sick animals. It is also a permanent sanctuary for the old, young and the special needs animals.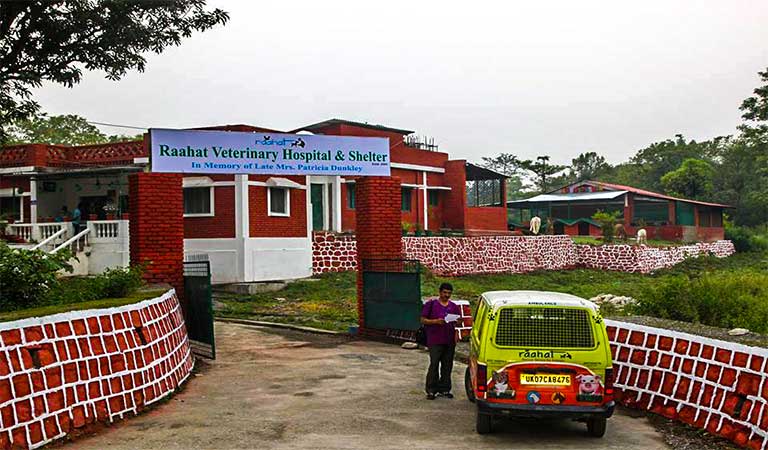 Work and Mission of Raahat
Raahat conducts rescue, relief operations and rehabilitates homeless and abandoned animals. The foundation implements Birth Control and Anti-Rabies Programmes for community dogs. It also encourages responsible animal guardianship.
Raahat stands for animal rights by fighting against animal cruelty. The organization works for the implementation of Animal Protection Laws. It also promotes the humane treatment of animals. The foundation supports environment conservation initiatives.
Team and Funding
The management of Raahat is pro bono. The team consists of:
The staff at the shelter
The volunteers
And the advisors.
It is a registered non-governmental organization. It solely runs on the private donations received from its supporters.
The organization takes service charges on outpatients. They treat pet animals that come for health care or for grooming purposes. Other than this, Raahat relies on its fundraising initiatives to sustain its various programmes. It is not financially aided by the government or Nigam. It depends entirely on private philanthropy.
Services offered by Raahat for Animals
The organization offers an array of services. These are both chargeable and non-chargeable depending on the ownership of the pets/animals. They have a rescue ambulance for strays. A qualified vet is also available at the shelter between 10 am to 5 pm. The Out Patient Charges (OPD) are as follows:
Anti-rabies vaccination Rs 150,
5 plus vaccine Rs 350,
General treatment and consultation Rs 100,
Intravenous drip Rs 150-200,
Deworming Rs 100,
Anti-bacterial bath Rs 200,
Hair-cut Rs 150
Sterilization for strays is free. For pets- Rs 1500 for females and Rs 1000 for males.
Note: The charges on the services may alter with time. We advise to check their official website or directly contact Raahat for recent updates in the services offered.
Reporting a Homeless/Abandoned Animal in Distress
Rescue Hours
From 10 am to 6 pm (Monday – Saturday)
From 04 pm to 6 pm (Sunday)
Coverage Area
20 – 25 km from Clock Tower, Dehradun
Reporting Time:
10 AM – 4 PM
Calls received after 4 pm will be attended the next day.
Raahat's Rescue Guidelines
Animals they 'Rescue':
Sick/Injured small animals of all species.
Homeless Females dogs for Sterilization.
Cases pertaining to cruelty.
Animals they Do Not 'Rescue':
Healthy puppies or a litter with the mother dog.
Other Healthy Animals.
Stray animals are not rescued but treated here for skin infections, ailments, diseases etc.
Large animals like cattle etc. At present, it does not have any facility/vehicle for rescuing large animals. For example, cows, bulls, horses etc.
How to reach Raahat for Animals
Raahat is located near Tapovan Ashram in Nalapani area of Dehradun. The shelter and veterinary hospital of Raahat are nestled in village Nanoorkheda. It is only 5 km away from Clock Tower. One can reach here from anywhere. You can reach this place both from Sahastradhara road and Raipur road.
Landmarks to be Considered
From Raipur Road – Raipur Police Station, Doordarshan Kendra, Navodaya Vidyalaya & Tapovan Ashram
From Sahastradhara Road – Kewal Vihar, Tapovan Enclave, NCC Head Quarter and Panchayat Bhawan.
Reach Raahat at
| | |
| --- | --- |
| Helpline Numbers | 0135-6003004/9997699474 |
| Admission Facility | 24×7 for all Species of Animals |
| Veterinary Surgeon Availability | All working days |
| Instagram | https://www.instagram.com/raahatforanimals.dehradun/ |