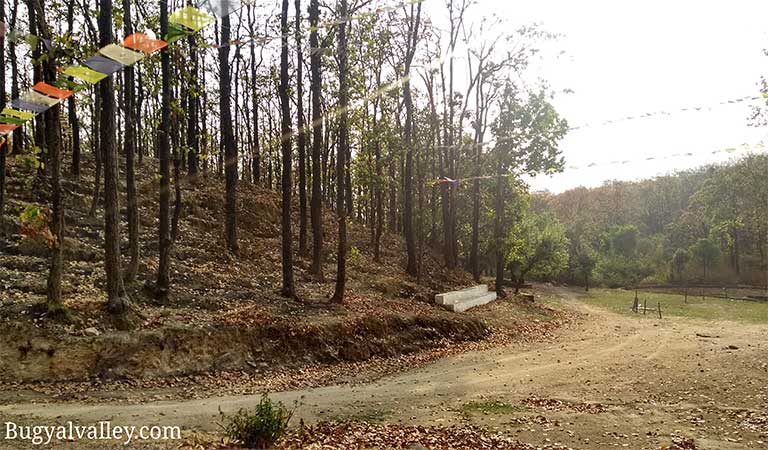 "A lesser known attraction in Doon"
Sagar Tal cocooned in Tapovan is a lesser known tourist destination in Dehradun District of State Uttarakhand in India.. This hidden jewel nestled in the quaint area of Doon Valley was once a freshwater lake. It has dried up now and only fills up during the monsoon season when it is fed by the rainwater.
The lake has now become a breeding ground for moss and lichens. Wildflowers and tall grass can be seen blanketed around the lake area. It has become a popular stopover for those visiting Khalanga Top near Raipur. Many fitness junkies who jog or walk along the Tapovan area come here to breathe in the fresh air.
Things to do in and around Sagar Tal:
The area around Sagar Tal is placid and is frequented by those looking for peace and tranquillity in the lap of nature. It is a perfect place for loners, solitude seekers and nature lovers to savour their eyes on the beauty of mother nature. A variety of birds can be seen here as the place is rich in vegetation. There is a cemented staircase at one corner of the lake to sit and relax. One can practise Yoga and Meditation in the calm serendipity of this place.
If you have a passion for photography or want to be clicked at a picture-perfect backdrop then you should explore this place. If you are an adventurous soul then you can trek towards Khalanga Top. For a spiritual retreat go downhill towards Nag Raj Mandir and Tapovan Mandir. Some other nearby attractions to visit from this place are Sahastradhara, Maldevta, Khalinga War Memorial, Tapovan Ashram, Tibetan Colony etc.
Best Time to Visit:
Sagar Tal can be visited all around the year but during Monsoons, this place exhibits ethereal natural beauty.
How to reach:
Sagar Tal is located about 9 km from the city towards Nalapani in Raipur, Dehradun. It is situated at a distance of 10 km from Dehradun railway station and about 28 km from Jolly Grant airport in Dehradun. One can easily approach this place by taking the Seemadwar-Nalapani route bus that will drop you at Khalanga Dwar. From here an approx 3.5 km trek will take you to Sagar Tal.