Dunagiri temple is a popular shrine, dedicated to Maa Dunagiri. It is located near Dwarahat in Almora district of Kumaon region in Uttarakhand, India. Dunagiri temple is 14 kilometers away from the ancient town of Dwarahat. The temple is also known as temple of Shakti. The place is perched at a height of 8,000 feet above sea level. Apart from the religious value, Dunagiri temple also offers one of the best views of the Himalayan ranges.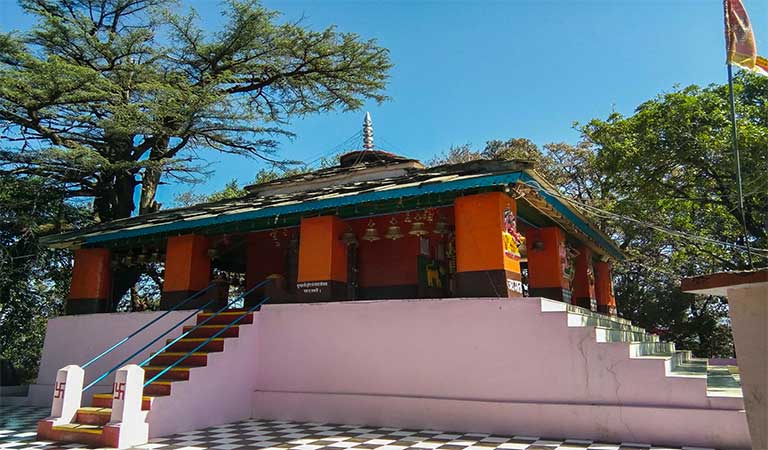 Why Visit Dunagiri Temple:
The temple attracts a large number of pilgrims during Chaitra and Ashwin months of Navratras. This temple is one of the two Vaishnavi Shakti Peeths in India. The other Shakti Peeth is Vaishno Devi temple in Jammu Kashmir. Dunagiri temple is known as Mangalikhan among locals. It is said that the bronze plate present inside the temple dates back to 1181 AD. The temple offers a splendid panoramic view of the Gogas Valley. On of the most interesting facts about temple is, it has 500 steps. The temple is on the top of a hill so visitors need to climb these steps in order to reach the temple.
The Legend:
According to the legend, Pandavas took shelter in Dunagiri during their exile. The interior of the temple seems very old. Pandukholi is believed to be the place near Dunagiri where they Pandavas stayed for a period of time.
Another legend says that when lord Hanuman over this area, carrying the whole rock of Sanjivani with 'Sanjivani buti' to rescue Lakshman, brother of lord Rama, who got injured in the war of Ramayana, a piece of it fell here. The word "Giri" means fell. This incident gave this place its name 'Dunagiri'.
Devotees also believe that Pandava's Guru Dronacharya also did tapasya (devout austerity) at the place where the temple is situated.
How to Reach Dunagiri Temple:
The temple is 14 kilometers away from the town of Dwarahat. Once you reach Dwarahat, there are tons of options available.
By Road
Dwarahat is well connected by roads to all major cities of Uttarakhand and northern India. Taxis to Dwarahat are easily available from major destinations of Uttarakhand.
By Train
Kathgodam is the nearest railway station to Dwarahat. It is situated at a distance of 88 kilometers. Taxis and buses are easily available from the Kathgodam to Dwarahat.
By Air
The nearest airport for Dwarahat is Pantnagar Airport. It is situated 112 kilometers from Dwarahat. Taxis are available to Dwarahat, Ranikhet, Haldwani, Nainital and Almora from Pant Nagar Airport.