Naini Lake, also known as Nainital lake or Naini Jheel is a freshwater body located amid the township of Nainital. This gorgeous lake is said to be crescent or pear-shaped and is visited by people from all across the nation.
Although the region is known for housing many beautiful lakes. But Naini Lake is one of the most famous and most visited lakes in Nainital. Other famous lakes in Nainital include Bhimtal, Sattal, Naukuchiatal, Khurpatal, Malwatal, Harishtal and Lokhamtal.
Naini Lake Overview
| | |
| --- | --- |
| Altitude: | 1,938 m |
| Surface Area: | 120.5 acres (48.76 ha) |
| Temperature: | Summers: 26.7°C – 10.6° C Winters: 15.6°C to -2°C |
| Rainfall: | 2794 mms (average yearly) |
| Recommended Clothes: | Summer – Light Woolen, Winters – Heavy Woolen |
| Best Time to Visit: | All around the year except monsoon |
| Accommodation: | Many Tourist Rest Houses & Private Hotels are available near the Lake |
| Nearest Railway Station: | Kathgodam (24.9 km via NH109) |
| Nearest Airport: | Pantnagar (59.2 km) |
| Nearest City: | Haldwani – Kathgodam |
Tourist Attractions near Naini Lake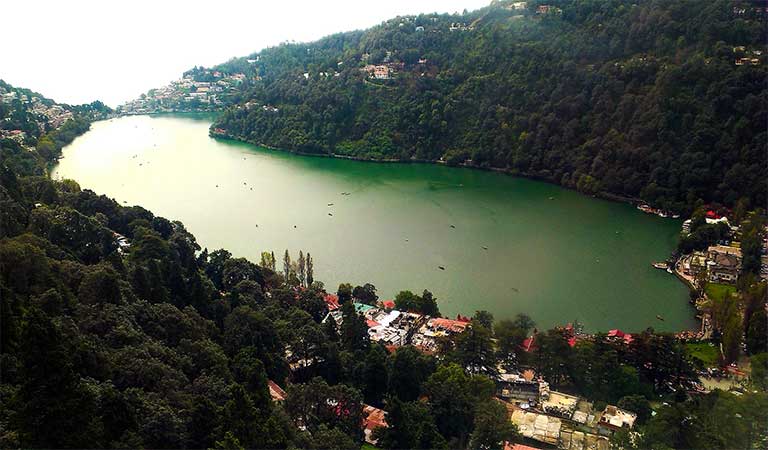 Nainital Lake locally famous as Naini Jheel is one of the famous tourist attractions in Nainital. This charming lake of Kumaon lures nature lovers to experience solitude in the Himalayas. Naini Lake draws worldwide attention as it is one of the budget-friendly travel destinations in India.
There's a lot to explore in and around the lake area. As the lake itself can be divided into two sections—the northern part known as Mallital and the Southern part as Tallital. Some of the famous tourist places near Naini Lake are Snow View Point, Eco Caves, Naina Devi Temple, High Altitude Zoo, Khurpatal, Tiffin Top, Hanuman Garhi, Ghorakhal, Bhowali etc.
History of Naini Lake
Historical records suggest that Nainital accidentally found by an English trader named Mr. P. Barron in the year 1839. Barron was the first person to visit here from Rosa.
It was during one of his expeditions, that he accidentally discovered Nainital and was left in awe by its captivating beauty. Hence, he decided to build a European colony on the shore of the sapphire blue lake of Nainital.
A vintage magazine named the Englishman Calcutta shared the news of the lake's discovery in the year 1841. The locals who are smitten by this place have another story to share. According to them, the place was first discovered by two Indian sages, who wandered here and blessed the lake with their divine energy.
Famous for: Lakes, Nature, Photography

Tickets: 100 INR each for parking and toll tax for entering in Nainital

Opening Time: Open on all days

Duration: 2 hours
According to Hindu mythology, Naini Lake is a tribute to the departed soul of Mata Sati. The legend of this lake begins with the yajna hosted by King Daksha, the father of Sati.
Since Raja Daksha disapproved of Sati's marriage with Lord Shiva, he didn't invite them in the yajna performed by him. When the news reached Sati's ears, she decided to attend her father's prayer service. Despite being told not to by her beloved husband.
Upon reaching the venue Raja Daksha started insulting her in front of his guests. He called Shiva an atheist and cremation ground dweller. When Sati couldn't bear the hate and public humiliation. She warned her father of the wrath of Shiva and jumped into the holy fire, that was burning profusely in front of her.
Upon learning Sati's death, Shiva became furious and took his wife's charred body in his arms and started performing Tandava or the celestial dance of destruction. When nobody could stop this apocalyptic destruction on Earth, Lord Vishnu came to rescue and used his Sudarshan Chakra to stop Shiva from causing havoc. The chakra went through Sati's body, cutting it into 52 pieces.
It is said that each of her body parts fell in different places. To commemorate her sacrifice, temples were built on those sites, now known as 52 Shaktipeethas. It is said that her Nayan or "eye" fell at Naini Lake. Thence, Naina Devi Temple was built to pay a tribute to Mata Sati. In Skanda Purana, the lake has been mentioned as "Tririshi Sarovar" which is believed to be Nainital Lake, also known as Naina Lake.
Boating at Naini Lake, Best Time and Prices
No trip is complete without boating at Nainital Lake. So if you are planning to visit Naini Lake, then you can enjoy boating on the tranquil Naini Lake.
Many adventure lovers and water sports enthusiasts come here for boating, yachting, and kayaking. Even beginners can try out these adventure activities as they are performed under the guidance of the experts. The charges may vary depending on the boat you choose.
| | |
| --- | --- |
| For a half-round of the rowboat: | 160 Rupees |
| For a full round of rowboat: | 210 Rupees |
| For Paddleboat per hour: | 210 Rupees |
| For Gondola ride across the lake: | 210 Rupees |
The lake is open for tourists from 6:00 am to 6:00 pm, on all days of the week.
Travel Tips:
Carry woolens at all times as it gets cold in the morning and evenings.
If you planning a trip in winter, then do pack heavy woolens in your suitcase.
Take your camera along to capture scintillating views of snow-laden hills, pearly lakes, and old European buildings.
For shopping spree visit Nainital's Mall Road, which runs parallel to Naini Lake and is a famous shopping hub. Everything is available here from woollen clothes to shawls and handmade candles.
You can also visit other popular lakes nearby like the famous three– Naukuchiyatal Lake, Bhimtal Lake, and Sattal lake.
Best time to visit Nainital Lake
Naini Lake looks fresh at all times, be it the sultry summer season or the whitewashed winter season. Although it is during the summer months of March-June, that one can see the lake's flora in its utmost grandeur. Therefore, many tourists enjoy boating in Naini Lake during the summer season.
On the contrary, people who do not wish to travel in crowded places, avoid these months and throng here during the off-season. For such tourists, the months of November and December are an ideal time to visit Nainital, as they can enjoy snowfall here.
Interesting facts about Naini Lake in Nainital
The placid Naini lake forms the base of the crown, peaked by 7 hilltops.
You can avail the supreme hospitality offered by Nainital Boat Club. It also provides Yachting facility at Naini lake.
Every year in the month of June, an Annual Kingfisher Yachting Competition is held at Naini lake. Do not miss this at any cost.
Between October to November, the Kumaon festival is organized every year by the Tourism Department of Uttarakhand. If you are interested in Pahadi culture, then this is the event for you to relish.
How to reach Naini Lake in Nainital
Naini Lake is safely tucked in the heart of Nainital. It is only a km away from the Tallital Bus stand also known as Nainital's government bus stand. Naini Lake is within a walking distance from here and can be reached in no time.
Kathgodam Railway station is the nearest railhead, which is around 35 km away from the lake. Private taxis, cycle rickshaws and other local transport are easily available from the bus stand and railway station to reach the lake. Pantnagar airport is the nearest air connectivity from here.
Air: Pantnagar is the nearest airport at 70 km away.
Rail: Kathgodam is the nearest railway station at 35 km away.