Robber's Cave also nicknamed as Guchhu Pani, is a natural cave in Dehradun. It is formed by the geological impacts on the Dehra plateau. It is a 600 meters long natural cave cocooned near Sahastradhara. The Robber's Cave or Guchhu Pani is divided into two main parts. A placid river also runs through its cave-like formation. The center of the cave has a fort like structure which is now in ruins. And the fall is about 10 meters high.
The British kept this unique name of Robbers as the robbers used to take refuge in the cave after looting people. Additionally, it is a popular summer destination in Dehradun. Uttarakhand state government maintains this place. This colossal cave is famous for its strange natural occurrence; a steam of water suddenly appears and then disappears underground only to appear again a few yards away.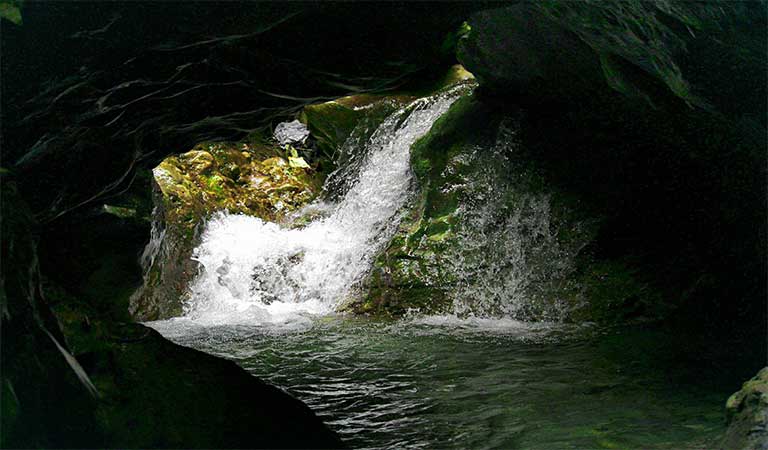 Robber's Cave or Guchhu Pani Overview
| | |
| --- | --- |
| Location | Dehradun |
| Famous For | Picnic, Photography |
| Entry Fee | 25 Rupees |
| Visit Duration | 3-4 Hours |
| Timing | 7 AM – 6 PM |
| Facilities | Food Stalls, Washrooms, Lockers |
| Activity For | Group, Family, Solo, Couple |
Things to do in Robber's Cave or Guchhu Pani
This surreal place is ideal for picnicking. It is has rapidly become a popular tourist attraction in Dehradun.
For instance, enjoy crossing the cool waters. This will give you a relief from the scorching summer heat.
Many shutterbugs, who visit here, capture beautiful pictures of this mystical cave. The locals believe that the water of the cave also possesses medicinal properties.
So you can collect the water in a bottle and take it with you. Some of the nearby attractions to visit from Robber's Cave are:

Rajaji National Park
Khalinga Smarak
Dehradun Tea Gardens

Explore the Cave: The main highlight of Robber's Cave is the unique natural cave formation. Embark on a thrilling adventure as you enter the cave and navigate through its narrow passages, rocky terrain, and flowing streams. Be prepared to get your feet wet as you wade through the knee-deep water inside the cave.
Witness the Waterfall: Inside the cave, you'll come across a stunning waterfall cascading down the rocks. Take a moment to appreciate the beauty of nature as you enjoy the refreshing sight and sound of the waterfall.
Picnic by the Stream: Robber's Cave offers a serene and picturesque setting, making it an ideal spot for a picnic. Set up a picnic area by the stream and enjoy a relaxing time with your family or friends amidst the natural beauty surrounding you.
Photography: Robber's Cave provides numerous photo opportunities with its intriguing rock formations, clear water streams, and lush greenery. Capture memorable moments and stunning shots of the cave and its surroundings to cherish the experience.
Enjoy Local Cuisine: After exploring Robber's Cave, you can indulge in the local cuisine at the nearby food stalls or restaurants. Try delicious street food, including local snacks and refreshing beverages, to satisfy your taste buds.
Nature Walks: Surrounding Robber's Cave is a tranquil landscape, perfect for nature walks. Take a leisurely stroll along the paths, breathe in the fresh air, and admire the scenic beauty of the area. Keep an eye out for the diverse flora and fauna that inhabit the region.
Visit Nearby Attractions: Robber's Cave is located in close proximity to other attractions in Dehradun. Consider extending your visit to explore additional places of interest, such as Rajaji National Park, Tapkeshwar Temple, and Malsi Deer Park.
Opening and Closing Time of Robber's Cave
Robber's Cave remains open for the tourists from 7 AM to 6 PM on all days of the week.
| Days | Opening Time | Closing Time |
| --- | --- | --- |
| Sunday | 7:00 AM | 6:00 PM |
| Monday | 7:00 AM | 6:00 PM |
| Tuesday | 7:00 AM | 6:00 PM |
| Wednesday | 7:00 AM | 6:00 PM |
| Thursday | 7:00 AM | 6:00 PM |
| Friday | 7:00 AM | 6:00 PM |
| Saturday | 7:00 AM | 6:00 PM |
Travel Tips for GuchhuPani (Robber's Cave)
Since the river curls inside the cave, the visitors often get drenched. Therefore, we advise you to carry a pair of extra clothing and a towel.
If you are going for a picnic then carry some snacks, drinking water and a plastic bag to collect the waste.
In order to explore the surrounding areas, you can hire a cab.
Best Time to Visit
The best time to visit Robber's Cave is during the monsoon season. Because the water comes gushing through the narrow creeks and gorges.
However, if you want to beat the heat of summer season then do visit Guchhupani place between the months of April-July.
How to reach Robber's Cave
Robber's Cave is located about 8 km from Dehradun bus stand. It is near Mussoorie road and Dehradun Zoo.
Local bus service is also available up to Anarwala Village. After that, it is only a km away by trek.
Dehradun railway station at 8 km away. It is the nearest rail-head to Robber's Cave.
Jolly Grant airport at 33 km is the nearest air connectivity.
Restaurants Nearby Robber's Cave (GuchhuPani)
There are following restaurants nearby Robber's Cave:
Domino's Pizza
Vaango
Punjab Grill
Countdown
The Sal Woods
Malabar
Four Points
Barbeque Nation
Grille
Best Buddy's Cafe
There are several other food options available nearby where you can enjoy a meal before or after your visit to Robber's Cave. Here are a few popular restaurants in the vicinity:
Raju Da Dhaba: Known for its delicious North Indian and Punjabi cuisine, Raju Da Dhaba is a well-known eatery located near Robber's Cave. They serve a variety of vegetarian and non-vegetarian dishes, including popular favorites like dal makhani, butter chicken, and tandoori roti.
Kumar Vegetarian Restaurant: As the name suggests, Kumar Vegetarian Restaurant is a popular choice for vegetarian food lovers. They offer a wide range of vegetarian dishes, including Indian, Chinese, and Continental cuisines, in a clean and welcoming environment.
Astoria: Situated in the vicinity of Robber's Cave, Astoria is a multi-cuisine restaurant that caters to different tastes. From Indian and Chinese to Italian and Continental dishes, they have a diverse menu to satisfy various cravings.
Ellora's Melting Moments: This cozy cafe and bakery near Robber's Cave is a great spot to grab a quick bite or indulge in some sweet treats. They serve a variety of snacks, sandwiches, pastries, and beverages, making it a perfect place for a light meal or a quick snack.
Café Cibo: Located in Rajpur Road, not far from Robber's Cave, Café Cibo is a popular hangout spot offering a range of delicious food options. They serve a mix of Indian, Italian, and Continental cuisines, along with refreshing beverages and desserts.