Joshimath is a Himalayan town and a popular hill station nestled in Chamoli distinct of Uttarakhand. The town holds a great religious importance as it is the winter adobe of lord Badrinath. The idol from Badrinath temple is brought to Vasudeva temple of Joshimath during winters.
Also know as Jyotirmath, it is one the most important Hindu pilgrimage sites and spreads its spiritualism to the entire state of Uttarakhand.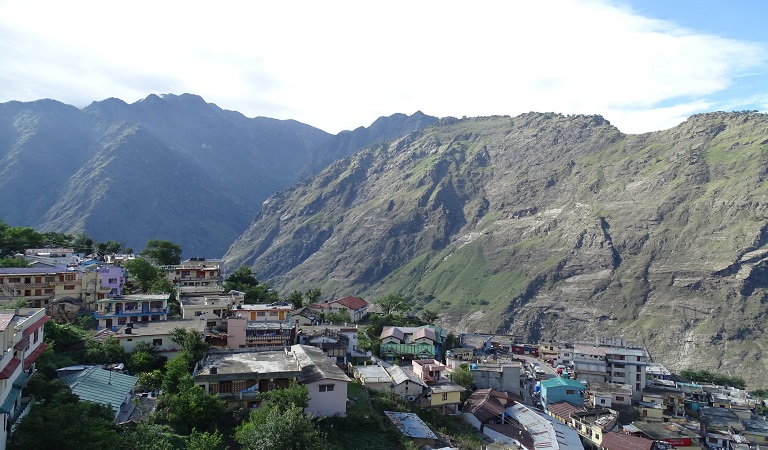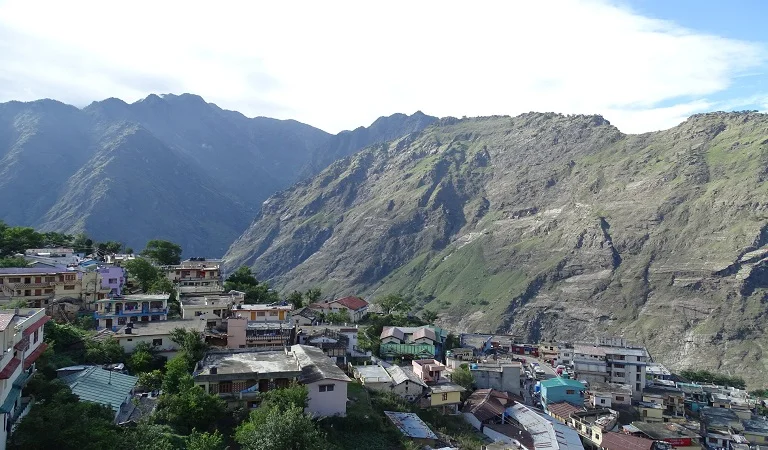 Joshimath is perched at a height of 6150 feet above the sea level. Apart from being a historical hill town, it also serves as the gateway to many trekking destinations such as Hemkund Sahib and Valley of Flowers Trek. It is home to many snow-capped Himalayan peaks and lush green meadows (bugyals).
Places to Visit in and around Joshimath
Auli
Auli is popular for skiing destination. It is suitable for beginners as well as expert skiers. There is a rope-way connecting Joshimath to Auli. This is the longest and the highest rope-way in Asia. The price for Cable Car is Rs 1000/- per person and the charge for Chair Lift is Rs 300/- per person. The oak and deodar trees surround the beautiful ski slopes which provides the best atmosphere to skiing lovers. Auli is located at a driving distance of 11 km from Joshimath.
Nanda Devi National Park
Nanda Devi National Park is located at a distance of 20 km from Joshimath. The park is around the Nanda Devi peak in Uttarakhand. One can see the majestic Himalayan peaks such as Changband, Dunagiri, Rishi Pahar, and Trishul from here. It is a home to many species of wild creatures such as Snow Leopard, Himalayan Tahr, Musk Deer and many local and migratory birds. The park is spread over an area of 630.33 sq km.
Ghangaria
Ghangaria village is a popular destination among trekkers. It is situated on the confluence of Pushpawati river, which comes from Valley of Flowers and Hemganga river (aka Lakshman Ganga), which comes from Hemkund Sahib. It is a popular stopover for trekkers and travelers going to Hemkund Sahib and the Valley of Flowers.
Kalpvriksha
It is a very old mulberry tree in Joshimath having a huge historical and religious importance. Its mythological name is Kalpatru and people believe that it is more than 1200 years old. Kalpvriksha remains evergreen throughout thee year and never sheds even a single leaf.
Narsingh Temple
Narsingh temple in Joshimath is an old temple dedicated to Narsingh Devta, 14th incarnation of lord Vishnu. It is located at the lower bazaar of Joshimath is is famous as a part of Sapt Badri. It is a must visit place for devotees if you are in Joshimath.
Kagbhusandi Tal
Kagbhusandi tal is a lake at a distance of about 46 km from Joshimath over the Kankul pass. Legends say that if a crow passes over this lake it dies.
Badrinath Temple
Badrinath is 42 km away from Joshimath on the banks of Alaknanda river. It is one of the Char Dhams of Uttarakhand. It is a shrine of lord Vishnu and holds a great religious significance for the entire country.
Mana Village
Popular as "The Last Indian Village", Mana is 48 km from Joshimath. The village sits at the 3200 m. The tiny hamlet of Mana is on the banks of Saraswati river, offering mesmerizing views of the imposing Himalayan peaks.
Govindghat
Govindghat is 19 km away from here. It is a religious place for Sikh as well as Hindu devotees. Govindghat is a major stopover for people visit Hemkund Sahib and the Valley of Flowers. Situated on the way to Badrinath at an elevation of 1800 m, it serves as a base for Valley of Flowers and Hemkund treks.
Vasudhara Waterfall
Vasudhara falls is a waterfall at an altitude of 12,000 ft. It is located at a distance of 55 km from Joshimath on the banks of river Alaknanda. The water of this mesmerizing falls flows down from the height of 400 feet (122 mt). Many majestic Himalayan peaks are visible from thee waterfall. A bath under the falling water is very refreshing and a great stress buster.
Vishnuprayag
Vishnuprayag is a sacred town situated at the confluence of the Alaknanda and Dhauli Ganga rivers. It is at a distance of 12 km from Joshimath. It is the first confluence of the Panch Prayag. This sacred place has river banks (Ghats), several ashrams, temples, mountains and a few trekking routes. Visitors often come to this place to experience peace, spirituality and solitude.
Shri Shankaracharya Math
It is a Hindu monastery established by Adi Guru Shankaracharya. Also known as Jyotirmath, it is one of the four monasteries established by him and his disciples.
Tapovan
Topovan is 14 km away from Joshimath. It offers scenic views of lush green mountains and step-farming fields. Tapovan also has a hot spring, where you can take a bath. The water of this hot spring is good for skin. Tapovan provides a great view of Nanda Devi, Chaukhamba, Dronagiri and other Himalayan peaks.
Chenab Lake
Chenab is an artificial lake, which is at a distance of 28 km from Joshimath. One can reach here by completing a small trek. The lake is surrounded by oak and deodar trees and it has a huge lush green meadow (Bugyal).
Best Time to Visit Joshimath
Generally, One can visit Joshimath at any time of the year except monsoons because heavy rainfall makes road conditions worse in hill areas.
If you are coming with family then April to June and September to November are the best months to visit. Joshimath gets nail biting cold during winters and temperature goes down in minus.
We don't recommend to visit Joshimath during monsoon months such as July and August because of landslides and bad condition of the roads due to heavy rain.
Months from December to February are snow covered and cold in this place. This period is best for snow skiing in Auli if you are ready to tolerate the extreme cold. Usually people visit Auli during skiing season and also visit Joshimath, which is only 12 km away.
March and April are pleasant and perfect for outing and sight seeing. If you are a solitude seeker then these are the perfect months for you.
Summers are pleasant here and sky remains clear, which makes nearby Himalayan snow peaks clearly visible.
Snowfall in Joshimath
The winters here are extremely cold. The place receives first snowfall of the season in mid December. It experiences snowfall till February. After that, the snow starts to melt and the lush green valley welcomes you with sunshine. One can visit here in December and January to experience snowfall.
Joshimath the sinking city?
In ths area, there are many cracks in the roads and houses. The authorities have said that the area is a landslide and subsidence-hit zone. Families are being moved to temporary relief centres, but some people are protesting because they don't know where they will go next.
There are many reasons for the subsidence in Joshimath. These include unplanned construction, too many people, blocking the natural flow of water, and hydel power activities. The area is also vulnerable to landslides and subsidence because of the streams and rocks there. However, experts have warned against the unplanned construction activity, as well as projects like NTPC's Tapovan-Vishnugad hydro project, the Char Dham road project, and the Helang bypass by the BRO. Unfortunately, these projects continued until the subsidence in Joshimath became too dangerous. Now, all of these projects have been stopped. (source)
How to Reach Joshimath
By Road
If you're traveling by road, the best way to reach here is to take the NH7 and NH 58 from Delhi or other cities. The distance from Haridwar to Joshimath is approximately 276 km, from Dehradun it is approximately 308 km, and from Rishikesh it is approximately 251 km. You can hire a taxi or take a bus from these places to reach Joshimath.
By Train
The nearest railway station to Joshimath is in Rishikesh, which is approximately 251 km away. You can take a taxi or bus from Rishikesh to Joshimath.
By Air
If you're traveling by air, the nearest airport is Jolly Grant Airport in Dehradun, which is approximately 286 km away from Joshimath. From the airport, you can hire a taxi or take a bus to reach here.